Broadway Executives Join Expert-On-Demand Community, CommonGenius, For First-Ever Digital Theatre Mentorship Program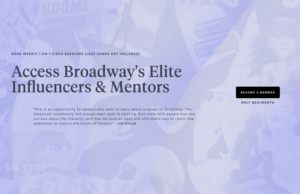 Today, CommonGenius, an expert marketplace of top consultants, executives and mentors, announced several Broadway executives have joined the platform to offer the first-ever mentorship program to the theatre industry.
For the first time in Broadway history, the best theatre makers are gathering together on the digital stage to provide personalized mentorship using CommonGenius' cutting-edge video technology platform. Users are invited to go behind the curtain with top producers, marketers, entrepreneurs, designers, directors, creators and makers of Broadway's biggest shows and learn how they do it, ask questions and become part of the community.
Jim Glaub, a recognized leader and award-winning innovator in content, marketing, social media, design, experiential and video production for theatre is spearheading the program.
"We are beyond thrilled to join together with CommonGenius to provide this mentorship program," said Glaub. "We want to expand out of New York City to reach aspiring theatre producers, performers and professionals and give them the access they need to become all they can be. We can't wait to see just how much this partnership benefits and influences the next generation of theatre!"
CommonGenius, which started with over 1,200 experts across a variety of industries and verticals, including some notable names such as best-selling authors Ryan Holiday and Nir Eyal, the Head of Product at Airbnb Sanchan Saxena, and investor Chris Yeh, charges users per-minute, but allows experts to set the rate for their consulting services.
"CommonGenius users will have exclusive access to one-on-one mentorship opportunities with some of Broadway's greatest minds," said Amber Hu, Founder and CEO of CommonGenius. "We are so excited about what this will mean for those aspiring to be in theatre, those looking to take their theatre careers to the next level and those just seeking knowledge and professional development with the experts who can best help."
Many of the Broadway mentors on CommonGenius are donating their time and giving back to organizations like Broadway Cares/Equity Fights AIDS, The Actors Fund, The American Theatre Wing, Broadway Bridges, Miracle on 22nd Street, Broadway Barks and more.
Some of the cast of Broadway-CommonGenius experts include:
For a complete list of Broadway experts, please go to: https://commongenius.com/broadway/.
Yearly memberships are now available and start at only $180/year.