BWW Review: PICNIC AT HANGING ROCK at British School Jakarta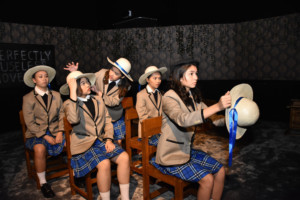 [Contributed by Amelia Anjani, Gissella Nadya and Tony Phangjaya]
Tick Tock Tick Tock. That was the sound that we heard the moment we enter the auditorium. All the casts were already on the stage, sitting on a chair with tables in front of them, acting as if we are not even there to saw them. Behind them there was a blackboard that says "Perfectly Useless Movement". The last Tick Tock was followed by a gong sound and JYPA's (Jakarta Youth for Performing Arts) Picnic at Hanging Rock opens with the thrilling announcement from all the girls on stage and the play begins.
Adapted from Joan Lindsay's Novel, JYPA's Summer Intensive Program "Picnic at Hanging Rock" introduced us with a breakthrough thriller/mystery play, different from others. The acting of each individual on this play was very strong. The pronunciation, mimics, and the gestures were spot on. Goosebumps were definitely there every time the stage goes dark and they change scene, as if the blackouts are also part of the story, which we found was a very good way of transition between the scenes. We personally stunned with how one simple yet repetitive sentence and gesture could brought us to a breathtakingly creepy ambience and have successfully given us chills in our nerve.
The background sounds throughout the play were quite simple but felt so haunting. We loved that a simple Tick Tock or a classic song can be used to make this play has a strong feeling that dragged us back to the 1900s. Not only that, the costumes that they are wearing were adorable and very vintage. The only thing that we didn't fathom was the scene where Michael suddenly changes his shirt into the local schoolgirl's uniform. We get that this was a play done by 5 people but while Michael were talking then he suddenly change just thrown us into confusion.
As how interested Picnic At Hanging Rock was, there are still rooms for improvement. As most of the scene involve narration and fixed stage props, "visual representation" that supposed to be one of the strength of the play seems flat as audience was forced to visualize all of the play. Other than that, as the costumes of all cast is design to be "similar" , its quite hard to differ one cast from another which once again i'm having a hard time to know who the main cast and supporting cast along the way.
After all, it was really an interesting play and most importantly, it was well executed. Congratulation for this amazing production and can't wait for more innovative production by Jakarta Youth for Performing Arts.
Related Articles View More Indonesia

Stories

Shows
Albertus Raynaldi's passion for theater began at the age of 12 when he was asked to be a part of Annie : The Musical in (read more...)