BWW Previews: MUSIKAL BELAKANG PANGGUNG to Empower Abuse Survivors to Speak Up
LENTERA SINTAS INDONESIA, an organization supporting sexual abuse survivors, is teaming up with performing arts veterans in bringing MUSIKAL BELAKANG PANGGUNG as part of their #MulaiBicara (#StartTalking) campaign. Described as "a play about a musical", the show will delve into the minds of sexual abuse survivor and those around her.

MUSIKAL BELAKANG PANGGUNG tells the story of Rani, a struggling actress. She gets her big break by being cast as one of the leading roles in a production led by renowned director Teguh Santoso, opposite TV star and Teguh's son Aditya.

On stage, the glamorous production portrays a couple relishing in their immaculate love. But behind the curtains, Rani endures not only sexual harassment from Aditya, but also indifference from her fellow cast members.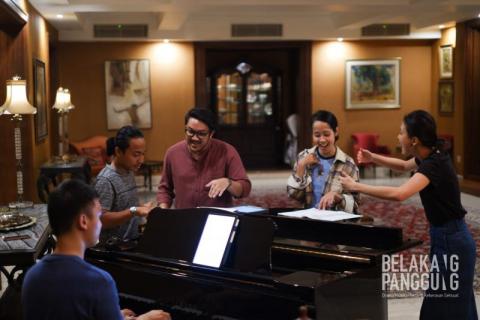 Singer and actress Mian Tiara assumes the role of Rani, while harpist Rama Widi plays opposite her as Aditya. Award-winning actor Muhammad Khan, actress and journalist Marissa Anita, and stage veteran Kiki Narendra round up the main cast. While Windy Liem, Claudya Hutasoit, and Erik Lasmono make up the ensemble.

In a press conference held in Jakarta on February 13th, MUSIKAL BELAKANG PANGGUNG team shared the message they wanted to bring and their thoughts on the production as a whole.

Airin Efferin, one of the producers, told her personal experience that incited the idea of MUSIKAL BELAKANG PANGGUNG.

"I am a survivor myself. After the abuse happened, I felt alone and didn't know who to reach out to. That was when I received an email from Marissa Anita, who was promoting the #MulaiBicara campaign. I got in touch with her and she referred me to Lentera Sintas foundation. There, I got to know the mind behind the campaign, Sophia Hage. We talked a lot about starting a new phase in this campaign. As my background is in music, we looked into creating a show that can put the issue of sexual abuse in the limelight, made by those who lived it," told Airin to the press.

Co-producer Dimas added that MUSIKAL BELAKANG PANGGUNG is a natural step in Lentera Sintas Indonesia's continued effort in bringing awareness to the issue of sexual abuse. In particular, the show is based around the theme of trust and how it can be misused by abusers.

Creatively, the show seeks to utilize the contrast between the on-stage musical with off-stage lives and relationships of the actors. The script is penned by a writing team of Andrew Trigg and Mario Hasan, the latter of whom also serve as the show's lyricist.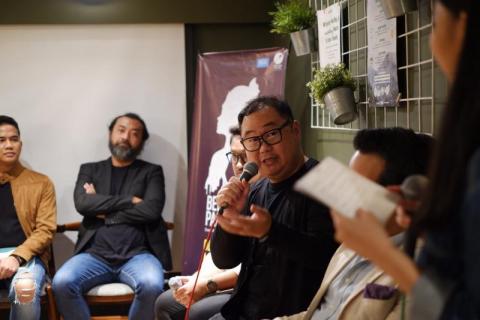 The in-story musical is an adaptation of the sanskrit epic about Rama and Shinta, a story of the virtuous prince Rama and his devoted wife Shinta. The musical is a highly anticipated production due to the big names attached to it.

The decision to use a well-known romance epic as the background to the real story of MUSIKAL BELAKANG PANGGUNG is a deliberate choice by the writers.

"All the musical numbers take place on stage -- that is, in the fictional musical. The language used is also different, the Rama Shinta musical speaks in a poetic, dramatic way. While for the off-stage scenes, we're taking a very realistic approach," explained Andrew.

Throughout his decades-long career in theater, Andrew admits that MUSIKAL BELAKANG PANGGUNG is the first time he encounters a musical dissecting the difficult issue of sexual abuse.

To ensure that the story remains true to the survivors' experience, both Andrew and Mario worked closely with survivors and researched first-hand testimonies of others. Meanwhile, music director and composer Wishnu had to undergo a period of soul-searching before writing a song about Rani's darker moments.

Though the story itself is fictional and the show contains musical elements, the creative team seeks to keep the situation, circumstances, and response around the abuse realistic.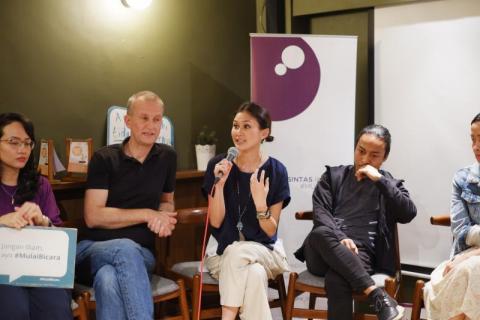 Furthermore, MUSIKAL BELAKANG PANGGUNG will take the audience into the depths of Rani's mind as the show goes on, starting from a detached, outsider look of the situation before going deeper into Rani's psyche as she deals with the abuse incident. The writers hinted that the conclusion of the play is not clear cut and fully satisfying, as is often the case in real life.

Though the musical might get intense and uncomfortable for the audience, Sophia Hage from Lentera Sintas Indonesia assured that there will be content warning before each show. Furthermore, psychological first aid will also be available at the venue for those affected by the show's content.

The one to portray these harrowing experiences will be lead actress Mian Tiara. She joined the production due to her own experience as a sexual abuse survivor.

"We should be talk about this issue. People are aware that sexual abuse is happening every day but they sweep it under the rug. When there's a sexual abuse case, it merely becomes a momentary spark before dying out until the next case. We lack a consistent effort to follow up on these cases and enact actual changes.

Through this musical, we want to extend a hand to survivors and let them know that they are not alone. We want to stop pardoning the abusers. We must shake things up," said Mian.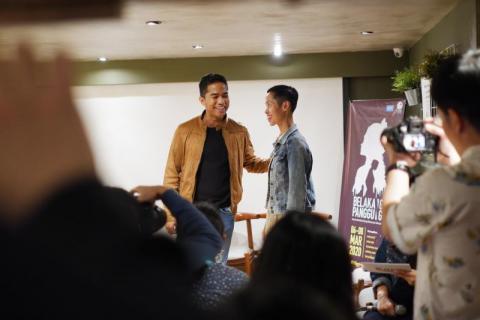 This vision is shared among her cast members - Rama Widi (which will make his stage debut in this production), Muhammad Khan, Marissa Anita, and Kiki Narendra. Khan noted that MUSIKAL BELAKANG PANGGUNG is one of the rare projects where the people share a unified sense of purpose.

Sophia Hage added that MUSIKAL BELAKANG PANGGUNG is part of Lentera Sintas' effort to talk about the issue of abuse in an accessible way.

"As the issue of sexual violence is seen as taboo and intimidating, we never learn how to face it as a community. And that's why there's never been a structural and systematic change. Even though it's difficult, it needs to be talked about.

We hope that Belakang Panggung will teach people how handle to a sexual abuse case that happens around us. Even though not everyone will be the victim of sexual assault, everyone can create a safe space for the survivors."

Producer Dimas closed with a reassertion that MUSIKAL BELAKANG PANGGUNG is a piece with a universal message for everyone, regardless of age or gender, though underage members of audience should be accompanied by their parents.

MUSIKAL BELAKANG PANGGUNG will run for four shows on March 6-8 2020 at Institut Française d'Indonesia (IFI) Thamrin, Jakarta. Tickets and further information are available on their Instagram.
Related Articles View More Indonesia

Stories

Shows