Photo Flash: THE ZIPPERS OF ZOOMERVILLE At Phoenix Theatre
The Phoenix Theatre of Indianapolis will produce the world premiere of Jack O'Hara and Tim Brickley's The Zippers of Zoomerville, or 200 Laps and a Lass: a mini-mockeretta in the Frank & Katrina Basile Theatre at the Phoenix May 7 through June 6, 2009. The book and lyrics are by Jack O'Hara, and the music is by Jack O'Hara and Tim Brickley. Jack O'Hara is a Nashville (IN) based writer, musician, comedian, actor, and director. In The Zippers of Zoomerville he has written a gentle send-up of all things Indy 500 -- but also a gentle send-up of all things Gilbert & Sullivan.
After graduating from Marian College, Jack O'Hara acted with Indiana University's graduate rep company from 1967 through 1969, and also with The Brown County Playhouse in 1968. He returned to Marian College, teaching theatre there for four years, acting from time to time, hosting a late night TV show, and doing commercial voice work. In 1971 he signed on as a copywriter/ broadcast producer for an Indianapolis advertising agency, eventually becoming its creative director, and then a partner. Meanwhile, he wrote for and cavorted with his brother Patrick and Gayle Steigerwald in The Nebulous Players, "a purported comedy troupe." In the recent past, he wrote a trio of Phoenix holiday shows and returned to doing a bit of acting. The Zippers of Zoomerville most resembles his Nebulous Players work. "It least resembles a small fish," says O'Hara.
Tim Brickley is an Indianapolis, composer-producer-performer described by the Indianapolis Star as a musical "local legend." He is a singer, multi-instrumentalist, and recording studio owner/engineer who: composes/produces music for film, broadcast, theatre and other musical artists at his Hit City Recording facility; records and releases his own music (written with long-time songwriting partner David Rheins) with rock band The Bleeding Hearts; and is a jazz bandleader/vocalist with his Quintet and 16-piece Big Band. He won a regional Emmy Award in 1998 for his score to the internationally-aired documentary, Hoosier Hoops: The Golden Era. His song Tangled and Tempted was featured in the Polygram Films release Going All The Way, starring
Ben Affleck
and
Rachel Weisz
. He composed and produced the theme for the Emmy Award-winning weekly WFYI-20 series Across Indiana and is an Addy Award-winning composer of music for television and radio. Since 1986, he has enjoyed a creative association with
The Phoenix Theatre
as composer (Accidental Death Of An Anarchist, Centaurs, This Is Our Youth, Savant, End Days) and music director/producer (Three Penny Opera , Hair, Bat Boy: The Musical , Urinetown: The Musical) . O'Hara describes The Zippers of Zoomerville, or 200 Laps and a Lass: A mini-mockeretta this way: "Speed, greed and the dirty deed drive this world premiere musical spoof of fast-track fever, wherein an oval raceway rouses a circular city to revel 'round its maypole. A rite-of-springish, Gilbert and Sullivanesque celebration of flat-out folly and full-throttle love, The Zippers of Zoomerville fancifully celebrates and gently spoofs the Circle City's love affair with the Indianapolis 500."Jack O'Hara will direct the production; Tim Brickley is the musical director and accompanist; James Gross is the set designer; Laura Glover is the lighting designer; and Beth Marx is the costume designer. Scot Greenwell plays John Hoosier Lordyboy, Jr. - The Rookie; Phebe [correct spelling, no "o"] Taylor is Happenstance Throttlehotter - The Lass; Angela Plank portrays Speedlove Throttlehotter - The Queen Mother; Charles Goad is Buck Upshotz - The Developer;
Michael Shelton
is Rusty Nubbins - The Old Pro; and Mikayla Reed plays Veneera Glossover - The Perennial Princess.
The Ensemble
also portrays various reporters, announcers, and celebrities. The Zippers of Zoomerville will be performed in the Frank & Katrina Basile Theatre at the Phoenix May 7 through June 6, 2009. Performances are Wednesdays at 7:00pm (just for this production!), Thursdays at 7:00pm, Fridays at 8:00pm, and Saturdays at 8:00pm. Single tickets are $25 for those 25 and over, $15 for those 24 and under. All Thursdays are CheapSeats nights: All tickets are just $15. Group rates for adults are available for groups of 15 or more, as are discounts for buying out the house. To purchase tickets: 317.635.PLAY (7529). Website: www.phoenixtheatre.org.
The Phoenix Theatre is Indiana's only professional contemporary theatre, and has presented productions to challenge and entertain the Indianapolis community for 26 years. An Equity house, the Theatre presents the Midwest and Indiana premieres of many popular Broadway and Off-Broadway plays, and has presented more than 70 world premieres in its quarter century. The Phoenix operates the 130-seat proscenium Mainstage as well as the 75-seat cabaret-style black box Frank & Katrina Basile (buh-SEAL) Theatre. The Phoenix Pub, located in the Basile Theatre, serves beer, wine, coffee, soft drinks, water, and treats, and patrons may take all refreshments into either theatre. Both venues are housed along with administrative offices in a renovated 1907 church in downtown Indianapolis' historic Chatham Arch neighborhood, part of the Mass Ave Arts & Theatre District. The Phoenix Theatre is a member of the National New Play Network and the League of Indianapolis Theatres, and is supported by the Christel DeHaan Family Foundation, the Indiana Arts Commission, the Arts Council of Indianapolis, and the National Endowment for the Arts, as well as dozens of local corporate and foundation funders and more than 500 individual donors.
Photos by Julie Curry.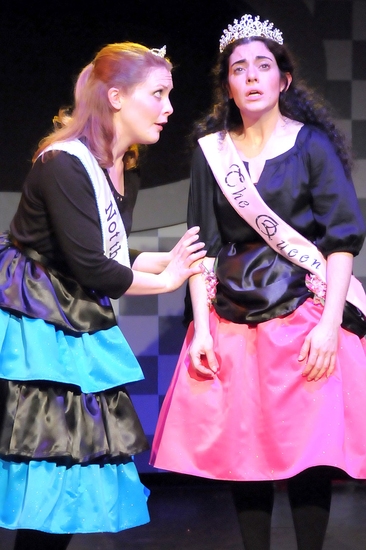 Mikayla Reed and Phebe Taylor

Mikayla Reed, Michael Shelton, and Angela Plank
More Hot Stories For You