Stageworks Rings in the Holidays with A CHRISTMAS STORY: THE MUSICAL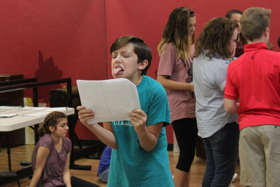 Stageworks Theatre announces its holiday show of the 2017-2018 season, A Christmas Story: The Musical, lyrics written by Pasek & Paul and based on the movie and book titled the same by Joseph Robinette. Directed by Katie Harrison, with music direction by Sam Brown and choreography by Adam Delka. The show runs November 24 through December 17, 2017 at Stageworks Theatre.
This musical, which received rave reviews on its Broadway run, is based on the movie classic that runs round-the-clock on television every Christmas. Set in the 1940s in the fictional town of Hohman, Indiana, the musical follows 9-year-old Ralphie Parker and his quest for the Holy Grail of Christmas gifts-an Official Red Ryder carbine-action 200-shot Range Model air rifle. Rebuffed at every turn with a similar echoing response, Ralphie plots numerous schemes to achieve his desperate desire for the coveted BB gun.
All the iconic scenes from the movie are here: Ralphie's friend, Flick, getting his tongue stuck to the flagpole; his brother, Randy, getting dressed in his snowsuit; the bullies, Farkus and Dill; the leg lamp award; the bunny suit; the Chinese restaurant; Christmas dinner; and many others. The delightfully versatile score ranges from gentle ballads to show-stopping full-ensemble numbers such as "Ralphie to the Rescue!," "A Major Award," "Sticky Situation," "Up on Santa's Lap," "Somewhere Hovering Over Indiana" and the inevitable "You'll Shoot Your Eye Out!"
Harrison and the whole team are excited to bring all the Christmas nostalgia to the stage.
"A Christmas Story has been a part of my holiday celebrations for as long as I remember; from watching it on tape when I was young, to catching it several times as it played non-stop on cable as I got older, to recently seeing it on stage as a new musical. This year, I get to be a part of an extraordinary team that will bring that musical to life here at Stageworks!
"I want this familiar, heartwarming, corny tale to take us on a nostalgic journey back to a much simpler time when the most talked about scandal was a leg lamp in the neighbor's window, when your biggest fear was getting your tongue stuck to a metal pole in the wintertime, and when children entertained themselves with imagination instead of electronics. A Christmas Story is everyone's story, really. We just need to slow down and enjoy it!"
Behind the scenes, the production team includes, Katie Harrison (director), Sam Brown (musical director), Adam Delka (choreography), Ben Mason (set design), Julie Montgomery & Barbara Terry (Costume Design), Emma Russell (props and set dressing), and Ron Putterman (lightning design). The cast will be announced soon.
Performances of A Christmas Story: The Musical will take place at the Garza Mainstage, 10760 Grant Road, Houston, Texas 77070. Performances are Friday and Saturday evenings at 7:30 p.m., with Sunday matinees at 3 p.m. Tickets are go on sale September 24 and can be purchased online at stageworkstx.org or by phone at 281-587-6100. Special pricing is available for groups of 10 or more.
Photo credit: Shandra Wilkinson
Featured BroadwayWorld Events
Check out these concerts...




More Hot Stories For You