Main Street Theater Produces the Irish Modern Classic THE WEIR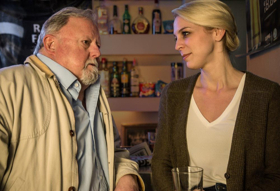 Main Street Theater (MST) brings back the Irish modern classic, The Weir by Conor McPherson. Set in a small Irish pub, five locals share their spellbinding ghost stories and try to make sense of them over the course of the evening.
Main Street first produced The Weir in 2003, and original cast members Rutherford Cravens and Mark Roberts are back for the 2019 production at MST.
The production opens Saturday night, March 16 at 7:30pm and runs through April 7 at MST - Rice Village, 2540 Times Blvd. Performances are Thursdays - Saturdays at 7:30pm and Sundays at 3pm. Tickets are $36 - $48, depending on date, section, and availability. All tickets are on sale via phone at 713.524.6706 or online at MainStreetTheater.com.
Following the matinee on March 24, MST will host a Part of the Art Series Discussion with Christopher Varela, Vice-chair of the Harris County Historical Commission, Founder & Tour Guide of Houston Haunted Tours who will give a presentation on some five buildings/structures near or in downtown Houston that have haunted legends connected to them. The discussion is free and open to all.
In a bar in rural Ireland, the local men swap spooky stories in an attempt to impress a young woman from Dublin who recently moved into a nearby "haunted" house. However, the tables are soon turned when she spins a yarn of her own.
Best known for The Weir, Shining City, and The Seafarer, Conor McPherson has won Evening Standard, Laurence Olivier, Critics Circle, Lucille Lortel, and Drama Desk awards and is a two time Tony Award nominee as well. Along with being a prolific playwright, Mr. McPherson has written and directed numerous film and television works throughout his career. Born in Dublin, his works have been produced all over the world including on Broadway.
Andrew Ruthven (Daddy Long Legs, The Revolutionists, Into the Woods and more at MST) returns as director of The Weir. The cast is Rutherford Cravens (The Book of Will, Wolf Hall, Grand Concourse, and many more), Kregg Dailey (Into the Woods, The Coast of Utopia, and more), Heidi Hinkel (Miss Bennet: Christmas at Pemberley), Bryan Kaplun (Native Gardens, Enemies, Wolf Hall), and Mark Roberts (Enemies, Heartbreak House, and many more).
The production design team includes Liz Freese (Set Design), J. Mitchell Cronin (Lighting Design), Macy Lyne (Costume Design), Janel J. Badrina (Sound Design), and Rodney Walsworth (Properties Design). EliSabeth Bancroft Wessel Meindl is the production stage manager.
Photo Credit: RicOrnelProductions