Interview: Co-Stage Directors Nicole Kenley-Miller and Lawrence Edelson Share With Us the World of SONDHEIM ON SONDHEIM at the University Of Houston
Readers of BroadwayWorld Houston can get 20% off their SONDHEIM ON SONDHEIM tickets for this weekend by using the code "BW20SONDHEIM"!
For this weekend only, the University of Houston will be presenting SONDHEIM ON SONDHEIM, a musical revue of the work of Stephen Sondheim which includes video clips of Sondheim himself talking about his life and creative process. I had the honor to speak with the co-stage directors of the production- Nicole Kenley-Miller and Lawrence Edelson- and they shared an inside scoop about their personal backgrounds, the unique show of SONDHEIM ON SONDHEIM, and the collaboration that has gone into building this truly special production.
---
First off, can you both tell us about yourselves, your background, what your role is within this production, and what your position is at the University of Houston?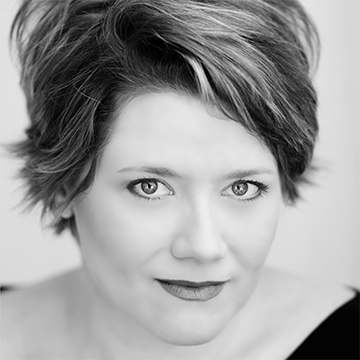 Nicole Kenley-Miller: My background is actually as a singer; I have 3 degrees in singing. I'm not singing as much now, but I discovered early-on that the education system is set up where singers get funneled into singers and singers alone. After teaching voice for 20 years, I realized that I wanted to do something else. So, I started directing because it's just so interesting to me. All of the different things that you're dealing with when directing- history, art, design, dance, theater, and music- are rolled into one role. My role in SONDHEIM ON SONDHEIM is co-stage director in addition to production manager, which is also my official role at the University of Houston.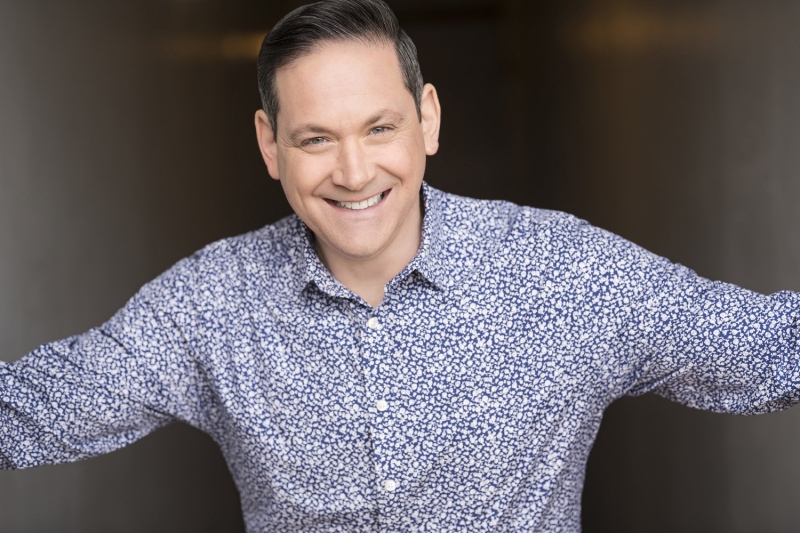 Lawrence Edelson: I also came to directing as a former performer. I started as a singer, and then I started studying dance in my late teens because I was awkward and overweight; someone told me that it would help me move better on stage. When I started studying dance, I discovered that I actually could dance, which shocked me (and my parents for that matter), and I ended up pursuing professional dance.
After the third year of my undergraduate studies in voice and musicology, I moved to New York City to study at the Joffrey Ballet School. I danced professionally for about 7 years, and then I later went back to school to finish my degree in directing at NYU. During that time, I specifically had a focus on opera because I started choreographing opera and working with opera directors, and they were giving me opportunities to assist them informally as well as encouraging me to pursue that. I found that directing opera was a really interesting way to draw my interests together. I also knew I had a good voice but not a fabulous voice; I used to joke that I wouldn't pay to hear myself sing "La boheme", so why should I expect anybody else to pay to hear it? On the other hand, my friends around me had these great instruments, but they were not necessarily the best actors or the most natural movers, and I could help them. That felt like a way that I could contribute to this art form that I really love. So, I went down the path of directing, and I later earned an arts administration degree. I have founded a company in New York called American Lyric Theater which develops new operas, which is a big interest of mine, and I come to the University of Houston after serving as the artistic and general director of Opera Saratoga in Saratoga Springs.
My role at the University of Houston is Artistic Director of the Moores Opera Center. My job here is to teach acting for the singers in the opera program but also to curate a season that provides diverse opportunities for our students to explore the breadth and depth of what it means to develop their skills for an opera career. For me, a big part of that is musical theater. A lot of students who are studying are going to end up doing musical theater as part of their careers since opera companies produce musicals. Sondheim is specifically one of the most frequently performed composers by opera companies! So, I think that even though we are an opera program, it is important that we are always doing some musical theater. My predecessor Buck Ross always did musicals, as well, and we tend to lean towards musicals that are appropriate for the classically trained voice at Moores School of Music. I think what happened with the programming of SONDHEIM ON SONDHEIM since it's a collaboration with the School of Theatre and Dance is it gave us the opportunity to really draw on the strengths of our students and their shared interests.
Now, in your own words, what is SONDHEIM ON SONDHEIM? Many of our readers are aware of the iconic Stephen Sondheim, but can you tell us what happens in this particular show?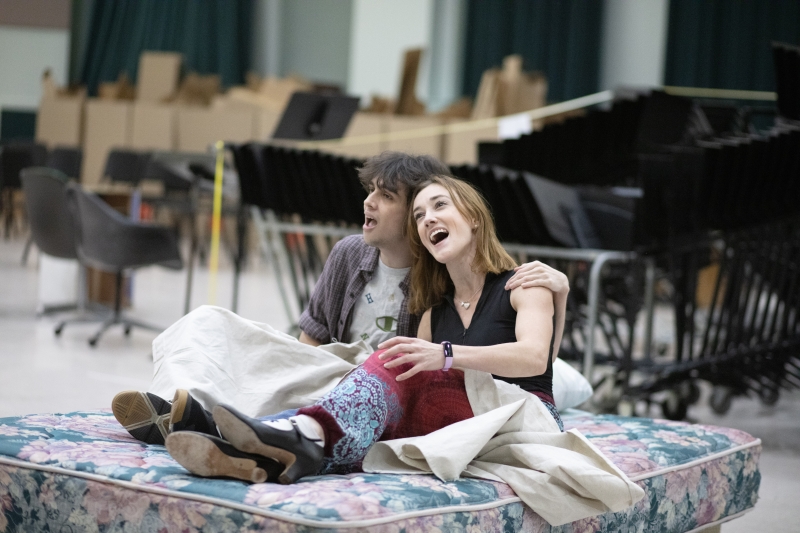 Nicole Kenley-Miller: This show is really an utmost celebration of Sondheim's creative work. We all know what a genius he is with lyrics, and this show is an overview of all of these different shows that he wrote. The songs are interspersed between video clips of Sondheim himself speaking often about the creative process, such as when a song was written and what the circumstances were around his songs. The audience is going to get a real feel for all of the backstories that everyone always loves to know, and they will get intimate looks into his process.
So, what we have done with this production is played up that idea in the concept and the design of the show. Sondheim is ever-present in multiple ways in our version of the show; we represent his reality of creating shows and the characters that he devised. The show is an interesting juxtaposition of those two worlds- the real and the created- and these worlds also dialogue with the video clips.
Lawrence Edelson: A lot of people may think that SONDHEIM ON SONDHEIM is simply a revue of Sondheim's greatest hits, and on some level, it is. Audiences will hear many of the songs they love and know, but there are also a lot of songs that people don't know, songs that got cut from shows. One of my favorite numbers which Nicole directed is from "Gypsy", but it was in the show for exactly one performance, so most people do not know this number. It is fabulous! To get a chance to see it, to understand why it got created, and then to know why it wasn't part of the show is quite interesting. There are some other really obscure numbers, too. For example, there's a number from an episode of TV from the 60s. People may have heard the song before, but many have no idea that it's from a TV show. Plus, the video clips of Sondheim offer a lot of great trivia about the iconic songwriter. The clips come from all eras of his career. James Lapine, a frequent collaborator of Sondheim's, put this show together, and through his work, we get to have a sense of who Sondheim was as an artist and as a person.
What I think was a fascinating choice with this show- which creates some directorial challenges- is that a lot of the pieces are not presented in their original context. So, that is an opportunity for creative freedom. However, Nicole and I both know the original context of these shows, and we had to break free from our preconceived idea of the songs and their stories because we do not have the entire storylines of the shows to support getting to each song's moment.
Nicole Kenley-Miller: Like Larry (Lawrence Edelson) mentioned, this production leads to the recontextualization of these famous songs. For instance, Sondheim wrote the lyrics for "West Side Story". "Something's Coming" is in the show originally sung by Tony as a solo. In this version, it is rearranged for a quartet of singers, and it totally works in another context because the lyrics are so malleable.
Lawrence Edelson: One of the things that we're always saying to the actors and singers is about storytelling. We need to make sure that we're communicating the words in the text in the context of our version of the show. Luckily, Sondheim is such a genius- even his songs that did not make it into shows are stellar- and such rich, diverse material leads to such chameleonic work. We are able to create the world that is necessary for each story through his text and his music, even if we are presenting it in a new context.
Nicole Kenley-Miller: Sondheim's lyrics are a fine artwork, a masterpiece painting. You can come back to look at it, and every time you do, there is a new detail that pops out at you. Every time I address Sondheim songs, there is a new turn, phrase, or subtext that come up, and that never stops happening. It's the gift that keeps on giving.
Lawrence Edelson: We have to continue telling those stories now that Sondheim has recently passed, and this new generation of artists should take on these stories for the future.
Why did you decide to present this specific show at the University of Houston?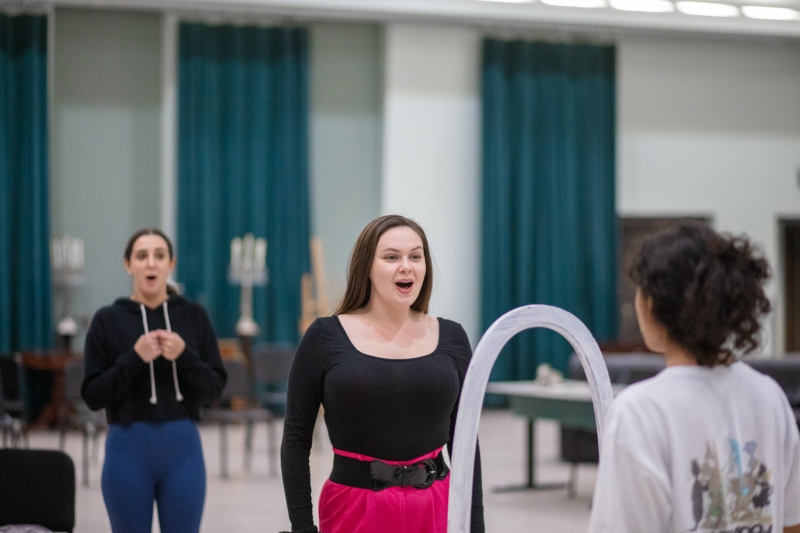 Lawrence Edelson: This year, we discussed a number of shows. Ultimately, we chose SONDHEIM ON SONDHEIM because it was such a flexible show. It was important for us that we had the opportunity to have as many students participate as possible, and this is a piece that we could cast with 8 people, 10 people, 12 people, or more. We ended up casting 18 students because the songs could be distributed in any way we chose. We heard the auditions and then Nicole and I sat down and talked about how this singer would be good on this piece, how these two singers would be good for this segment, and how this piece might be a really good way to challenge a singer who is used to singing a different sort of music.
Also, from a practical perspective, we're coming off of a really large-scale production of "Die Fledermaus", and we wanted something that, in terms of turning over the theater, would be realistic for us. This show is a really dynamic production, but it is not reliant on something like the "The Phantom of the Opera" crash of the chandelier. No scenic effects are needed since the storytelling is through the songs, and that also really appealed to me from a teaching perspective because the students are here to develop their storytelling skills onstage. This show lives or dies on our ability to communicate with the audience through song and story, so it is crucial for the actors to focus on that.
Nicole Kenley-Miller: Also, this show is a wonderful pick for a collaborative musical. We are programming shows like SONDHEIM ON SONDHEIM that are open to both the Moores School of Music and the School of Theatre and Dance, and the beauty of this program is that it is filling some holes that both schools need to fill. I directed the first show where we did this last year- we put on "Little Shop of Horrors- and it was very evident from the beginning that the singers needed help when it came to acting and dancing, and the actors wanted more support when it came to singing technique. Therefore, this initiative of bringing the schools together brings everybody together at a place of access to build their "triple threat" skills.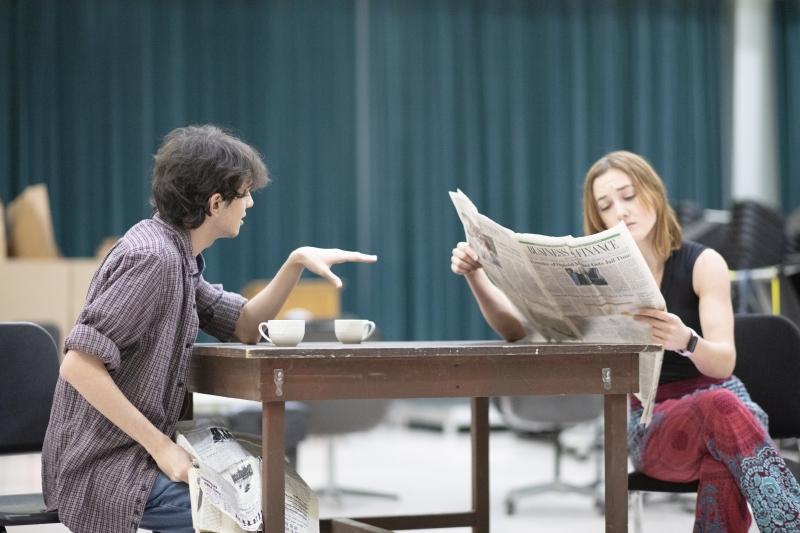 SONDHEIM ON SONDHEIM is a particularly good vehicle for this initiative because it is perfect storytelling that the actors immediately take to, but it also requires strong vocal technique to sing, which is conducive for our opera and music majors. Then, the process of building the show gives us the opportunity for the students in both schools to learn from each other by watching their strengths. The collaboration is so special, and there is magic that happens through the cross-pollination!
Lawrence Edelson: It bears mentioning that this show also lends itself to being co-directed due to it being segmented into scenes. I had seen some of Nicole's work on video when I came to Houston, and she's very talented director. So, I thought that this show could be a fun opportunity for us to get to know each other artistically in a different way! Since there is such variety in the scenes, we were naturally drawn to certain songs, and dividing the pieces that we were directing went smoothly. I also think our styles complement each other well, and we have been able to show a cohesive story as well as a variety of approaches to storytelling.
What has been each of your favorite parts of the rehearsal process?
Nicole Kenley-Miller: For me, the reason that I am in education as opposed to going into the professional world is because I love the moment when a student has that "aha" moment in their craft. I love taking a singer who has not been on a stage before- and we have a couple of singers in the show who've never been onstage before- and giving them the tools that they need to be the communicator of the text and of the music. It makes me emotional to even talk about it; it really is my greatest joy in directing. The students performing the stories of this show are incredible to watch.
Lawrence Edelson: I would have to agree with Nicole. I am coming to the University of Houston after working in the field professionally for over 20 years. I have done some productions for schools in the past, and there's something very different about working with emerging singers. It is fun seeing them have that "aha" moment for the first time!
As the director of the program, it has also been wonderful to have the opportunity to bring together certain forces. For example, I invited Laura Bergquist to come and conduct this production. When we started discussing doing a musical, having the right conductor was critical for me. Laura is a Broadway conductor- which is something that is so incredible for our students to have an opportunity to work with- but she's also an incredible teacher and mentor. I've worked with her on a number of other productions before, and to see her working with the students is a delight. When Nicole, Laura, and I collaborate, it is very rewarding work.
Nicole Kenley-Miller: Yes, Laura Bergquist is such a lovely artist, and she is the glue in this production. I think everyone has just been completely charmed by her, and it is a privilege to work with her!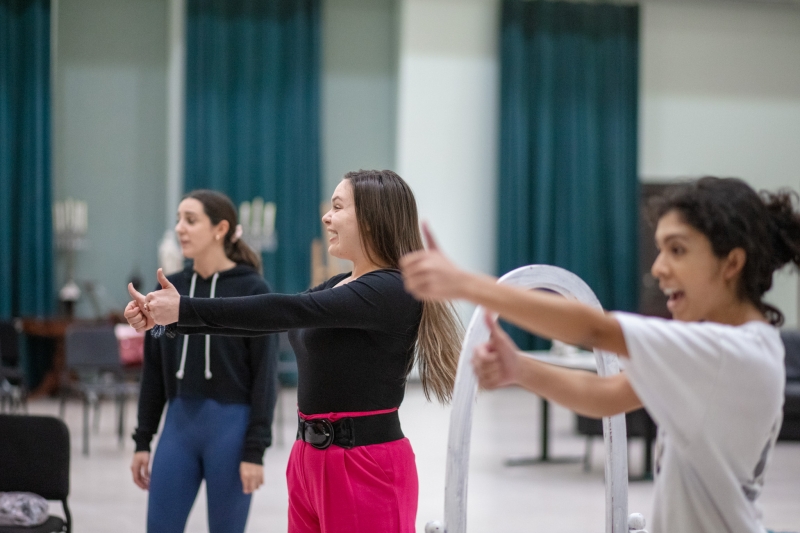 Lawrence Edelson: Moreover, it is not just the three of us. Ultimately, everything we do at the University of Houston is about moving the needle on everyone's professional goals and development, and it's not any single individual who makes that happen. A production isn't a single individual either; it is created by a group of people that come together. Therefore, seeing everyone come together to create these new experiences for everyone involved is exciting, and the energy that we're getting from everybody in the cast is remarkable. The support that the students shared after our first run-through was infectious; the students were hooting and hollering off the sides when they were seeing their colleagues go on for the first time, and it was a delight to see them appreciate what each of the cast members uniquely bring to the table.
For our readers of BroadwayWorld to know, when and where are the performances of SONDHEIM ON SONDHEIM and how can they get tickets?
Lawrence Edelson: The show runs this weekend, February 3rd- 5th. There will be 3 performances total- two evening performances and then a Sunday matinee. The performances will be at the Moores Opera House at the University of Houston, and you can get tickets on the Katherine G. McGovern College of the Arts box office site.
---
Readers of BroadwayWorld Houston can get 20% off their tickets for SONDHEIM ON SONDHEIM by using the discount code "BW20SONDHEIM", so be sure to buy your tickets NOW! You do not want to miss out on this unique show, which is running only this weekend!