BWW Review: FIRST SUBURB at The Catastrophic Theatre is All That and a Bag of Chips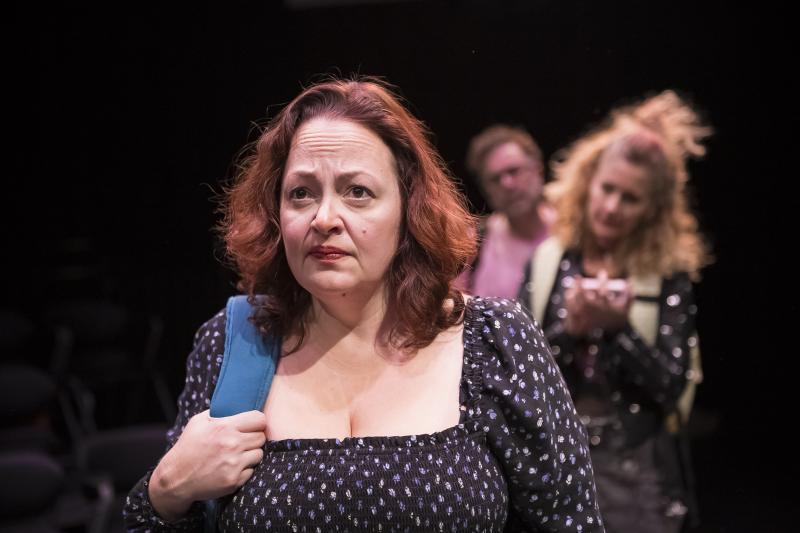 It was the 90's, man. Luke Perry was my boyfriend, Heather Locklear was my queen, and Lisa Frank reigned supreme. I had only one snap bracelet (evidence that I was deeply unloved), a photo of JTT on the front of my Trapper Keeper, Krist Novoselic on the back, and a copy of MY GIRL on VHS. I was the only kid in my class who didn't have MTV, thus rendering me, like, totally, majorly uncool. The only thing I knew for certain was that musicians were the only people who could ever really understand me. And that I would never be happy until I had a Guess jeans jacket.
When I think back to those days, I cringe. But I also delight in how simple it all seemed. Sure, life was deeply dramatic (by my own pre-pubescent making), but the world felt so big, and so conquerable. I could do or be anything. I had endless options. Life was just beginning.
FIRST SUBURB is a coming-of-age tragicomedy about pre-teens living in a suburban Maryland cul de sac in the 1990's("ish"). Their world was much like my own; their life was well insulated... until one day when it unexpectedly, tragically, was not.
This is playwright Chana Porter's second world premiere at The Catastrophic. Her first, LEAP AND THE NET WILL APPEAR, was visceral, exciting, honest and imaginative. FIRST SUBURB, billed as a "fictional autobiography," is all that, but with an unanticipated dose of sentimentality.
Porter has a knack for creating worlds that you recognize. This production transports you to a time when your "insides didn't match [your] outsides." And let's face it, young adolescent drama and insecurities - plus the 90's - is comedy gold. But FIRST SUBURB is so much more than a hysterical, melodramatic trip down memory lane. Porter places you in the moment. You'll see yourself on the stage. You'll recognize yourself as an amalgam of her characters. You'll remember what it felt like before you were someone. And in turn, in that long-ago moment when you most craved recognition, when you were most insecure and unsure and a bit adrift, you'll be seen. And that, in and of itself, is reason enough to see this fine show.
"You guys give up yet? Or are you thirsty for more?" -HOME ALONE
With FIRST SUBURB, director Kyle Sturdivant took Edward Albee's famous quote, "A play is fiction - and fiction is fact distilled into truth," to heart. The 90's was not known as a dull decade, yet Sturdivant showed elegant restraint in his partnership with his talented team of designers and programmers, allowing the characters themselves to be the loudest, neon-est, angstiest, most dramatic features on the stage. He created a space for his team, and in turn, his audiences, conducive to truth speaking and truth receiving. FIRST SUBURB is a complex show, and a great match for Sturdivant's honed ability to quickly turn a vision into a full-scale production, whilst maintaining maximum passion for the work.
Catastrophic's co-founder Tamarie Cooper plays the role of Miriam. It's through her eyes as narrator that we re-experience the terror and terrific-ness of our youth, and through her compassion that we relive our first memory of tragedy. Cooper is a singular talent, thoroughly believable as an unafraid 11 year old, desirous of unlimited cereal (same), acceptance from her mean/pretty friends, all the while teetering on the cusp of womanhood. In the next instant, Cooper is a grown woman, unable to totally distinguish between her countless memories, and wistfully remembering a "world of saints without sinners." Cooper's greatest strength on stage is her commitment to honesty, and her ability to shine light through darkness.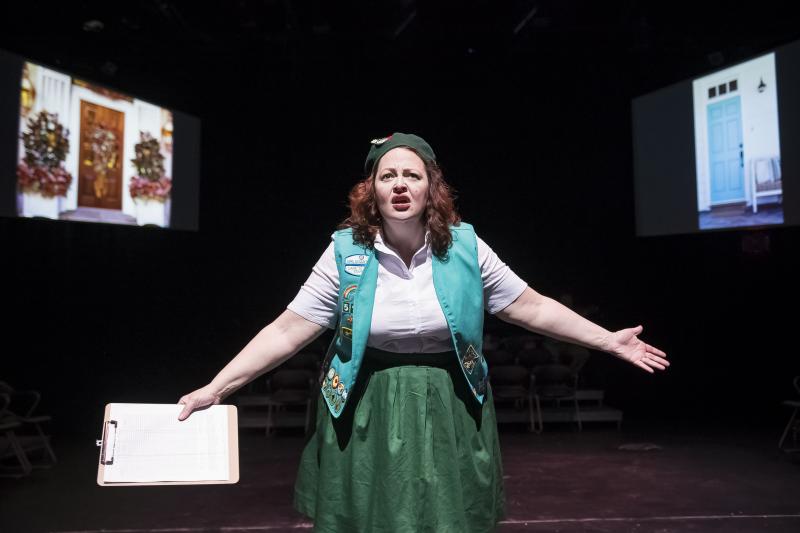 Jeff Miller is Miccah, Miriam's older brother, who lives a totally excellent, idyllic existence. Miccah is consumed by stuff that matters at age 12, among which includes music, McDonald's and the perplexing world of women. He feigns independence, but immediately retreats to the comforts of home when things on the block get serious. He's a kid in that blissful moment, on the cusp of self-awareness, days before insecurities and hormones govern his every action. Miller as Miccah is something to behold. I don't think I have ever seen an actor have so much darn fun on stage. Miller revels in his role, gliding around in roller blades and on skateboard, bothering his sister for sport. But it's the quiet moments, when he's confronted with the unknown and when his role calls for stillness, when Miller's acting abilities dominate the stage.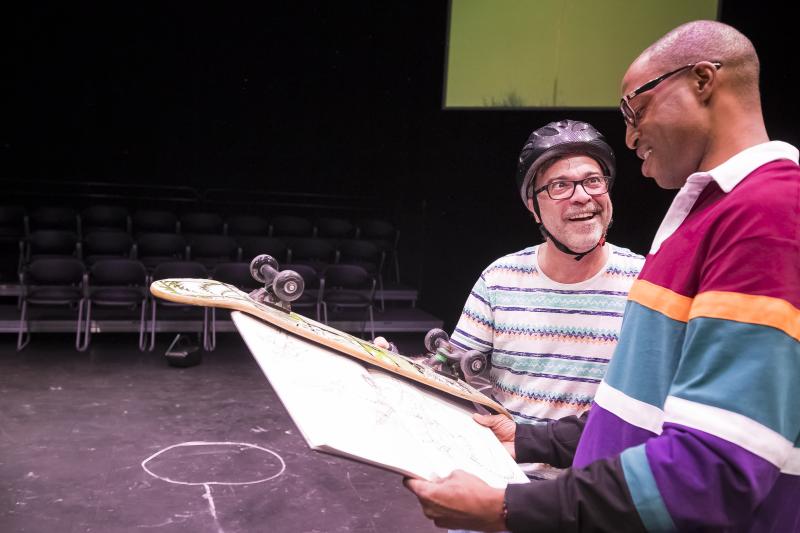 Jeanne Harris plays Cyndi, that gregarious, gorgeous girl on the block who is as mean as she is pretty. You know the type, the frenemy you desperately wanted to sit with at lunch, but never without fear that she might just reveal your secrets to your worst enemy. Seemingly blessed with good hair, great clothes, distracted parents, her own phone shaped like red lips... she was spontaneous, an early adopter of vocal-fry, a daredevil, and the ringleader. You wanted to start a band with her called Rainy Day Woman, despite your musical inaptitude. Cyndi was that special friend who awakened your curiosity, and opened you up to change. As adults, we understand that Cyndi's architype was usually the most insecure of us all, but as kids, she was the one who seemed to have it all. Cyndi could be played as a caricature, but in Harris' able hands, Cyndi is so much more than a stereotype - she is a fully formed human, capable of change, pain and passion. Harris' role is complicated. Cyndi is a total snob and a half, but also that old friend who made you feel alive.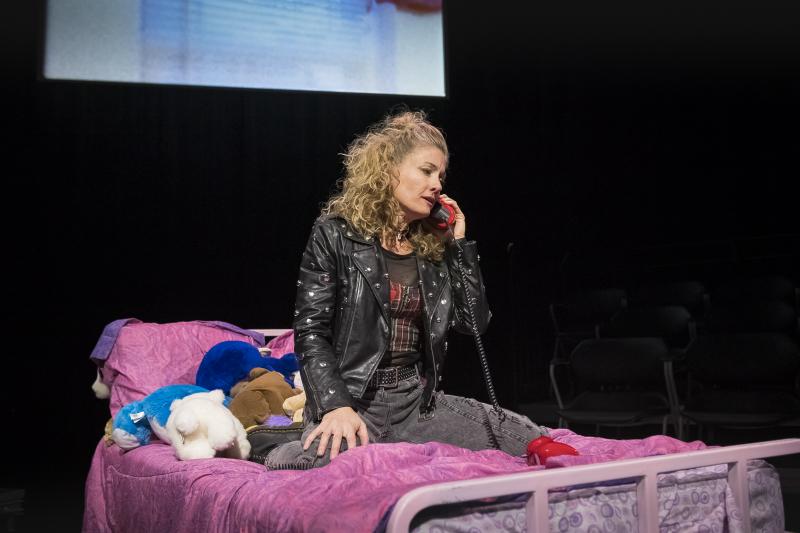 Jovan Jackson is Steve Hope, another kid in the cul-de-sac, and the only character given the distinct honor of a known surname. Steve Hope assumes another important role among our earliest influences - he is the kid who had goals - or will have them soon, we hope. Jackson delivers a beautiful portrayal, playing Steve Hope as unassuming, slightly introverted, yet open to honest exploration on a level not yet matched by his neighborhood pals. Whereas Cyndi and Miriam scream about sexuality, Steve Hope is thoughtful... for a pre-teen, that is.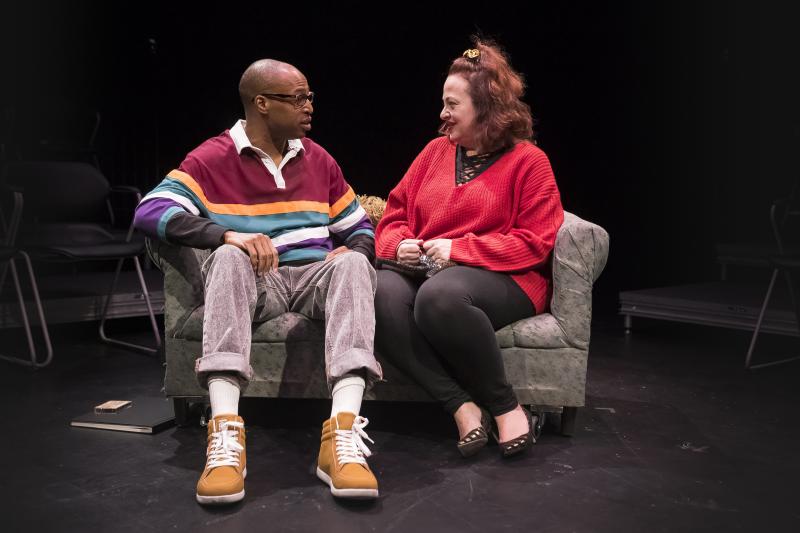 In addition to directing, Sturdivant plays Andy, the most unknown and the most unnerving character in the show. Sturdivant's Andy is deeply layered and slightly mysterious, far and away the most mature 'kid' in the play. Without revealing the plot, I can say that we all knew an Andy. We all could point out that one house that seemed a little strange, we all knew that one kid who was different from the others. One of FIRST SUBURB's big truths is that we idealize our childhood, making it easy to forget that we were all Andy, at some point or another. We all struggled with something; we all have a little Andy inside ourselves. And by reliving that through Sturdivant's lonely, haunting portrayal, audiences are reminded of the importance of empathy.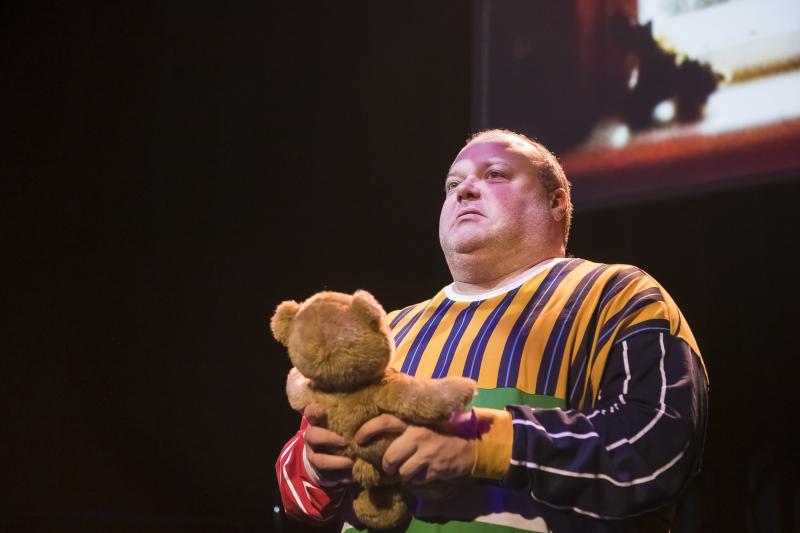 The cast is the bomb, but the design, costuming, projections and lighting are all that and a bag of chips.
FIRST SUBURB, like, totally works in the round. Every seat will deliver a slightly different experience, thanks to mobile sets by Ryan McGettigan and space-diliniating lighting by Hudson Davis. Video design and projections by Full Media Jacket are in the corner of each room, each displaying varied angles of a specific scene, cleverly places audiences in the middle of the moment, practically inside the scene itself. Wherever you are seated, you'll be close to the action, and I encourage audiences to take full advantage - turn your heads (you won't come across as rude, I promise) - in order to more deeply connect with the immerse layout and meaningful work. The properties and costume designs from Tina Montgomery and Macy Lyne are super dope, and exactingly accurate, from Cyndi's fishnet top to Miriam's Esleep brand pajamas and ice-cream cone sheets. One can only imagine that EBay made a killing or a well-preserved attic is now empty. No detail was overlooked, no scrunchie was spared.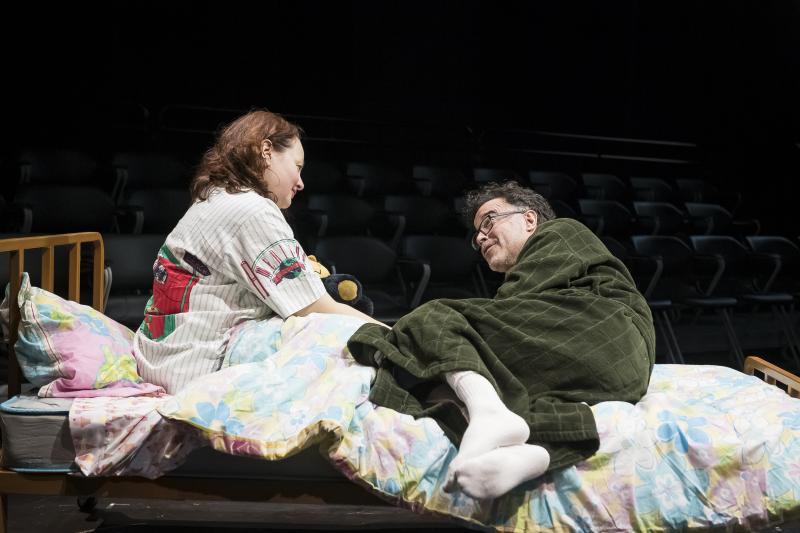 The music of FIRST SUBURB acts as another character in the show. Sound designer Shawn St. John partnered with Sturdivant to produce the best 90's mixtape I'll regretfully never own. Similar to a scored movie soundtrack like JURASSIC PARK, this team used music of the 90's to control the intensity of the production and to guide the audience's emotions. You feel frustration when they blast 4 NON BLONDES' What's Up. You find comfort in Kenny Loggins' Return to Pooh Corner. You are curious when they play Natalie Merchant'S Wonder. You are in tune with the lyrics when you hear COLOR ME BADD'S I Wanna Sex You Up. And on and on, up and down, throughout the production's glorious 95 minute run time. Like all well-timed, thoughtful soundtracks, that of FIRST SUBURB will invite you to groove seat-side, push you to the edge of your chair, and wrap you up like a blanket.
But let me be clear: you don't have to be a member of generation-whatever-they-call-us who grew up in the 90's to connect with FIRST SUBURB. You don't have to feel all the feelings when you hear Shanice's "I Love Your Smile" for the first time in ~25 years (!!!) to be affected. You just need to have been a wide-eyed kid who pressed against "ill-fitting boxes" in search for one of your own design, someone who remembers that first taste of sweet, sweet independence, and/or someone who at some point in life decided to define yourself on your own terms. Leave the younger kiddos at home, but for everyone else, come all, and come quick.
FIRST SUBURB is utterly relatable and simply unshakable. From the open to the close, the show felt like a hug from an old friend. The show triggers your sense memory and transports you back to your childhood through music, characters and situations similar to that of your own. Ultimately, FIRST SUBURB is an immersive evening of levity and warmth. And on these cold winter nights, there is simply nothing better.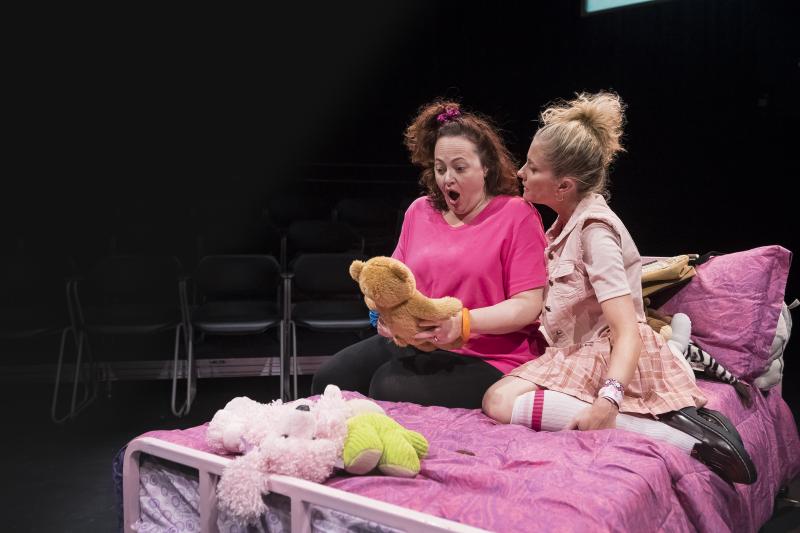 The Catastrophic Theatre's FIRST SUBURB runs through December 9, 2018 at MATCH, 3400 Main Street. All tickets are pay-what-you-can; suggested ticket price $40. For more information, please call 713-521-4533 or visit catastrophictheatre.com.