Pnina Topham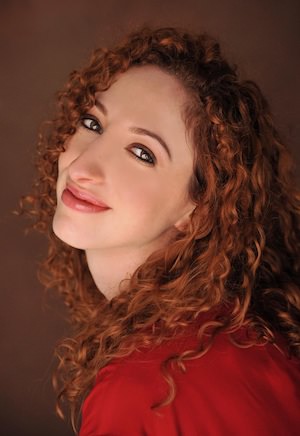 Lifelong theatre obsessive P'nina Topham firmly believes that everything can be improved with singing and dancing and cheese. She was honored to have been named PRSA's PR Professional of the Year, and is thrilled to be contributing to Broadway World. Unfortunately, Topham reached the pinnacle of happiness upon seeing Bette Midler in Hello, Dolly! Life has been downhill ever since. Twitter/IG: @pninatopham
MOST POPULAR ARTICLES
LAST 365 DAYS
Wait for it: HAMILTON returns to the Hobby Center

April 2, 2020

Producer Jeffery Seller and Broadway at the Hobby Center have announced that single tickets for HAMILTON this summer will go on sale to the public Friday, April 3 at 10:00 AM CT. Performances run June 30 a?" August 9, 2020.
---
Our Block-Out-Bad-News Pick of the Week: Catastrophic Theatre's THE HUNCHBACK VARIATIONS

March 31, 2020

Block out the bad news with BroadwayWorld Houston's pick of the week! First, watch Catastrophic Theatre's THE HUNCHBACK VARIATIONS. Then join the playwright Mickle Maher, director and actor Greg Dean, actor Jeff Miller and more for an engaging Q&A talk back, moderated by the director of UH School of Theatre & Dance, Dr. Rob Shimko
---
4th Wall Theatre Company Suspends Performances Due to COVID-19, Will Continue to Support Artists

March 16, 2020

4th Wall Theatre Company temporarily suspends all public performances and events to protect patrons and staff Against COVID-19.
---
BWW Interview: Marika Aubrey of COME FROM AWAY on the Celebration of Compassion, Chaos and the Human Condition

February 24, 2020

On September 11, 2001 the world stopped. On September 12, their stories moved us all. COME FROM AWAY tells the remarkable true story of 7,000 stranded passengers and the small town in Newfoundland that welcomed them. Cultures clashed and nerves ran high, but uneasiness turned into trust, music soared into the night, and gratitude grew into enduring friendships.
---
BWW Interview: Eric Chambliss of JERSEY BOYS on focus, feedback and Frankie Valli

January 30, 2020

They were just four guys from Jersey, until they sang their very first note. They had a sound nobody had ever hearda?? and the radio just couldn't get enough of. But while their harmonies were perfect on stage, off stage it was a very different story a?" a story that has made them an international sensation all over again. Go behind the music and inside the story of Frankie Valli and The Four Seasons in the Tony Award-winning true-life musical phenomenon, JERSEY BOYS. From the streets of New Jersey to the Rock and Roll Hall of Fame, this is the musical that's just too good to be true.
---
BWW Interview: Joe Joseph of THE BAND'S VISIT opens up about awards, Al Azhar and affect

January 22, 2020

In this joyously offbeat story, set in a town that's way off the beaten path, a band of musicians arrive lost, out of the blue. Under the spell of the desert sky, and with beautiful music perfuming the air, the band brings the town to life in unexpected and tantalizing ways. Even the briefest visit can stay with you forever. With a Tony- and Grammy-winning score that seduces your soul and sweeps you off your feet, and featuring thrillingly talented onstage musicians, THE BAND'S VISIT rejoices in the way music makes us laugh, makes us cry, and ultimately, brings us together.
---
BBW Interview: Daniel Beeman of HELLO, DOLLY! Coming to the Hobby Center

January 3, 2020

Days before he assumes the role of Cornelius Hackl in one of the most beloved musicals of all time, actor Daniel Beeman took a moment to discuss life on the road and entertaining generations of audiences in HELLO, DOLLY!
---
BWW Review: Everything is RENT at The Hobby Center

August 10, 2019

In 1996, Jonathan Larson's rock-opera RENT changed the landscape of American theatre. A re-imagining of Puccini's La Bohème, RENT chronicles a tumultuous year in the life of seven artists, struggling to navigate between their dreams and the harsh struggles of real life. Though first performed two decades ago, RENT's messages of love, acceptance, and loss remain poignant today.
---
BWW Review: Do Yourself Justice: Go See RAGTIME at the Hobby Center

April 22, 2019

RAGTIME is a vivid portrait of America in the early 20th century, when worlds and cultures collided on issues of race, class, gender equality, and politics. This deeply moving musical features a Tony award-winning score, book, and original Broadway orchestrations. This spectacular production of RAGTIME holds a mirror up to America, and the reflection isn't always pretty. But it is imperative and important that we see ourselves, our past, and our potential future in that mirror, for those who do not learn from history, are doomed to repeat it.
---
BWW Review: TOAST Goes Against the Grain at the Catastrophic Theatre

April 16, 2019

The world premiere of Brian Jucha's TOAST at the Catastrophic Theatre is a theatrical experience unlike any other. This deeply layered, highly surrealist adventure draws audiences through realms of reality, and varied states of consciousness, with a mashup of vignettes featuring current events, scenes from the movie Alien, stories about love, and a parade of flamingos. It reveals and revels in themes of loss, betrayal, love, and the meaning of life. TOAST is hilarious, absurd, mesmerizing, and not-to-be-missed.
---
BWW Interview: Indigo Girls' Emily Saliers Talks Houston Symphony, Musicals, and Young Thug

April 4, 2019

Grammy Award-winning duo Indigo Girls will join the Houston Symphony for a very special one-night-only performance. Join the American folk-rock duo, conductor Sean O'Loughlin, and the full complement of the Houston Symphony at 7:30pm on April 10, 2019 at Jones Hall for the Performing Arts.
---
BWW Review: THE PLAY THAT GOES WRONG Brings Shtick, Slapstick and Spit-take Silliness to the Hobby Center

March 28, 2019

THE PLAY THAT GOES WRONG is not just a comedy of errors featuring a theatre company's mishaps on stage - it is a family-friend two-hour long blooper reel that brings down the house, and lights it on fire in the process.
---
BWW Review: Got Kids? Get 'Em to ANASTASIA!

March 7, 2019

The musical ANASTASIA is the most saccharine, sweet, and kid-friendly musical I've seen to date. This all-ages production is particularly well suited for introducing younger audiences to the magic of musical theatre.
---
BWW Review: FIRST SUBURB at The Catastrophic Theatre is All That and a Bag of Chips

November 20, 2018

The Catastrophic Theatre's production of FIRST SUBURB is utterly relatable and simply unshakable. From the open to the close, the show felt like a hug from an old friend. Set in the 90's, the show actively triggers your sense memory, and immerses audiences into the way-back-when. But like most memories of yore, things are seldom what they seem. FIRST SUBURB delivers an evening of levity and warmth. And on these cold winter nights, there is simply nothing better.
---
BWW Interview: Rachael Logue of ADVANCE MAN at Horse Head Theatre Co.

October 8, 2018

The Horse Head Theatre Co. presents an absurdist, modernist and darkly comedic staged reading of Abe Koogler's ADVANCE MAN. We talk with Director Rachael Logue about the anything-but-boring, star-studded, provocative, evocative one-night-only performance.
---
BWW Review: LES MISERABLES at the Hobby Center for Performing Arts is a Dream (I Dreamed)

September 27, 2018

No need to bury the lede: this production of LES MISERABLES is the most true-to-Broadway theatrical experience I have ever had outside of the Great White Way. Cameron Mackintosh's subtle updates breathe new life into the classic material, and deliver one of those rarified theatrical moments in which everything comes together as intended - the kind of show where you catch yourself holding your breath, lest you miss a moment.
---
BWW Review: No Love for Andrew Lloyd Webber's LOVE NEVER DIES

July 19, 2018

LOVE NEVER DIES is an unmitigated disaster of epic proportions. The show is a study of what happens when someone in power values consumerism over content. It is a production propelled by run-amuck theatrical vanity, seemingly produced with the single intention of filling seats, backed by a marquee name. LOVE NEVER DIES is nearly unwatchable, and absolutely unworthy of your time and money.
---
BWW Review: A Modern Twist on the Classic Tale - GUYS & DOLLS at Theatre Under the Stars

June 17, 2018

Despite its flaws, it's hard not to enjoy GUYS & DOLLS. The music is infectious, and the characters are memorable. This production isn't perfect, nor is it a rendition of the old classic; some attendees are bound to be startled or surprised by the modern twists. But if you know what you're getting going in, this show is worthy of your time and the ticket price. For families of all ages who want to have fun without a ton of thought, go!
---
BWW Review: STRANGERER Things on Stage at The Catastrophic Theatre

May 30, 2018

STRANGERER things take place at the 2004 presidential debate, when President George W. Bush and Senator John Kerry decide to murder PBS newsman and debate moderator Jim Lehrer. Absurdist playwright Mickle Maher's funny and farcical reimagining of the debate is as ambitious conceptually as it is comedically.
---
BWW Review: JIM LEHRER AND THE THEATER AND ITS DOUBLE AND JIM LEHRER'S DOUBLE - Double the Jims, Double the Fun

May 30, 2018

JIM LEHRER AND THE THEATER AND ITS DOUBLE AND JIM LEHRER'S DOUBLE is strange, evocative, terrifying, and hilarious. For audiences seeking something out of the ordinary, for those who welcome intellectual challenges, and for folks who want a really big laugh, buy a ticket today.
---