Hong Kong Philharmonic Presents JAAP!: JAAP Mozart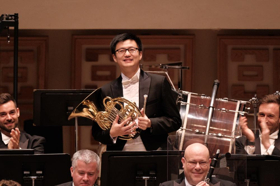 The Hong Kong Philharmonic Orchestra (HK Phil) and Music Director Jaap van Zweden introduce a spectacular 5-week classical extravaganza. At the forefront is a magical evening of an all-Mozart programme featuring the orchestra's Principal Horn Lin Jiang as soloist on the coming Friday and Saturday, 19 & 20 April, at the Hong Kong Cultural Centre Concert Hall. This tribute to Mozart opens with his Symphony no. 1, and continues with Horn Concerto no. 4 and one of his final masterpieces, Symphony no. 40.
All four of Mozart's horn concertos are masterpieces in the instrument's repertory. The horn concerto no. 4 dated from 1786 and was written for the greatest horn player of the age, Joseph Leutgeb. Composer and soloist were old friends, and the performance of the HK Phil's own Principal Horn Lin Jiang, who is considered as an extraordinarily gifted horn player of his generation, will captivate the audience as Leutgeb did over 300 years earlier.
Following on from the performance of Mozart's last Symphony - Jupiter - earlier in the JAAP! Series, Maestro Jaap van Zweden pays homage with two other Mozart's symphonies.
The concert commences with Mozart's first symphony, composed at the composer's age of nine. Although this is a youthful work, it reveals Mozart's emerging genius. The concert concludes with one of just two symphonies Mozart composed in a minor key - Symphony no. 40. Metaphorically, the symphony is Mozart's grin in the mist of tears , brimful of compositional complexities albeit portraying the tragedies and despair over his life. Though the first known performance of the symphony in Leipzig in the 19th century was regarded as shivering and dull , it has not stopped it from becoming one of the all-time favourites.
JAAP!: JAAP Mozart will be held on 19 & 20 April 2019 (Fri & Sat), 8PM in the Hong Kong Cultural Centre Concert Hall. Tickets priced: HK$480 $380 $280 $180 are now available at URBTIX. For enquiries, please call +852 2721 2332 or visit hkphil.org.
More Hot Stories For You