MVT Presents Lisa Matsumoto's PRINCESS AND THE ISO PEANUT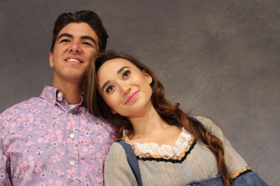 Manoa Valley Theatre presents its season finale live on stage from July 5 - 22 at Kaimuki High School. What can happen when a traditional fairytale princess falls in love with a local Japanese prince? Just about anything imaginable! Fun and adventure abound when Princess Alexis journeys to a faraway kingdom where she encounters outrageous characters, meets the prince of her dreams and must pass a most unusual test. It's a fun and crazy adventure great family entertainment as they go on a fun and crazy adventure!
Guest Director is Michael Ng and Music Director is Jenny Shiroma. Assistant Directors are Allan Lau and Neil Furukawa. Choreography is by Katherine L. Jones. Set design is by MJ Matsushita. Lighting design is by Vince Liem. Costume design is by Carlynn Wolfe. Props design is by Sara Ward. Hair and make-up design is by Lisa Ponce de Leon. Sound design is by Robert Matsushita. The stage manager is Erich Steinwandt. Performing in the show are Joe Abraham as Peter the Pirate, Dwayne Asiata as One-Eyed Jack/Lancelot, Jarod Bailon as Princess Eteokalani/Pirate Helmsman, Daryl Bonilla as Nathan, Melanie Carrie as Princess Alexis, Jill Chung as Janice/Princess Titaele, Liza Marie Corotan as Princess Ichisan, John M. Cummings III as Allyrian Captain/King Arthur/Tiny, Erika Ho`onani Ebanez as Princess Ho Stuck Up, Colleen Fujioka as Queen Alana, Patrick Fujioka as King Alexander, Raina Fujitani as Princess Nisan, Thomas Antonio Garcia as Prince Chah Ming Won/Princess Maoriana, Grace Gonzaga as Princess Jacqueline/Princess No Waste Time, Eddy Gudoy as Russell, Caroline Iwamoto as Princess Moa Stuck Up, Ashley Kahl as Yamamoto Royal Singer/Princess Adobo, Kenny Kusaka as Prince Yoshi, Malia Lane as Allyrian Royal Singer/Queen Guinevere/Cassie, Giancarlo Minga as Prince Phillip/Isaac, Kat Nakano as Queen Yumiko, Gum Nau as Princess Tahitiana, Devon Nekoba as King Yuichi, Aimee Nelson as Yamamoto Royal Singer/Princess Lumpia, Allan Okubo as Uncle Masa, Chad Okumura as King Rupert, Julie Okumura as Allyrian Royal Singer/Cinderella/Queen Alyssa, Johnny `Imaikalani Pastor as King Alfred/Princess Sansan, Alanna Poelzing as Princess Why, Boddah You, Stephanie Sanchez as Isabel, Janica Sison as Princess Jeanette/Princess Hurry Up, Kat (Katerina) Walter as Princess Watchyu Like, Trissa DiBenedetto Walter as Allyrian Royal Singer/Queen Evelyn, and Iris Wilhelm-Norseth as Yamamoto Royal Singer/Princess Bagoong.
The production will run July 5 - 22 and all shows will be performed at Kaimuki High School. Show times are Wed. 7:30 p.m., Thur. 7:30 p.m., Fri. 7:30 p.m., Sat. 7:30 p.m., and Sun. 4 p.m. Tickets are $40. Seniors and military are admitted for $35, youth 25 years old and younger are $22. Minimum age is 5. Call 988-6131 or purchase tickets online at manoavalleytheatre.com. The play is performed in two acts with one intermission.
Play sponsors are Hawaiian Airlines, Hawaiian Electric Company, Hawaii Medical Services Association and Ralph Rosenberg Court Reporters. Season wide presenters are Alexander & Baldwin, Inc., Cades Schutte and the Cades Foundation, Honolulu Star-Advertiser and 'Iolani School. Season wide Sponsors: George Mason Fund of the Hawaii Community Foundation, Jeff Portnoy in Memory of Sandi Portnoy, Mike and Alberta Rosenberg, and Bob and Corrine Taylor on behalf of Maui Divers. This event is made possible with support from Hawaii State Foundation on Culture & The Arts, The Mayor's Office on Culture & The Arts, and the National Endowment for the Arts.
Related Articles View More Hawaii

Stories

Shows
More Hot Stories For You