BWW Review: CHICAGO at Mogador Theatre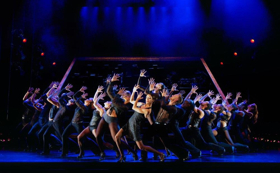 Though the French public is more familiar with Chicago through the Rob Marshall movie of 2002, there has already been a French-language version at the Casino de Paris in 2004, but it actually came from Canada as part of an international tour. Even before Stage Entertainment took over, that production was so successful that it was extended with a French cast taking over from the Canadians. After the recent German production, Stage Entertainment could legitimately bring the show back to Paris. After all, the spirit of Mr. Fosse had already entered the walls of Mogador Theatre since the international tour of Dancin' was transferred in 1981.
What makes this new addition so special is that Anne Reinking, who took the role of Roxie over from Gwen Verdon in 1977 and who played the part again in the Broadway revival in 1996 as well as choreographing it, personally came to Paris to revisit her work. Her sense of detail makes this version more genuine, also thanks to the presence of dance captain Alex Fry, who oozes Fosse's style. He was a natural to incarnate the newly created character The Spirit of Fosse in the opening sequence.
Playing Velma Kelly till the 28th of February, Casablanca-trained Sofia Essaïdi, who played the title role in the French spectacular Cleopatra, is growing into the part, though she lacks a bit of the required class of a Chita or a Bebe at the beginning.
As Roxie, Carien Keizer, who left the Lido Cabaret in Paris where she was the leading player to play the part in the recent German production, brings a twist to the role with her German accent, stronger than Ute Lumper's when she played Velma in London. She hits her mark as Roxie despite being too much taller than Sofia, which doesn't look too good in "Hot Honey Rag". One of her two understudies, Marianne Orlowski, who performed last week, doesn't have that problem and totally fills the bill even though she's a brunette-but, after all, so was Liza Minelli when she briefly stood in for an injured Gwen Verdon and subsequently saved the original production in 1975!
Lion King veteran Jean-Luc Guizonne (the only francophone actor to play Musafa in three languages in Paris, Singapore and Hamburg) makes a capable but curiously bland Billy Flynn. Sadrine Seubille as Matron "Mamma" Morton and both V. Peterson and A. Conquet alternating as Mary Sunshine are well cast. But Pierre Samuel really stands out as Amos Hart, making "Mr. Cellophane" his own, talk-singing through it instead of putting the emphasis on the last note.
One can see that the large cast ensemble has been impeccably drilled by Ms. Anne Reinking. I had the pleasure of asking her a few questions.
The French audience, having seen the movie first, might be slightly disappointed by the minimalism of this production, which was in fact originally a concert version at the City Center's Encores! before transferring to Broadway and becoming the longest running musical ever. They may miss the spectacular choreography of the "Cell Block Tango", really enhanced by Rob Marshall in the movie, but they will get a taste of some of the best numbers missing from the movie, such as "My Own Best Friend", "Me and My Baby", and "Class" (actually filmed but cut), all cleverly translated by Nicolas Engel. Although the first act loses momentum towards its end and looks a bit too much like a concert, the second act is much stronger (and highly pertinent today) in its satire of American justice and the ruthless quest for easy celebrity than it was in the slightly Disneyfied screenplay.
Even though the original production of Bob Fosse, so dark and ahead of its time, was more gritty than chic, this tribute version for all its sleekness is not to be missed, if only because the glorious Kander and Ebb score surprisingly sounds very good in French . . . and it's the first dance musical to be staged at Mogador!
Related Articles View More France

Stories

Shows
More Hot Stories For You