Slipstream Presents Original Vinogradov Play, LOST IN 3 PINES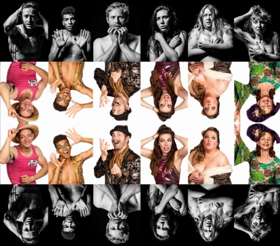 6 people walk into an oven...
Sound like the beginning of a sick joke or a Grimm Brothers' fairy tale? Nope. It's the premise of Maxim Vinogradov's new play, Lost in 3 Pines, reminiscent of Baum's Wizard of Oz. The show focuses on Lyuba, an unhappy housewife who feels trapped in an oven. She can't seem to recall what her house looks like, or what she made for dinner. Enter her neurotic husband, his forgetful mother, his boisterous boss, the boss's eager-to-please wife, and an inexplicable exchange student from...wherever. When the question "what do you do for a living?" is posed, everything changes. Much like Wizard of Oz, in order to answer that question, the characters embark on unbelievable journeys; including an oddly farcical Streetcar Named Desire, an encounter with a magical tree fairy, an Italian detective mystery, a roaring 20's brothel, a world ruled by the Grand Duchess Anastasia and her invisibility powers, and eventually, a hidden diner serving delicacies like zebra tongue.
Heavy themes and deep, life-changing questions. Must be a drama!
Nope. Award-winning playwright Vinogradov continues to baffle, enlighten, and thrill audiences with his keen wit and unexpected plot points. The young playwright won the Hopwood Award for this script, after earning 5 Wilde Award Nominations (as well as the Dennis McIntyre Prize, the Hopwood Award, the Kennedy Center American College Theatre Award, a membership to the Dramatist Guild, and more) for his last play, A Night of Stars with Tennessee Williams.
The production features an incredibly versatile cast. Tiaja Sabrie stars as Lyuba, the wife in search of who she is. Brenton Herwat plays her neurotic husband, a comedic Stanley from Streetcar, and more. Fordham University student David Wilson plays the exchange student, a tree fairy, and more The always chameleon-like Mandy Logsdon plays the boss's wife, the brothel madam, and more. Slipstream co-founder and Technical Director Ryan Ernst plays the commanding boss, the cartoon-like Italian Detective, and more (he also does the set and lights!). And finishing the cast is local favorite and Slipstream new addition Linda Rabin Hammell, playing the forgetful mother, an excitable waitress, and more. Grace Trivax assistant directs and Slipstream Artistic Director Bailey Boudreau directs and designs the costumes.
Although brimming with comedy, this play brings relevant topics such as feminism, gender stereotypes, faith, perception and the meaning of life to the forefront. What's stopping you from being your best self? Who else might you want to be? Are you the result of free will or fate? And possibly most poignantly - what defines you?
Lost in 3 Pines is a limited run production, opening July 20th and running for three weeks only, through August 5th. Friday and Saturday performances are at 8:00 pm while Sunday performances are at 7:00 pm. Check out Maxim Vinogradov's work so you too can say "I knew him when!"