Magical Fairy Tale STREGA NONA Will Come to Life on The Berman's Stage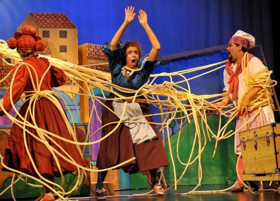 Strega Nona is a timeless story that satisfies the appetite for laughter and fun. Based on the original children's book written and illustrated by Tomie dePaola, Strega Nona ("Grandma Witch") has a magical pasta pot, which only she can control. Silliness ensues when her helper, Big Anthony, does not listen to her and he causes Nona's magic pot to create so much pasta that it nearly buries their small Italian village. Strega Nona, brought to life by Ann Arbor's award-winning Wild Swan Theater, fills The Berman's stage at 1 p.m. Sunday, January 21, 2018.
A Caldecott winner, regarded as one of the "Top 100 Picture Books" of all time by School Library Journal, Strega Nona is performed by the much-beloved Wild Swan Theater Company. Also not to be missed are the sets, costumes and props, which are designed by nationally renowned artist Chris Roberts-Antieau.
Strega Nona is perfect for children ages 3-8 because of the Wild Swan Theater Company's dedication to providing engaging and enriching live theater experiences for children of all ages and their families.
To purchase tickets ($15 and $12 for members) to Strega Nona, please visit theberman.org or call 248.661.1900 from 10 a.m. to 4 p.m. Monday through Friday. Groups of 10 or more, please call or email theberman@jccdet.org. Please keep up with The Berman on Facebook at www.facebook.com/thebermancpa.
Download The Berman app, which is available at iTunes and Google Play. The Berman app features the latest news and information on the theater and its performances, the ability to purchase tickets, and the option to receive personalized notifications.
The Berman Center for the Performing Arts is located at the Jewish Community Center of Metropolitan Detroit, D. Dan & Betty Kahn Building | Eugene & Marcia Applebaum Jewish Community Campus at 6600 W. Maple Rd., West Bloomfield, MI 48322.
About The Berman: The Berman Center for the Performing Arts is a beautiful, 600 seat state-of-the-art venue. The Berman showcases an eclectic variety of world-class entertainment for all audiences of Metro Detroit while showcasing the Jewish Community Center's exceptional events.