Photo Flash: DM Playhouse Presents DON'T DRESS FOR DINNER
The Des Moines Playhouse continues its 91st season with the comedy "Don't Dress For Dinner," June 11-27. Tickets may be purchased at The Playhouse ticket office, by phone at 515-277-6261 and online at www.dmplayhouse.com.
Bernard is planning a weekend with his chic, Parisian mistress. He has arranged for a cordon bleu cook to prepare gourmet delights, is packing his wife Jacqueline off to her mother's, and has even invited his best friend, Robert, to provide the alibi. What could go wrong? Suppose Robert and Jacqueline are secret lovers. Suppose the cook is mistaken for the mistress and the mistress is unable to cook. Be prepared for an evening of hilarious mistaken identity in this riotous farce of a romantic weekend gone awry.
The "Don't Dress For Dinner" cast of features Josh Visnapuu, Lindsay Fox, Paul Valleau, Megan Schettler-Schug, Karen Schaeffer, and Micheal Davenport. The show is directed by Kathy Pingel.
The Playhouse is Iowa's oldest and largest producing theatre. Located at the 42nd Street exit of I-235, the theatre has presented a full season of shows since 1919 and also offers a wide variety of educational experiences including classes for ages 4 to adult, theatre trips to New York, and volunteer opportunities onstage and backstage.
For more information about The Playhouse and "Don't Dress For Dinner" contact The Playhouse ticket office at 515-277-6261.
"Don't Dress For Dinner" Performances: Jun. 11-27, 2010
7:30 PM Wednesday/Thursday
8:00 PM Friday/Saturday
2:00 PM Sunday
"Don't Dress For Dinner" Tickets
Available through The Playhouse box office, 831 42nd St., Des Moines, IA 503132;
by phone at 515-277-6261; and online at www.dmplayhouse.com.
$35 Adult Section A / $20 Adult Section B
$32 Senior (62+) Section A / $20 Senior Section B
$20 Student
$50 All Ages for Dinner With the Director, June 17; price includes meal and show
Group reservations for groups of 15 or more should be made by calling 515-255-3741 ext. 211 or toll-free 1-877-862-5621 ext. 211.
Photo by Steve Gibbons.


Paul Valleau, Josh Visnapuu, and Micheal Davenport

Paul Valleau and Josh Visnapuu

Karen Schaeffer and Paul Valleau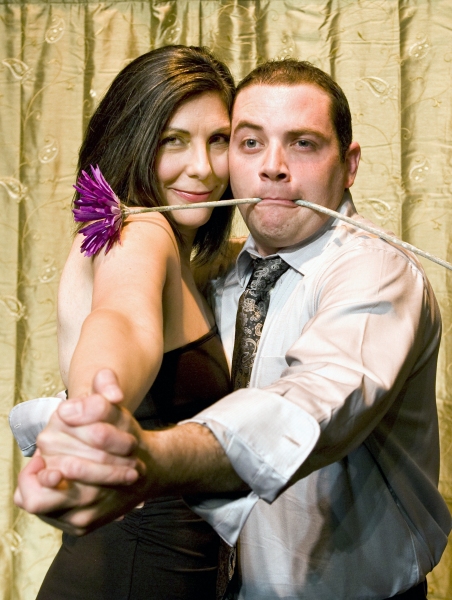 Karen Schaeffer and Paul Valleau

Josh Visnapuu and Paul Valleau

Paul Valleau, Josh Visnapuu, Karen Schaeffer, Micheal Davenport, Megan Schettler-Schug (standing), and Lindsay Fox

More Hot Stories For You