BWW Review: TWO DEGREES with Denver Center Theatre Company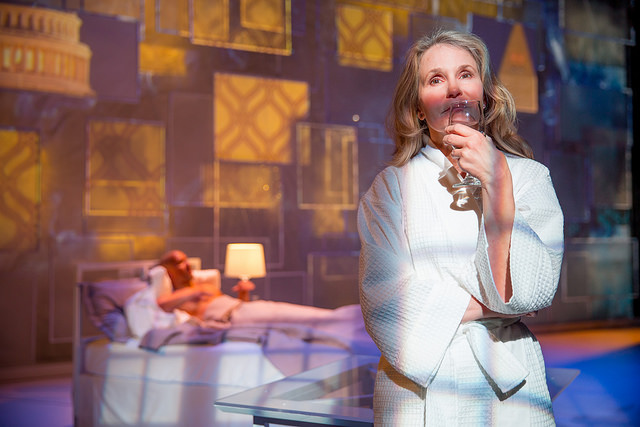 If our global temperature changes as little as two degrees Celsius, that's when we'll start to notice the disastrous effects of climate change. That's only about 3.6 degrees Fahrenheit, or basically the average fluctuation of temperature we see hourly on a local level. A little scary, isn't it?
That's where one of the Denver Center Theatre Company's latest world premiere gets its title-Two Degrees by Tira Palmquist. It premiered last year at the Colorado New Play Summit, which just finished up for this year. This production is directed by Christy Montour-Larson.
Over thousands of years, the earth has managed to maintain its average temperature around one degree Celsius, fluctuating slightly. That's where humankind has comfortably sustained its environment. But that slight rise could cause flooding, leading to global disasters.
It's ridiculous that a sizable portion of our political population isn't taking this seriously, but that's why paleo climatologist Dr. Emma Phelps (Kathleen McCall) is in Washington, DC, testifying for the Environmental Protection Agency as a favor to her friend, Sen. Louise Allen (Kim Staunton). Emma, who has spent several months stationed remotely in Greenland, lost her husband of 25 years, Jeffrey (Robert Montano, who also plays a few other roles), in a car accident back home in Boulder, Colo., while she was away. The show begins early into Emma's arrival in DC, in bed with Clay Simpson (Jason Delane), whom she met at a bar.
While the climate change portion is eventually fascinating, culminating with a smart and powerfully impassioned speech by Emma, the rest of her story didn't fully resonate with me. Sure, a bit of a plot twist kept things interesting, but a majority of the action plays out a little stagnantly yet overly emotional, flashing back and forth between Emma's time with her husband, time in Greenland and the present action in DC.
McCall gives a passionate performance as Emma, which carries much of the show's action. Montano, who plays her husband as well as characters in both Greenland and DC settings, does a great job at making the characters separate entities. Staunton, who I've loved in everything I've seen her do, doesn't disappoint in this one either, portraying Sen. Allen as a strong, professional woman and compassionate friend. Delane brought his A-game to Clay, keeping the character appealing and honest throughout.
This is the first production set in the DCPA's Jones Theatre, typically reserved for the company's Off-Center productions. Robert Mark Morgan's set provides a crystalline backdrop for the action, with imaginative projections by Topher Blair on the icy panels, lit gorgeously by Charles MacLeod. A few of these panels are made of real ice, which slowly melt throughout the production. Aside from a bit of discreet dripping, that part's a little hard to realize until near the end, but you almost have to know it's there or you might never see it.
Alas, during some scenes I was more focused on the meltdowns happening behind the action rather than in it. This isn't to say the play is a total bore. The emotion is striking, and I was occasionally engrossed in the scene work, but I felt like the balance between storylines left me begging for one while another happened.
Two Degrees plays the Jones Theatre (corner of Speer and Arapahoe) with the Denver Center Theatre Company through March 12. Tickets are available at DenverCenter.org or by calling (303)893-4100.
Photos by AdamsVisCom
Related Articles View More Denver

Stories

Shows