BWW Review: MAMMA MIA at Arvada Arts Center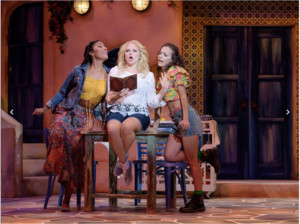 In today's musical theater songbook, you'd probably find a handful of tunes from bio-shows and juke box musicals. From Carole King to Elvis Presley, there are plenty of stories to tell, even if they are not those of the musical artists. In Arvada's latest production, Mamma Mia, music sensation ABBA is highlighted in all the right ways.
Under the direction of Rod A. Lansberry, Arvada's staging is, first and foremost, visually stunning. There is much to be praised in the scenic design by Brian Mallgrave. The rotating taverna is certainly a wonder. Lighting design by Shannon McKinney is equally appealing, with the exception of a few unnecessary blackouts. Costume design by Clare Henkel is certainly fitting for the show. The finale costumes for the leading players were especially spectacular, however I was disappointed that Sky and Sophie were not also donning 70s disco ensembles. Choreography by Kitty Skillman Hilsabeck is overall light and fun, but at times it seemed cramped for the ensemble considering the more intimate stage. I did, however, appreciate the use of traditional partner dancing throughout the show. In terms of direction, aside from a few personal blocking changes I would have made, the staging is cohesive and entertaining.
Amongst the leading players, there is a plethora of talent. Each of the "fathers" easily brought a unique personality to those they portrayed. As Bill, Jeffrey Roark does a nice job of presenting a man who values his independence, but can also see the bigger picture. Mark Devine as Harry lends his strong baritone voice, although I would not have said no to a more gentle approach to some numbers considering the softness he portrays through his acting choices. As Sam, Daniel Robert Sullivan does a fine job. At times, Sullivan's vocal tone seems too wide-spread, but he blends nicely with the other singers, not to mention A grade chemistry with Donna and Sophie.
As Rosie, Skillman takes off the choreographer hat and puts on that of the independent cookbook author. Skillman's portrayal is fun and delightful, but her voice was hard to hear over the other singers and ensemble. Other actors seemed not to have that issue. As Tanya, Piper Lindsay Arpan has a great, unique tone to her voice that fits nicely to the role. One comment though: A lot of the personality for this character writes itself and therefore can easily be overdone. A simple reminder that less is more can go a long way.
As the caring fiancé, Sky, Glenn DeVar does a nice job with a role that doesn't necessarily offer a whole lot of opportunity for character development. A strong actor and singer, I am excited to see DeVar in more daring roles in the future. As the lovely bride-to-be, Sophie, Mariah MacFarlane is really nice to watch, although I kept finding myself wanting her to go just a little further with her choices and discoveries. Her lovely singing voice, however, is perfect for the role. As the leading lady, Shannan Steele is a gentle Donna, with such heartfelt chemistry between she and MacFarlane. Not a strong belter, Steele's vocal tone is, in a word, kinder; angelic. It gave Donna a softer side instead of being so tough all the time.
In a recent interview with Christine Baranski regarding the new movie sequel, she discussed how this new movie, and the original, are what the world needs right now. It provides an escape to another world, for just an hour or two, where you forget about all the worries and tragedies that seem to be never ending. It reminds us that happiness is achievable - and certainly worth fighting for. Arvada's Mamma Mia is no exception.
Mamma Mia at Arvada runs September 7-30, 2018. For tickets, visit www.arvadacenter.org or call the box office at 720-898-7200.
Related Articles View More Denver

Stories

Shows
From This Author Jon Bee
Jon Bee is a longtime musician and thespian with a BA in Music from Millikin University and MFA in Arts Management & Leadership from Webster (read more...)