BWW Review: DCPA's OKLAHOMA! is Somethin' Special
I'm probably not the only person catching their first professional production of Oklahoma! with the Denver Center Theatre Company. While the first Rodgers and Hammerstein collaboration has been performed plenty since its Broadway premiere in 1943, the DCPA's production is unique--nearly the entire cast is comprised of African-American performers.
This is the inaugural production by the DCPA's new artistic director Chris Coleman, but not the first time he's directed the musical with this casting. He first directed Oklahoma with black casting in 2011 with Portland Center Stage. Coleman is believed to be the only director to have brought this kind of casting to the show.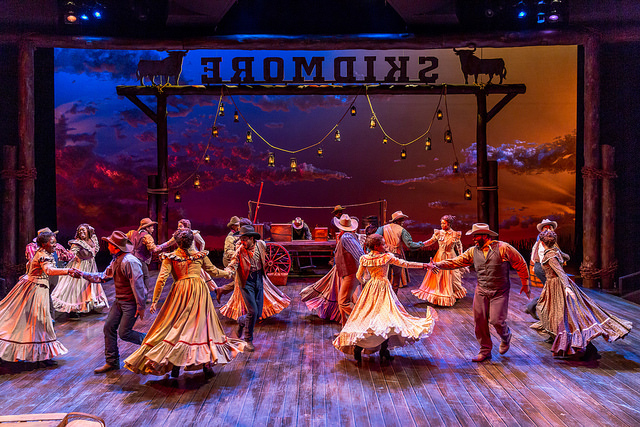 And there's plenty of historical accuracy to back it up. The play is set in 1906, when several all-black towns existed in the territory that would become the state of Oklahoma soon after. This isn't a story of oppression, rather a story of community being told through a group that is due for some representation. That alone makes this show special.
But there are so many wonderful aspects of this production. The scenic design, by Wilson Chin, has a vibrant backdrop of an ever-changing Oklahoma sky with luscious clouds, sparsely complemented by a simplistic wooden set. This leaves a large playing space for lively choreography by Dominique Kelly, showcased vibrantly during "Kansas City" and the box social, yet elegant and lush during the dream ballet.
The production starts without an overture, just a distant acapella of Curly (Antoine L. Smith) on his way to sway his love Laurey (Ta'Nika Gibson), who lives with her feisty Aunt Eller (Sheryl McCallum). He wants Laurey to accompany him to the box social, but she's not taking the bait. She instead chooses aloof farmhand Jud Fry (Barrington Lee) out a spite, despite his dangerous nature. Meanwhile, cowboy Will Parker (Renni Anthony Magee) just wants to earn the hand of Ado Annie (Bre Jackson) with money he has won, but she's smitten for a Persian Pedder, Ali Hakim (Cooper Grodin). It's a timeless tale of knowing what your heart truly wants and going for it.
The ensemble is winning in every way. Jackson is a standout as Ado Annie, bringing a fresh, self-aware take on the typically ditzy darling. Magee as Will is charmingly goofy while showcasing his dance skills with ease. McCallum as Eller has a sharp wit and a fiercely comforting attitude.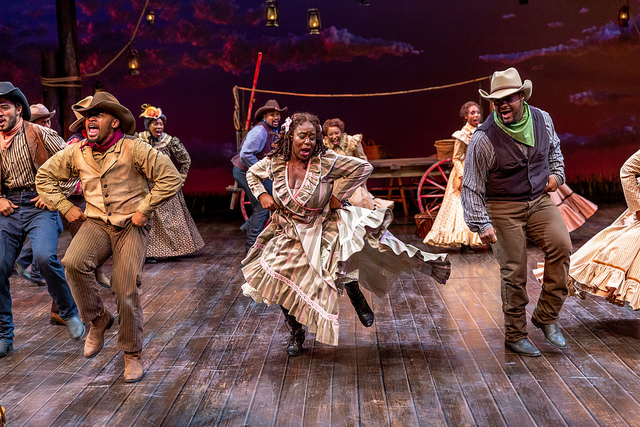 While the leading cast shined vocally--with a gorgeous soprano from Gibson's Laurey and a rich tone from both Smith's Curly and Lee's Jud--their triangle felt disconnected for me. Laurey started off with a spirited character in overalls and pigtails, but once she donned a dress, her character became a bit too introspective to me, and it didn't seem like she cared which man she chose. Likewise, Curly was charming but I didn't connect with his passion for Laurey. Jud was frightening, and his craving for Laurey was a bit more predatory, but I couldn't see why she would even think of going for him. Their associations just felt very low-stakes, despite the show's dramatic conclusion.
Despite that, Oklahoma! still felt like an engaging excursion, smartly reinvented to depict a piece of American history not often shown or even taught. It's beautiful to watch, and even more stunning to hear. A distinctive production like this is worth a trip to the theatre. Don't miss it, OK?
Oklahoma!
Stage Theatre
Denver Center Theatre Company
Now - Oct 14
DenverCenter.org
Photos by AdamsVisCom
Related Articles View More Denver

Stories

Shows