BWW Review: Arvada Center's ELF Will Set You in the Holiday Spirit
It's easy to see why Elf has become a modern-day Christmas classic, and the 2003 holiday flick starring Will Ferrell makes a smooth transition from screen to stage, even without Ferrell's infectious charm.
Maybe it's because the sugar-coated vibes from Buddy the Elf's adventure already feel a bit musical theatre. After all, the best way to spread Christmas cheer is by singing loud for all to hear, and where else can you sing louder than in a musical?
The stage musical adaptation (with a book by Thomas Meehan and Bob Martin, music by Matthew Sklar and lyrics by Chad Beguelin) is fairly similar to what you might remember from the film. After a baby Buddy makes his way back to the North Pole in Santa's sack, he's raised as an elf, despite his towering size and incompetence in toy-making.
When Buddy learns he's actually human (at around 30 years old), he travels to New York City to find his father, a bad-tempered children's book publisher who's struggling to create a successful new story. Of course, he already has a wife and son of his own, and Buddy's appearance catches him completely off-guard. While Buddy finds a way to settle into his real family, he takes a job at a department store's Santaland, where he falls in love with a coworker who needs a little holiday cheer.
Directed by Gavin Mayer, the Arvada Center's production is an enchanting holiday spectacle, crisp and colorful with no shortage of exuberance from its cast. Scenic design by Laura K. Love features a collection of sketched cityscape backdrops, and costume design by Phoebe H. Boynton is showcased best in its collections of vibrant holiday patterns and fun North Pole attire. Choreography by Kitty Skillman Hilsabeck gives the production the allure of a classic Broadway show.
Buddy is played with a wide-eyed wonderment by Josh Houghton, who seems nearly a foot taller than the rest of the cast. It's his effervescent vigor that drives the core of the show, but it's evenly matched by a jolly ensemble. Buddy's girlfriend, Jovie (Leslie Hiatt), has a few moments to shine, but stands out in her second-act song "Never Fall in Love (With An Elf)." Buddy's family--including his father, Walter (Mark Devine); Walter's wife, Emily (Maria Couch); and their son, Michael (rotated between Tyler Fruhwirth, Austin Golinski and Harrison Hauptman) have a bit more of the emotional core of the show on their shoulders, showing a nice reminder of the warmth and support of family, especially around the holidays. Sharon Kay White is a jovial standout as Walter's secretary, Deb, and Colin Alexander makes for a fine Santa Claus.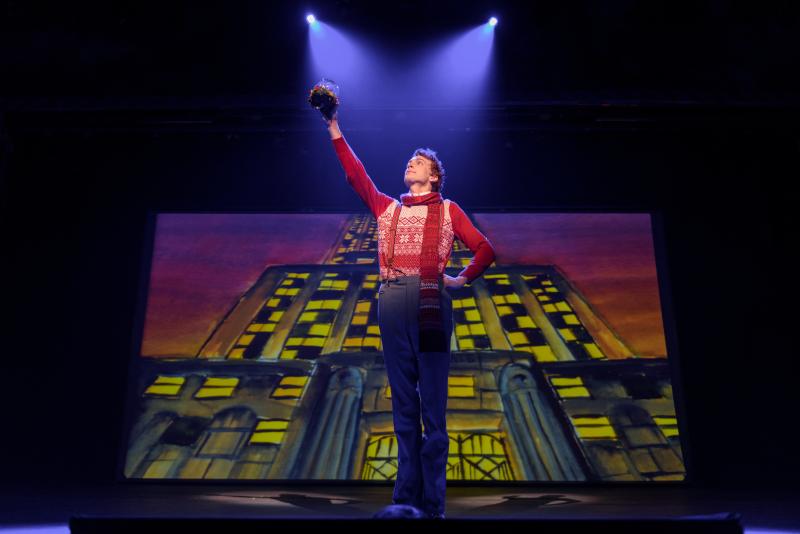 While the musical is no substitute for the movie, it makes for a lively live counterpart of a story you've already grown into your holiday traditions. There are a few new pieces, like the second-act opener "Nobody Cores About Santa," featuring a collection of working-class Santas bemoaning their holiday gig.
You'll no doubt find the same joy and wonderment you felt the first time you saw the movie.
Elf The Musical plays the Arvada Center through December 23. Tickets are available at ArvadaCenter.org.
Photos by Matt Gale Photography