Possum Point Players BIG RIVER: The Adventures Of Huckleberry Finn Begins Next Week
The award-winning show is performed March 24, 25, 26 and 31, and April 1 and 2.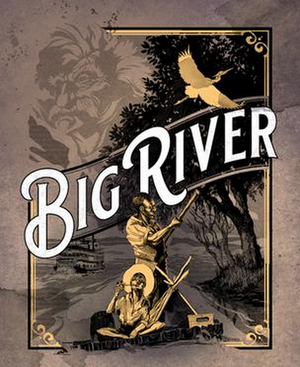 Possum Point Players' Big River: The Adventures of Huckleberry Finn tickets are available now. One matinee is sold out and sales for all shows are heavy.
Featuring Roger Miller's homespun country bluegrass music, the award-winning show is performed March 24, 25, 26 and 31, and April 1 and 2. Friday and Saturday shows are at 7:30 pm and Sunday matinees are at 2:00 pm. Tickets are $27 for adults and $25 for seniors and students.
This production is reprised as part of the Possum's 50th Anniversary Celebration. More than 20 area actors perform in almost 100 roles in a musical that was first performed in Possum Hall in 1993.
In his best Mississippi drawl, director John Hulse said, "Who'd a' thunk we would be here 30 years after our first foray into the Mississippi territory with Huck Finn, doin' it all over agin? Not me!"
In 1993, maybe he didn't think about Big River coming around again as part of the 50th Anniversary celebration, but he has lasting memories of that production 30 years ago. He played the role of Tom Sawyer "to my heart's content" here in Possum Hall and now feels that it is an honor and a privilege to revive the show with the current cast and production team.

Hulse points out that the themes of Big River: The Adventures of Huckleberry Finn are still prevalent today: learning how to see things from another's point of view; treating each other the way we want to be treated; and learning the value and worth of each person we meet.
He said, "We still have to teach and learn and preach and listen to these important human lessons today and every day. The humor and heart of BIG RIVER overlay the serious experience of being a person of color in the mid-1800's. May we learn the lesson of friendship like that of Huck and Jim and may we teach this to our children and our children's children so that we all can finally someday soon be free at last."

The ensemble cast of "Big River: The Adventures of Huckleberry Finn" includes Kori Lewandowski, Bridgeville; Deb Wittle, Dagsboro; Paul Janiga, Levi Marine, and Susan Newark of Dover and Amy Baker-Sheridan and Finn Sheridan are from Frankford.
Claudius Bowden, Fred Dean, Andrew Showell, Lars Skye, and Briana Wittman are all Georgetown residents. Cameron Harris is from Greenwood; Dick Pack and Deni Robinson are from Lewes and Steven Wimbs is from Long Neck. Imani Cummings, Jakob Faulkner, Dulcena Kemmerlin, and Luke Stutzman are from Milford, Marques Clark and Xander Proseus are Millsboro residents, and Steven Perry is from Rehoboth Beach.
Stage director John H. Hulse is from Rehoboth Beach, Diane Trautman of Millsboro is the music director, and Deni Robinson of Lewes is the choreographer.

"Big River: The Adventures of Huckleberry Finn," the heartwarming Broadway show, won seven Tony Awards, including for Best Musical. Mark Twain's timeless classic sweeps the audience down the mighty Mississippi as Huck Finn, himself a run-away, helps Jim, a slave, escape to freedom. Their adventures along the way range from being hilarious to suspenseful, and then to touching. On the river raft ride, "Big River" brings to life favorite Twain characters from the novel Including the Widow Douglas and her stern sister, Miss Watson, the outrageous King and Duke, and of course, Huck's partner in crime, Tom Sawyer, and their rowdy gang of pals. Huck's drunken father, the sinister Pap Finn, the lovely Mary Jane Wilkes and her trusting family and many more are seen as Huck and Jim float by!
The show features the pleasing and thought-provoking down-home country bluegrass music of Roger Miller, country's "King of the Road." "Big River: The Adventures of Huckleberry Finn," was a book by William Hauptman, music and lyrics by Miller, and was adapted from Mark Twain's classic The Tales of Huckleberry Finn.
See http://www.possumpointplayers.org/AboutBigRiver.html for more details about the show, cast and musicians.
"Big River: the Adventures of Huckleberry Finn", is being produced through special arrangement with Concord Theatricals