Photo Flash: Sneak Peek at ON GOLDEN POND at The Human Race Theatre
This April, The Human Race Theatre Company (HRTC) makes a warm and welcome return to On Golden Pond. The preview performance of On Golden Pond is Thursday, April 6. Opening night is Friday, April 7. Scroll down for a sneak peek at the production!
For 48 years, Norman Thayer and his energetic wife, Ethel, have been spending the summers at their lakeside home on Golden Pond, fishing and watching for loons. This year, their divorced daughter, Chelsea, her new fiancé and his teenage son make an unexpected visit. When Norman develops an unlikely friendship with the boy, it reinvigorates the grumpy retired professor and highlights the rocky relationship between this father and his now middle-aged daughter. As the summer days grow short, there is still time for their family to heal, and to rediscover the joys in everyday life.
The cast of six includes Human Race veterans as well as faces who are new to local audiences.
Joneal Joplin (HRTC's Proof and All My Sons, A Christmas Carol at Cincinnati Playhouse in the Park, Man of La Mancha at Insight Theatre Company) is the cantankerous "Norman Thayer." Dale Hodges (HRTC's Romeo and Juliet, Steel Magnolias and After Play, A Christmas Carol at Cincinnati Playhouse in the Park) plays his lively, devoted wife, "Ethel." Resident Artist Jennifer Joplin (26 Pebbles, The Glass Menagerie, Other Desert Cities, God of Carnage at The Human Race) makes her fourth onstage appearance with her real-life father, Joneal, as the Thayers' estranged daughter, "Chelsea." Cincinnati native Ken Early (Around the World in 80 Days at Ensemble Theatre Cincinnati, To Kill a Mockingbird at Cincinnati Playhouse in the Park and Cincinnati Shakespeare Company) makes his Human Race debut as Chelsea's fiancé, "Bill Ray." Stivers School for the Arts student Kaleb Barlow takes on his first professional appearance as Bill's teenage son, "Billy Ray." On Golden Pond marks a long-awaited return to The Human Race for Charlie Clark (The Human Race's The Mystery of Edwin Drood, The Sisters Rosensweig and Patient A) as Chelsea's old flame, "Charlie Martin."
This is the second time Richard E. Hess has directed the Joplins, once again as father and daughter. He describes the experience fondly. "You know how you feel when someone gives you a very, very special present, a once in a lifetime present, a present so rare that you can't believe you have it? And you think 'that's it, I'm set forever.' That's how I felt when I directed Jen and Joneal in The Human Race's Proof in 2003. And now, 14 years later, to be given such a gift a second time? It's inconceivably delicious."
On Golden Pond is the seventeenth Human Race production for scenic designer and University of Cincinnati College-Conservatory of Music professor Mark Halpin. With over 40 years of professional experience, costume designer Kathie Brookfield returns for her second Human Race production with director Hess. Resident Artists John Rensel (lighting designer) and Jay Brunner (sound designer) round out the design team. Lexi Muller is the production stage manager.
Tickets and performance information for On Golden Pond are available at www.humanracetheatre.org or by calling Ticket Center Stage at (937) 228-3630, and at the Schuster Center box office.

Dale Ho
dges as Ethel Thayer,
Joneal Joplin
as Norman Thayer
Dale Ho
dges and
Joneal Joplin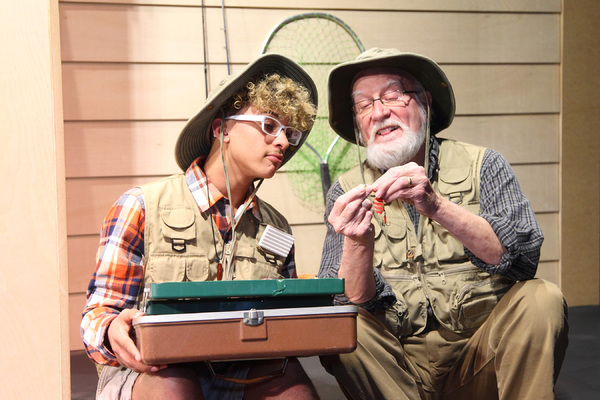 Kaleb Barlow as Billy Ray, and
Joneal Joplin
Joneal Joplin
and
Jennifer Joplin
as Chelsea Thayer Wayne
Dale Ho
dges and
Jennifer Joplin