Dallas Opera Announces Cast Change for DON GIOVANNI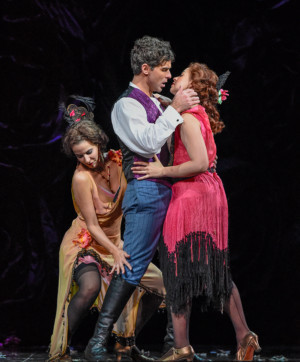 The Dallas Opera is pleased to announce that American baritone Craig Verm will perform the role of Don Giovanni in the three remaining performances of a critically acclaimed production from Lyric Opera of Chicago. The Charron and Peter Denker Rising Star was originally cast as Masetto in this star-studded international cast.
This revival, created by Goodman Theatre Artistic Director Robert Falls and conducted by Dallas Opera Music Director Emmanuel Villaume, was originally scheduled to star Polish baritone Mariusz Kwiecie?. Mr. Kwiecie? was unable to sing the first three performances due to illness and has been granted permission to withdraw from the TDO production, at his request.
Mr. Verm, originally cast in the role of Masetto, made his role debut as the infamous womanizer on opening night, April 13th, and went on to sing two subsequent performances. Both critics and patrons have applauded Verm's star turn.
Arnold Wayne Jones of Dallas Voice wrote that Craig Verm "stepped into the leading role with authority, fine voice, charisma...and a damned sexy mien. Verm is amazing."
At The Dallas Observer, Monica Smart noted, "Verm's velvety voice and suave manner brought believability to his attempts to seduce women with compliments and promises of marriage."
TheaterJones.com critic Gregory Sullivan Isaacs enthused: "Verm showed his mastery of the role. Vocally, he was superb and his characterization accented Giovanni's youthfulness and careless assessment of the damage he is causing in the lives of the thousands of women, and their families, that he so casually seduces."
Wayne Lee Gay of Texas Classical Review observed "Craig Verm was convincingly handsome, seductive, and casually cruel...Verm should be commended for taking on this epic task on short notice, and for being well prepared dramatically and musically competent throughout a role that is monumentally challenging even in the best of circumstances."
Dallas Morning News critic Scott Cantrell remarked on Mr. Verm's "gutsy portrayal of the role, richly sung...He certainly embodied the Don's manipulative narcissism, with a sadistic streak (and) a gym-toned torso adding to his magnetism...With a warm, well-controlled baritone, he could be a next great Don for our day."
Bass-baritone André Courville, who took over for Craig Verm in the role of Masetto in the first three performances of this revival, will sing the remaining performances in his Dallas Opera debut.
Tickets start at just $19 and can be purchased online at www.dallasopera.org or by contacting The Dallas Opera Ticket Office at 214.443.1000.
Additional performances are scheduled for April 21, 27 and 29 (a 2:00 p.m. matinee), 2018. All evening performances begin promptly at 7:30 p.m.
Based on the legendary Spanish lothario, Don Juan, librettist Lorenzo Da Ponte conjures up a character who is attractive-yet-deeply disturbing in both behavior and attitude. George Bernard Shaw, who regarded Don Giovanni as the greatest of all operas, singled it out for "its uncommon share of wisdom, beauty, and humor."
Director Robert Falls (the James R. Seitz, Jr. Stage Director in Honor of John Gage), speaking to Lawrence B. Johnson for "Chicago on the Aisle," noted: "In Mozart, we're dealing with a supreme genius, like Shakespeare, who understood the human condition profoundly. Don Giovanni is comic but it's also deeply personal and painful, an intense examination into humanity in all its desires, darkness and cruelty."
The late Andrew Patner of Classical Voice North America observed: "Falls' Giovanni production solves several problems off the bat, including the most important one - how can the music, story, and characters be communicated to a living audience? That's the only "concept" that matters. A big man who works in a big theater, Falls is a master at using large spaces and stages...a gifted theater artist can show us that the Don, and Mozart of course, are ever our contemporaries."
The starry ensemble also includes local favorite and Grammy Award-winning soprano Laura Claycomb in her role debut as Donna Anna. This Texas native won the 2011 Maria Callas Debut Artist of the Year Award for her unforgettable company debut as Gilda in Rigoletto.
Soprano Katie Van Kooten is making her Dallas Opera debut as the unstoppable Donna Elvira. In demand on both the opera and concert stage, performances of Beethoven's Ninth and Verdi's Requiem bookend her appearances in Dallas. The Daily Telegraph described her as "a major operatic talent. Her singing has something of the same glow radiated by a Te Kanawa or a Freni...a winning stage personality."
Bass-baritone Kyle Ketelsen will take his first bow on the Winspear stage in what has become a signature, scene-stealing role: Giovanni's man servant, Leporello. Opera-Brittania was prompted to write that Mr. Ketelsen was "a joy to hear from the moment he first opened his mouth, with smooth chocolate tones ringing out effortlessly."
The role of Don Ottavio is being sung by tenor David Portillo, a native of San Antonio, who appeared in two Metropolitan Opera productions earlier this season, including one of the most critically acclaimed works of the current season: The Exterminating Angel. A Sydney, Australia publication wrote, "His voice is well suited to Mozart: clear, well-projected and with a comfortable top register that showed no (sign) of strain."
Although French mezzo-soprano Virginie Verrez won First Prize at the 2016 Dallas Opera Guild Vocal Competition, her appearance in this production as the coquettish Zerlina marks her official company debut. Other highlights of her 2017-18 Season include Dorabella in Così fan tutte for Opéra de Lille, Flora in La traviata for Paris National Opera, and Erika in Barber's Vanessa - a new Keith Warner production opening at the Glyndebourne Festival next August.
And bass Morris Robinson returns to TDO to reprise the role of The Commendatore - with verve, dignity, and power. Monica Smart of The Dallas Observer commented that he "dominated the stage...and his condemnation of Don Giovanni was loud and clear."
Critically acclaimed Dallas Opera Music Director Emmanuel Villaume (The Mrs. Eugene McDermott Music Director) is conducting all six performances. Opera Wire praised Villaume for his conducting of Thaïs at the Metropolitan Opera: "From the opening chords to the final ones, the polish of one of Massenet's finest scores was felt." The New York Times also touted his conducting prowess in the much-discussed new production of Tosca: "He brings shape, nuance and pliancy to the score." Maestro Villaume's most recent triumph was his conducting of Faust for Lyric Opera of Chicago. Seen and Heard International observed "Villaume's expert hand was evident in the carefully-voiced sonorities, blending of the brass and percussion. Villaume supported the solo voices with fine attention to the stage, as well as care with the details, such as his tasteful stretching of measures and passages to accentuate lyricism."
Currently in his fifth season as music director of The Dallas Opera, Maestro Villaume guided our successful Samson & Dalila before turning his attention to engagements in Prague and at the Met, and also conducted the rarely performed Korngold one-act, The Ring of Polykrates earlier this year. Last summer, he also presided over a new Paul Curran production of Rimsky-Korsakov's The Golden Cockerel at Santa Fe Opera (a co-production with The Dallas Opera designed by Gary McCann).
Don Giovanni stage director Robert Falls recently staged the world premiere of Rogelio Martinez's Blind Date and adapted and directed a new production of Henrik Ibsen's An Enemy of the People in the Albert Theatre. This summer, he will direct the return engagement of Jim McGrath's Pamplona in the Goodman's Owen Theatre.
Recent productions for the Chicago-based director include The Iceman Cometh for the Brooklyn Academy Of Music, Rebecca Gilman's Luna Gale for the Center Theatre Group in Los Angeles, Measure for Measure and the world and off-Broadway premieres of Beth Henley's The Jacksonian.
Among his other credits are The Seagull, King Lear, Desire Under the Elms, John Logan's Red, Jon Robin Baitz's Three Hotels, Eric Bogosian's Talk Radio and Conor McPherson's Shining City; the world premieres of Richard Nelson's Frank's Home, Arthur Miller's Finishing the Picture, Eric Bogosian's Griller, Steve Tesich's The Speed of Darkness and On the Open Road, John Logan's Riverview: A Melodrama with Music and Rebecca Gilman's A True History of the Johnstown Flood, Blue Surge and Dollhouse; the American premiere of Alan Ayckbourn's House and Garden; and the Broadway premiere of Elton John and Tim Rice's Aida.
The Associate Director on this revival is Jodi Gage in her Dallas Opera debut.
~~~~
Other members of the experienced production team for Don Giovanni include set designer Walt Spangler, costume designer Ana Kuzmanic, choreographer August Tye Pauley, and fight director Nick Sandys Pullin - all in their Dallas Opera debuts. The associate fight director is Katherine Coyl.
The original lighting designer for this production was Duane Schuler; lighting for this revival will be designed by Chris Maravich. Wig and make up design is by Dawn Rivard.
Expert Chorus preparation is by Dallas Opera Chorus Master Alexander Rom. The assistant conductor is Paolo Bressan. The assistant director is Mo Zhou.
The season finale will last approximately three-and-a-quarter hours, including a 25-minute intermission. The Joy and Ronald Mankoff Pre-Opera Talk can be enjoyed in nearby Hamon Hall (adjacent to the audience chamber) one hour prior to curtain.
Performed in Italian with English translations projected above the stage, ticket prices for this eighteenth-century masterpiece range from $19-$289. Discounted group rates and Student Rush Tickets are also available.
For more information, call The Dallas Opera Ticket Office at 214-443-1000 or obtain more information online (including a full synopsis and complete cast and production team biographies) at www.dallasopera.org/season/don-giovanni.
The Winspear Opera House is located in the Dallas Arts District at 2403 Flora Street, Dallas, Texas, 75201.

Related Articles View More Dallas

Stories

Shows
More Hot Stories For You