Giorgos Krasidis Quartet Comes to Technopolis 20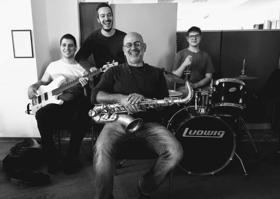 Welcome the New Year with the renowned saxophonist Giorgos Krasidis, founder of the Jazzologia Cyprus Big Band, and with his newly formed first quartet in their debut, at Technopolis 20, on Saturday, 5th of January 2019, at 8pm.
Selecting his line up from new talented faces on the music scene of Cyprus, he aims to offer new sounds in the jazz scene of Cyprus. The group consists by Giorgos Krasidis (saxophone), Antonis Polykarpou (piano), Ioannis Karseras (bass) and Loizos Kouzalis (drums) and will be performing standard and original pieces. Do not miss them!
Entrance: €10
Reservations are necessary at 70002420 (calls only).
Giorgos Krasidis (born April 10, 1970 in Limassol, Cyprus). Saxophonist/clarinettist, composer, conductor and educator. Krasidis studied at Berklee college of Music, (tenor saxophone jazz performance) and at Indiana University of Pennsylvania, (Classical Saxophone Performance) and graduated Summa cum Laude. Krasidis is the founder of Jazzologia Cyprus Big Band and Saxomania Syndicate Saxophone Ensemble. Also he is the Band master of Limassol Municipality Concert Band. He has performed and recorded several albums as a soloist and sideman. Krasidis shared the stage both as a performer and educator with jazz leading figures, including Dr Gene Aitken, Dave Glenn, Damian Erskine, Denny J. Eupraset, J. Kyle Gregory, Alex Sipiagin and many others. As an educator he teaches saxophone and the jazz idiom at the ARTE Music Academy in Nicosia, Cyprus and at the Cyprus Government Music Schools.
Antonis Polykarpou is a pianist from Limassol, Cyprus. Antonis received a B.A. in music, classical/jazz piano performance from the National Academy of Music Pancho Vladigerov, Sofia, Bulgaria. After his return to Cyprus Antonis has been an active performer in the music scene of Cyprus.
Ioannis Karseras is a bass player from Limassol, Cyprus. Ioannis received a Bachelor in music, Jazz Studies, Double Bass from the University of Northridge California State. Ioannis performed and recorded his original music in Cyprus and USA with various artists and participated in folk music programs in Europe.
Loizos Kouzalis (drummer) born in Limassol Cyprus. Started playing music when he was 10 years old. Loizos graduated from the State Music School of Limassol (drums/Percussion) in 2018. Loizos is studying the jazz idiom with Cyprus renowned drummer George Koulas.