Review Roundup: What Did Critics THE ENGAGEMENT PARTY at Hartford Stage?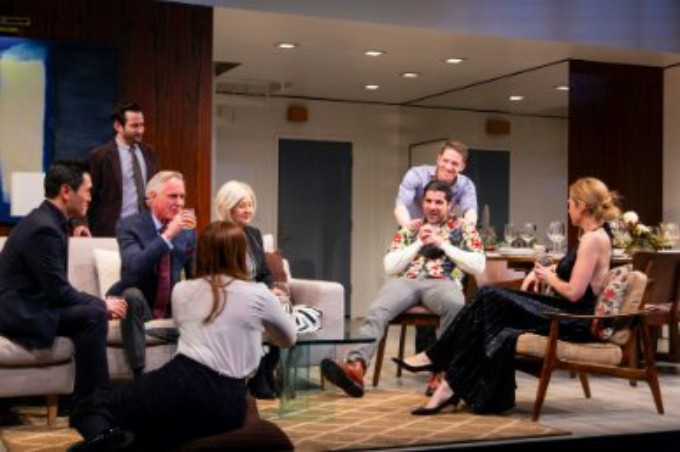 THE ENGAGEMENT PARTY had it's world premiere on January 10th and is running through February 3rd, 2019 at Hartford Stage in Connecticut!
When a couple decides to wed, it is typically a joyous occasion. It's a moment in their lives worth celebrating with friends and family. Oftentimes, soon after comes an engagement party where gifts are presented, toasts are made, and everyone present celebrates the happy couple. At least that is what is supposed to happen. In Hartford Stage's presentation of the world premiere of Samuel Baum's play THE ENGAGEMENT PARTY, things begin in this typical fashion, but with one unexpected event, quickly devolve into a dramatic, captivating, and revealing evening that will change the lives of those present forever.
THE ENGAGEMENT PARTY takes place in a beautifully apportioned upper East Side apartment in New York City in early 2007. The residents, Josh (Zach Appelman) and Katherine (Beth Riesgraf) have recently become engaged and are hosting an engagement party to celebrate with their friends and family. At the party are Kath's mother, Gail (Mia Dillon) and father Conrad (Richard Jenkins), their college friends Haley (Anne Troup), Kai (Brian Lee Huynh) and Alan (Teddy Bergman), and Josh's childhood friend Johnny (Brian Patrick Murphy). The party begins, as most do, with cocktails and conversation and the requisite ogling of Kath's extremely expensive, one-of-a-kind engagement ring. The party goers eat dinner, and once the plates are cleared and before dessert can be served, a simple accident sets in motion a series of events that changes the course of the evening and begins to chip away at the happy façade of each of those present. Old resentments and rivalries are surfaced, insecurities laid bare, and secrets and lies are gradually revealed leading up to a monumental revelation that changes everything for Josh and Kath, forever.
Let's see what the critics had to say!
Christopher Arnott, Hartford Courant: The first few scenes of the play are so breezy and light that the audience eagerly joins the party and laughs hard and long at the cordial witticisms. What's so impressive about "The Engagement Party" is how smoothly it deepens and sharpens the drama without losing or distressing that rapt audience. At a mere 85 minutes with no intermission, "The Engagement Party" is a model of efficiency. It's a mystery that keeps you guessing until its final moments. It's a deep meditation on what it means to be well off. It's a reflection of our skittish, skeptical modern society. And it can be very funny.
Joseph Harrison, BroadwayWorld: From a creative perspective, the highlight of THE ENGAGEMENT PARTY is Alexander Dodge's breathtaking set. It is a beautiful, shiny and modern masterpiece that delivers the perfect mix of realism and theatrical magic, eliciting gasps of joy from the audience. You really have to see it in person to truly experience it. Matthew Richard's lighting and Jane Shaw's sound designs add the perfect amount of realism to the evening, with subtle New York City street sounds and the shifting light from the dusk sky making you forget you are sitting in a theatre and not across the couch from these gathered friends.
Tim Leininger, Journal Inquirer: Tresnjak has assembled and directed an overall excellent cast. No one particularly stood out as an absolute phenomenal performer, but as a whole, everyone made the play, as a whole, breathe and come alive. It's almost become cliché to say this, but Alexander Dodge has created yet another gorgeous set that perfectly defines Josh's character. The set is a pristine white apartment that rotates through three different sets: the living room/dining room, the kitchen, and an upstairs bedroom.
Barbara Stroup, In the Spotlight: This production shines in every way. Scene Designer Alexander Dodge created three rooms and two levels perched on a rotating base. The design deserves medals and awards; Dodge and Matthew Richards (lighting design) collaborated to make every angle and movement a stunning visual experience: they have a great future together. The set made direction especially complicated, and Director Darko Tresnjak achieves perfection. Even the moments of rotation bring a feeling of suspense as the audience wonders "What next?"
THE ENGAGEMENT PARTY runs at Hartford Stage in Hartford, CT through February 3. Hartford Stage is located at 50 Church Street, Hartford, CT 06103. Performances are Tuesday, Wednesday, Thursday, and Sunday at 7:30 p.m., Friday and Saturday at 8:00 p.m., and Saturday and Sunday at 2:00 p.m. Weekly schedules vary. For tickets or for more information call 860-527-5151 or visit www.hartfordstage.org.