BWW Review: THE ENGAGEMENT PARTY at Hartford Stage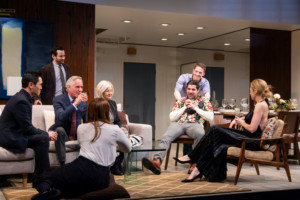 When a couple decides to wed, it is typically a joyous occasion. It's a moment in their lives worth celebrating with friends and family. Oftentimes, soon after comes an engagement party where gifts are presented, toasts are made, and everyone present celebrates the happy couple. At least that is what is supposed to happen. In Hartford Stage's presentation of the world premiere of Samuel Baum's play THE ENGAGEMENT PARTY, things begin in this typical fashion, but with one unexpected event, quickly devolve into a dramatic, captivating, and revealing evening that will change the lives of those present forever.
THE ENGAGEMENT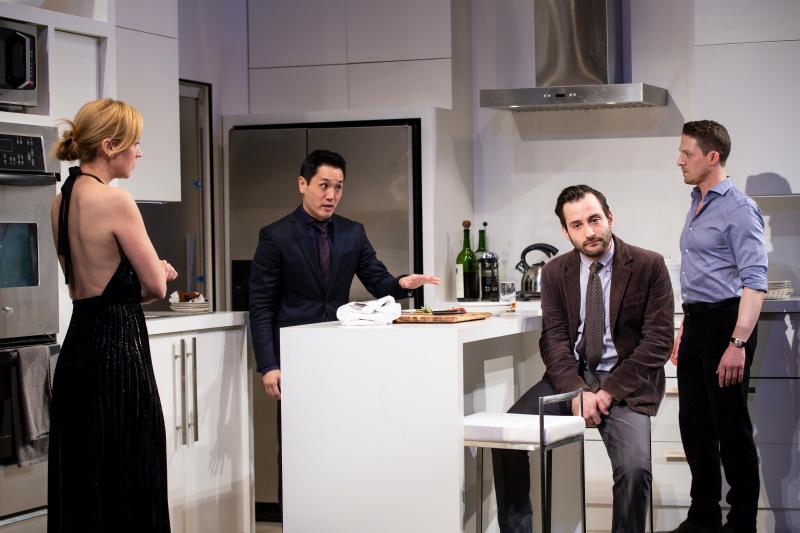 PARTY takes place in a beautifully apportioned upper East Side apartment in New York City in early 2007. The residents, Josh (Zach Appelman) and Katherine (Beth Riesgraf) have recently become engaged and are hosting an engagement party to celebrate with their friends and family. At the party are Kath's mother, Gail (Mia Dillon) and father Conrad (Richard Jenkins), their college friends Haley (Anne Troup), Kai (Brian Lee Huynh) and Alan (Teddy Bergman), and Josh's childhood friend Johnny (Brian Patrick Murphy). The party begins, as most do, with cocktails and conversation and the requisite ogling of Kath's extremely expensive, one-of-a-kind engagement ring. The party goers eat dinner, and once the plates are cleared and before dessert can be served, a simple accident sets in motion a series of events that changes the course of the evening and begins to chip away at the happy façade of each of those present. Old resentments and rivalries are surfaced, insecurities laid bare, and secrets and lies are gradually revealed leading up to a monumental revelation that changes everything for Josh and Kath, forever.
It is always thrilling to get to experience a world premiere production, knowing you are amongst the first to see a new play. There are no past productions to research or performances to compare to - it is completely fresh and new. It is particularly exciting when such a production is so perfectly executed as THE ENGAGEMENT PARTY. Samuel Baum's script is accessible, exciting, and thought-provoking, building just enough tension at just the right times and delivers a shocking twist that no one sees coming. It is a triumph of a tale, expressing so many different human emotions in a compact, but perfectly-timed 80 minutes. Love, pride, excitement, jealousy, resentment, anger, betrayal, and rage all are brilliantly brought to life by the extremely talented cast delivering Mr. Baum's story. The direction, by outgoing artistic director Darko Tresnjak is flawless. As he has done in so many past productions with Hartford Stage, he delivers an extremely human and relatable story and makes brilliant choices with the pacing and the staging, creating a thrilling and truly theatrical experience that stays with the audience long after the cast takes its bows.
The cast of THE ENGAGEMENT PARTY are each, in their own unique way, amazingly talented. Zach Appelman, who many Hartford Stage patrons may remember from his starring role in HAMLET a few years ago, is brilliant. His portrayal of Josh proves to be so much more than the uptight, self-preserving and self-serving Wall Street trader he seems on the surface. His transformation from happy fiancée to broken and deeply scarred young man is thrilling (yet heartbreaking) to watch. As his bride to be, Kath, Beth Riesgraf delivers a beautiful, and equally heart-wrenching performance. As her parents, Richard Bekins and Mia Dillon are wonderfully real, and the friends gathered (Teddy Bergman, Brian Lee Huynh, Brian Patrick Murphy and Anne Troup) are quirky, interesting and equally exciting to get to know. It is amazing how quickly you come to care about each of these characters and want to spend more time getting to know more about them. That makes the events of the evening so much harder to watch and yet, so richly satisfying.
From a creative
perspective, the highlight of THE ENGAGEMENT PARTY is Alexander Dodge's breathtaking set. It is a beautiful, shiny and modern masterpiece that delivers the perfect mix of realism and theatrical magic, eliciting gasps of joy from the audience. You really have to see it in person to truly experience it. Matthew Richard's lighting and Jane Shaw's sound designs add the perfect amount of realism to the evening, with subtle New York City street sounds and the shifting light from the dusk sky making you forget you are sitting in a theatre and not across the couch from these gathered friends.
THE ENGAGEMENT PARTY is the kind of play that captures the audience from the first entrance to the final bow. Time flies by as you sit on the edge of your seat taking in the brilliant script, delivered by a talented cast, expertly directed and set in a stunning locale. It is amazing how captivating, exciting and truly surprising 80 minutes can be, but I am here to say it is the best 80 minutes you can be spending during this cold and snowy January in Hartford.
THE ENGAGEMENT PARTY runs at Hartford Stage in Hartford, CT through February 3. Hartford Stage is located at 50 Church Street, Hartford, CT 06103. Performances are Tuesday, Wednesday, Thursday, and Sunday at 7:30 p.m., Friday and Saturday at 8:00 p.m., and Saturday and Sunday at 2:00 p.m. Weekly schedules vary. For tickets or for more information call 860-527-5151 or visit www.hartfordstage.org.
Top Photo: The Cast of The Engagement Part Photo by T. Charles Erickson
Mid-Photo 1: L-R: Beth Riesgraf, Brian Lee Huynh, Teddy Bergman, Zach Appelman Photo by T. Charles Erickson
Mid-Photo 2: Beth Riesgraf and Zach Appelman Photo by T. Charles Erickson
Bottom Photo: L-R: Richard Bekins, Mia Dillon, Zach Appelman, Beth Riesgraf Photo by T. Charles Erickson
Joseph Harrison has been involved with the theatre in some form or fashion all his life. He holds a Journalism degree from the University of (read more about this author...)