Review Roundup: BASKERVILLE at Long Wharf Theatre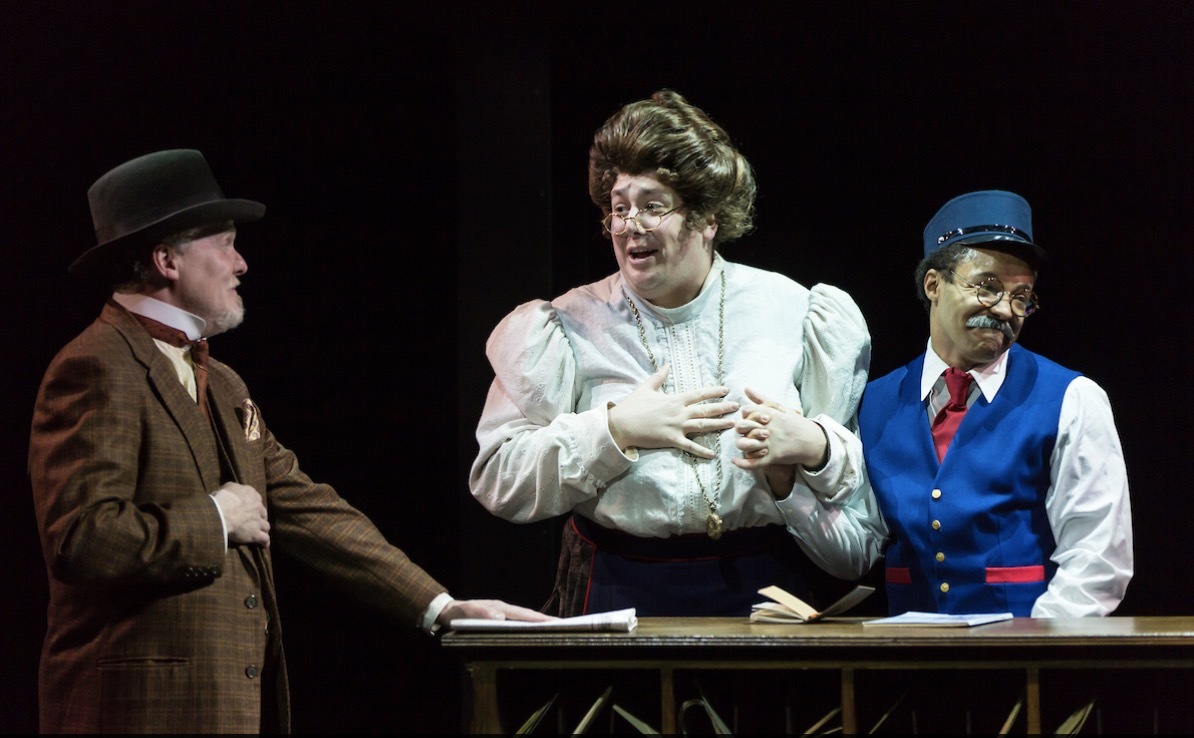 The reviews are in for BASKERVILLE at Long Wharf Theatre! The Ken Ludwig comedy opened on February 28th and will run through March 25th.
Let's see what the critics had to say!
Christopher Arnott, Hartford Courant: The changes to Doyle's original story are light and mostly have to do with how some of the characters are presented. Instead of a stuffy gentleman, Sir Henry Baskerville is played as a Texan cowboy - replete with a 10-gallon hat - by Christopher Livingston. The sole woman in the cast, Kelly Hutchinson, enjoys doing silly British accents. The actor playing the fool most often is Brian Owen, who worked with director Fox on a different production of "Baskerville" that played two theaters in Ohio last year. Owen is the actor who gets the most permission to overact. He howls and hoots and flops about and goes deliriously insane.
Sherry Shameer Cohen, BroadwayWorld: This is not your stuffy Victoria era mystery. Nor is it a parody of Holmes and Watson (played easily and flawlessly by Alex Moggridge and Daniel Pearce, respectively). There is nothing stiff about them, which makes segues into the comic aspects of the show seamless. And there is plenty of comedy, especially with the three dozen or so other characters, played perfectly by Kelly Hutchinson, Christopher Livingstone and Brian Owen. Their lightning-fast character changes will keep you on your toes as you follow the false leads until the mystery is solved. Think The 39 Steps or Jonah Verdon in DISASTER! The Musical), and you're in for a wild ride. Most memorable is Livingston's pleasantness and Texas twang (complemented by a 10 gallon hat) as the heir to the Baskerville estate, Hutchinson's accents and role of eerie housekeeper at the same estate), and Owen's every role, from opera singer to batty butterfly catcher.
E. Kyle Minor, New Haven Register: It must be said three fine performers comprise Fox's three-person ensemble. Specifically, Livingston's manic behavior is disarmingly charming. Hutchinson, who draws the short straw on zany characters, nonetheless invests her subjects with full heart and soul, proving herself a fine actor. Owen, who has previously performed in this show with and without Fox, stands out for his fearless commitment to his characters regardless how demented. He is a physically imposing figure who can move as gracefully as a ballet dancer while delivering his lines in a booming, elastic voice. Indeed, he's got a stage worthy Falstaff in him, as well as a Quasimodo, and perhaps even a Lear. Oddly enough, the actors playing Holmes and Watson appear in service to the flexible trio playing in support of them. It's simply the nature of the beast in "Ludwig's Baskerville." Moggridge is nothing like the lean, authoritarian, leading men of deep, seductive voices, such as Basil Rathbone of the old movies, or Paxton Whitehead, the contemporary gold standard for Holmes. The balding Moggridge comes across more like a pleasant character actor making the most of his leading role during his busman's holiday from playing the fop. Yet his sense of spontaneity and command of the language render a credible, if nontraditional, Holmes. Pearce, with his unmanageable gray-white thicket and goatee, does a fine job as a Watson who, through much of the play, finds himself the primary detective on this case while Holmes reportedly works on another case closer to home on Baker Street.
Photo Courtesy of Long Wharf Theatre.
Related Articles View More Connecticut

Stories

Shows
More Hot Stories For You