BWW Reviews: BASKERVILLE in New Haven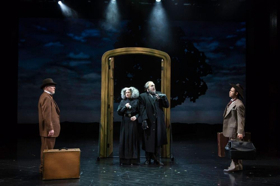 What shall it be? A mystery or a comedy? You can have both in Ken Ludwig's Baskerville: A Sherlock Holmes Mystery.
This is not your stuffy Victoria era mystery. Nor is it a parody of Holmes and Watson (played easily and flawlessly by Alex Moggridge and Daniel Pearce, respectively). There is nothing stiff about them, which makes segues into the comic aspects of the show seamless. And there is plenty of comedy, especially with the three dozen or so other characters, played perfectly by Kelly Hutchinson, Christopher Livingstone and Brian Owen. Their lightning-fast character changes will keep you on your toes as you follow the false leads until the mystery is solved. Think The 39 Steps or Jonah Verdon in DISASTER! The Musical), and you're in for a wild ride. Most memorable is Livingston's pleasantness and Texas twang (complemented by a 10 gallon hat) as the heir to the Baskerville estate, Hutchinson's accents and role of eerie housekeeper at the same estate), and Owen's every role, from opera singer to batty butterfly catcher.
The success of a show such as this also depends on its backstage crew (including Kathy Snyder and Amy Patricia Stern) to help keep the pace tight and snappy, along with Brendon Fox's superb direction. Tim Mackabee's simple set (with easily moveable minimal furniture), Robert Wierzel's lighting design, and Victoria Deiorio's sound and original music are wonderous, and Jason P. Hayes' wigs are amazing. This critic warns small theatre groups to consider this very carefully if choosing this play to produce. Good wigs and stagehands are crucial.
Ken Ludwig's Baskerville: A Sherlock Holmes Mystery runs at the Long Wharf Theatre through March 25. Ski there if you must, but don't miss this show! The Long Wharf Theatre is located at 222 Sargent Drive. Performances are Tuesdays and Wednesdays at 7:30 p.m., Thursdays through Saturdays at 3:00 and 8:00 p.m.; and Sundays at 2:00 p.m., with additional performances May 4 and 11 at 7:00 p.m. Children over the age of 10 will enjoy it, too. Tickets are $35.50 to $91.50. Call 203-787-4282 or visit longwharf.org.
Related Articles View More Connecticut

Stories

Shows