FIRST DATE Announced At Seven Angels Theatre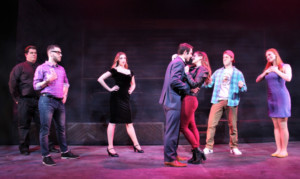 Seven Angels Theatre in Waterbury brings the fantastically fun musical, First Date, to Waterbury from March 14-April 7.
When blind date newbie Aaron is set up with serial-dater Casey, a casual drink at a busy New York restaurant turns into a hilarious high-stakes dinner. In a delightful and unexpected twist, Casey and Aaron's inner critics take on a life of their own when other restaurant patrons transform into supportive best friends, manipulative exes and protective parents, who sing and dance them through ice-breakers, appetizers and conversational land mines. Can this couple turn what could be a dating disaster into something special before the check arrives? Don't miss this show to find out!
Cast: Christina Carlucci, Jimmy Donohue, Ethan Kirschbaum, Constantine Pappas, Anna Laura Strider, Niko Touros, and Carly Valancy.
Special food and drink nights and matinees are available throughout the run of the show including a Post Show Party on Saturday, March 16 after the 8 PM show. Meet the cast and have some great food! Any performance is a great time to bring a friend, or a date. You're going to have a great time.
First Date Runs from March 14-April 7. Matinees at 2 PM and evening performances at 8 PM. Doors and Devil's Corner Bar open one hour before the show. Tickets range from $42 to $49.50 depending on performance. To purchase call the box office at 203-757-4676, online at SevenAngelsTheatre.org, or at the box office at 1 Plank Road, Waterbury. Free Parking. Just off I-84. GPS directions use: Hamilton Park, Waterbury.
More Hot Stories For You