DENNIS QUAID AND THE SHARKS Come to Ridgefield Playhouse This Fall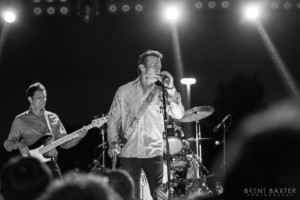 Actor Singer Dennis Quaid performs a night of rock classics and more with Dennis Quaid and The Sharks on October 25 at The Ridgefield Playhouse
Dennis Quaid is not just another actor turned rock star, he is a rock star! Dennis Quaid and The Sharks have been performing in front of thousands of people receiving rave reviews. Fans can see Dennis Quaid and The Sharks at the Ridgefield Playhouse on Wednesday, October 25 at 8pm as a part of the Pepsi Rock Series Powered by xfinity. As the lead singer and rhythm guitarist, Quaid and the band perform original songs and classic hits such as "Spill the Wine", "Gloria", and many more. The band even throws in a Jerry Lee Lewis song or two in the mix, such as "Great Balls of Fire," which Quaid has firsthand experience performing, having played "The Killer" in a 1989 biopic. The band's origins can be traced to one night when Quaid went to see actor Harry Dean Stanton and his longtime band (appropriately named the Harry Dean Stanton Band) perform at an L.A. club. Quaid was invited to join the band onstage. At first reluctant because of his decade-long layoff from music, Quaid finally did perform with the band and was successful enough that Jamie James, also a member of Stanton's band, approached Quaid about starting a group of their own. James quickly began recruiting others for the band and it wasn't long before Dennis Quaid & the Sharks, which specializes in "rock 'n' roll and country-soul," was performing at L.A. clubs.
Kicking off the night is Eliot Lewis. As an independent, multi-instrumentalist Lewis has built a unique career most musicians could only dream of. As a solo artist, he consistently performs and releases his own brand of guitar featured rock and soul. He is also the only musician to appear on every episode of the hugely popular "Live From Daryl's House" show. Eliot also performs with the most successful duo of all time, Rock and Roll Hall of Fame inductees
Daryl Hall
&
John Oates
on tour. Eliot has worked with some of the biggest artists in the music business including
Billy Gibbon
s (ZZ Top),
Joe Walsh
,
Todd Rundgren
, Train,
Grace Potter
,
Ben Folds
, Booker T, Jewel,
Rob Thomas
, Keb Mo,
Jason Mraz
,
Darius Rucker
,
Gavin DeGraw
, just to name a few. He has also performed on some of the most prestigious stages all over the world including the legendary Hollywood Bowl and Japan's Budokan Arena, as well as on The Voice, Conan O'Brien, Today Show, The View,
Jimmy Kimmel
and many others.
Dennis Quaid got his start in acting with the 1979 film Breaking Away. From there, he went on to have starring roles in Jaws 3-D (1983), Enemy Mine (1985), Innerspace (1987) and The Big Easy (1987). He also achieved acclaim for his portrayal of Jerry Lee Lewis in Great Balls of Fire! (1989). In more recent years, Quaid has starred in popular films like the remake of The Parent Trap (1998), The Rookie (2002), Far from Heaven (2002), for which he won the New York Film Critics Circle Award for Best Supporting Actor, the Chicago Film Critics Association Award for Best Supporting Actor, the Online Film Critics Society Award for Best Supporting Actor and the Independent Spirit Award for Best Supporting Male, The Day After Tomorrow (2004), Yours, Mine and Ours (2005), A Dog's Purpose (2017), and many more! As successful as Quaid's acting career has been, his passion and talent for rock music is undeniable! Don't miss this chance to see Dennis Quaid rock and roll at the Ridgefield Playhouse!
For tickets ($75 | Meet and Greet additional $75), call the box office at 203-438-5795, or visit ridgefieldplayhouse.org. The Ridgefield Playhouse is a non-profit performing arts center located at 80 East Ridge, parallel to Main Street, Ridgefield, CT.