CT Repertory Theatre Ends 2017-18 Season With AS YOU LIKE IT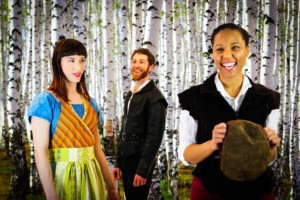 Connecticut Repertory Theatre (CRT) ends its 2017-18 season with William Shakespeare's "As You Like It". Kristin Wold will direct. Performances will be held in the Harriet S. Jorgenson Theatre from April 19th through April 29th, 2018. For tickets and information please visit crt.uconn.edu or call (860) 486-2113.
Are we out of the woods, yet? In this popular Shakespeare comedy, two worlds collide in a beguiling game as usurped thrones and wealth, family feuds, love triangles and disguises fuse. On one side, Duke Frederick's pompous and corrupt court, usurped from his brother the Duke Senior. On the other, Oliver, who denies his brother Orlando his right to the family wealth and plots to have him killed. Stuck in the middle are two friends: Rosalind, Duke Senior's daughter, and Celia, Duke Frederick's daughter, who escape the court life in favor of the forest of Arden. Disguises and secrets get in the way of love and result in hilarious love triangles that only a 'magical transformation' can fix.
The Saturday, April 28th, 2:00pm performance will be ASL interpreted as CRT partners with UConn's Center for Students with Disabilities to provide interpretation services. Managing Director Matthew J. Pugliese says, "We are very happy that we can offer the ASL interpreted performance for Shakespeare. We want all the members of our community to be able enjoy the theatre. This is a step to make that possible."
Director Kristin Wold (CRT's "Sense and Sensibility", "Punk Rock"), is a company member at the Tony Award-winning theatre Shakespeare & Company, and brought in two other members of the Lenox, MA theatre to join the cast. Actors Jonathan Croy as Duke Frederick and Duke Senior and John Hadden as Jacques.
Jonathan Croy* (Duke Frederick / Duke Senior ) has spent thirty-one years working at Shakespeare & Company in Lenox, Massachusetts as an actor, director and teacher, and in administrative positions ranging from Company Manager to Artistic Director. As an actor, he has appeared in over seventy plays, including "God of Carnage" (Michael Novak), "King Lear" (Gloucester), "Richard II" (John of Gaunt), "t's a Wonderful Life" (Potter, Uncle Billy), "Henry V" (Pistol) and "The Tempest" (Caliban). He has directed over thirty more, including "The Two Gentlemen of Verona", "Richard III", "A Midsummer Night's Dream", "The 39 Steps", "Julius Caesar", "Hamlet", "Romeo & Juliet", "Twelfth Night", "Macbeth", and "Scapin."
John Hadden* (Jacques) has been a director/teacher/actor/writer for 35 years, playing mostly with Shakespeare and original work. He is a founding member of Shakespeare & Co, founded and ran other companies; over 100 projects in Berlin, Cologne, Leningrad, New York, regional theaters, TV, radio, independent films, schools and universities. His own plays and a short film have won awards and have been seen at PS 122, LaMama, EST, the Wharton Salon and the Boston International Film Festival, etc. His writing has appeared in literary journals, he is a New England States Touring Artist, and a Vermont Teaching Artist.
CAST AND CREATIVE TEAM
The creative team includes: Kristin Wold (Director), Katherine Paik (Scenic Design), Andrew Berardi (Lighting Design), Taowen Pan (Costume Design), Teddy Carraro (Sound Design), Casey Lampert (Dramaturg), and Tom Kosis (Production Stage Manager).
The cast includes MFA actors, Alex Campbell (Rosalind), Sierra Kane (Phebe), Bryan Mittelstadt (Oliver), Nikolai Fernandez (Touchstone), Sebastian Nagpal (Silvius). BFA actors, Nick Nudler (Orlando), Braley Degenhardt (Celia), Gillian Pardi (Audrey), Anthony Giovino (Charles/Forester), Matthew Antoci (Adam), Valerie Badjan (Cora), Jacob Harris Wright (Le Beau/Forester/Page), Jack Dillon (Hyman/Forester), Coleman Churchill (William/The Dukes' Lord), Elias Beck Sandlin (Dennis), Harry Wendorff (Jacques de Boys/Forester), Zack Dictakis (Amiens), Aaron Bantum (The Dukes' Lord/Page).
PERFORMANCE AND TICKET INFORMATION
Evening performances start at 7:30pm on Wednesdays and Thursdays, and at 8pm on Fridays and Saturdays. Select matinee performances start at 2pm on Saturdays and Sundays. Single tickets are available now. Adult tickets range from $31-35. Discounts are available for seniors. All student tickets are $10.
Post-show discussions with members of the cast and crew will follow the performance on Thursday, April 26th at 7:30pm and the Saturday, April 28th at 2pm.
Children must be at least 4 years old to attend CRT productions. CRT recommends ages 10 and up for this production. For additional ticket information or to charge tickets by phone, call 860.486.2113. All sales are final; no refunds. Play selections and performance dates are subject to change.
Please call the box office at 860.486.2113 for tickets and additional information or visit www.crt.uconn.edu for specific show dates and times because performance schedules vary and are subject to change.
The Harriet S. Jorgenson Theatre is located on the campus of the University of Connecticut in Storrs, CT.
CRT is the professional producing arm of the Department of Dramatic Arts at the University of Connecticut, Storrs. CRT productions are directed, designed by, and cast with visiting professional artists, including Equity actors, faculty members, and the department's most advanced student artists. The synergy between professional and advanced student artists creates extraordinary theatre and a unique learning environment.
Photo: Sierra Kane (Phebe), Bryan Mittelstadt (Oliver) and Alex Campbell (Rosalind) in AS YOU LIKE IT. Photo by Matt Pugliese.