CT Rep Presents GOOD CHILDREN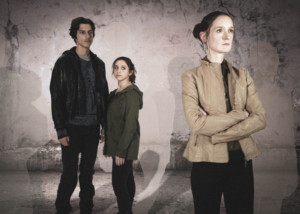 Connecticut Repertory Theatre (CRT) continues its 2018-19 season with the regional premiere of Tracy Thorne's, "Good Children." CRT Artistic Director, Michael Bradford, will direct. Performances will be held in the Studio Theatre from October 25th - November 4th, 2018. For tickets and information please visit crt.uconn.edu or call (860) 486-2113. "Good Children" continues Artistic Director Michael Bradford's commitment to producing new work.
In "Good Children's" dystopian world, young Val doesn't know what to do to comfort his traumatized mother. His frantic search for answers leads him to secrets about his family's past. But something doesn't feel right. Val longs to overcome his constant fear of losing the people closest to him. But in a society where the secrets of the past are closely guarded, the ones who protect you most may be the ones you should fear the most.
Director Michael Bradford is an award-winning playwright and the Department Head of Dramatic Arts at the University of Connecticut. Previous directing credits at CRT include "Our Country's Good," "Waiting for Lefty/Severance," and "Intimate Apparel." Bradford's writing has been produced Off-Broadway at the American Place Theatre as well as other New York theatres including the Lark Developmental Theatre, The Flea, The Access, and the NADA Theatre. His plays have received readings and work-shops at the Manhattan Theatre Club, LARK Theatre, the Ensemble Studio Theatre, the Connecticut Repertory Theatre, the Steppenwolf Theatre, and The Actors Theatre of Louisville. Bradford is considered one of the most promising African American Playwrights today.
Bradford says, "In dictatorships and totalitarian governments, the end always justifies the means and we are disheartened, but sadly never really surprised at the depth of our inhumanity. On the surface, "Good Children" is about the toxicity of a secret and the breakdown of community, but its beating heart explores what happens when a person discovers their own humanity in the eyes of their child. They say it takes a village to raise a child, but sometimes it takes a child to save a village."
Returning to CRT's stage to lead as Iris, Helen T. Clark is a Visiting Assistant Professor of Theatre Studies within the UConn Drama Department. She holds an MFA in Interdisciplinary Arts from Goddard College and a BFA in Acting from UConn. She has previously served as a guest lecturer in performance at Wells College and the University of Binghamton. Helen was an artist in residence at Berkshire Theatre Festival from 2005-2006 and has been performing regionally since. She has spent the past 11 years in Ithaca, NY with The Hangar Theatre (Education Director, Actor, Teaching Artist), the political/social justice theatre company Civic Ensemble (Actor/Facilitator), and The Cherry Arts (Company Artist) where she has premiered English translations of international plays both in the US and globally. Most recently, Helen originated the role of Monika in the world premiere of "Rule of Thumb" by Serbian absurdist Iva Brdar in both Ithaca and NYC, and Woman in the North American/English Language premiere of "Winter Animals" by Santiago Loza. She is currently in the process of curating her solo show, "The Waking Danu Project," with the support of the Foundation of Jungian Psychology.
Clark says, "It's so thrilling to be back at UConn and performing with CRT, especially in a production that is structured so intensely. To be able to explore so many themes, especially the intersections of the past and present and one's commitment to a cause, is exciting. At what point does this commitment to something edge on the side of destruction? How much are we willing to eat to fill a hunger that may never be satiated? It's an honor to be given the opportunity to dissect this with both my students and treasured former professor and the CRT audiences."
The creative team includes: Michael Bradford (Director), Morgan Shea (Scenic Design), Toni Sterling (Lighting Design), Jessica Haswell (Costume Design), Katie Salerno (Sound Design), Emma Mathieu (Dramaturg), Julius Cruz (Stage Manager).
The cast includes: Helen Clark (Iris), Casey Wishna (Val), Rebekah Santiago Berger (Jude), Sophia Ancona (Ella), and Andrew Smith (Matthew).
Evening performances start at 7:30 p.m. on Wednesdays and Thursdays, and at 8 p.m. on Fridays and Saturdays. Select matinee performances start at 2 p.m. on Saturdays and Sundays. Single tickets are available now. Single adult tickets are $33. All student tickets are $10 and a senior discount is always available.
Children must be at least 4 years old to attend CRT productions. For additional ticket information or to charge tickets by phone, call 860.486.2113. All sales are final; no refunds. Play selections and performance dates are subject to change.
Please call the box office at 860.486.2113 for tickets and additional information or visit www.crt.uconn.edu for specific show dates and times because performance schedules vary and are subject to change.
The Studio Theatre is located on the campus of the University of Connecticut in Storrs, CT on Bolton Rd.