BWW Review: MACBETH slays at Brookfield Theater Of The Arts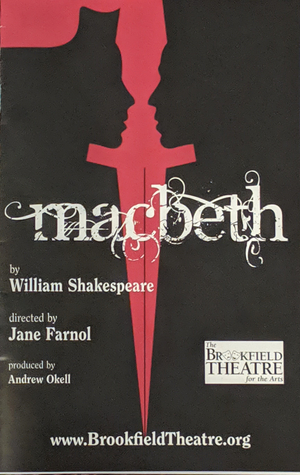 It is common in Shakespearean plays for most of the action to happen offstage, leaving the actors onstage to talk about it. That makes language essential in Shakespeare. Unfortunately, for modern audiences with an untrained ear, translating Shakespearean in real time can be a big challenge. That puts a large burden on the actors to translate that language and portray it in a way that the audience understands. Brookfield Theatre of the Art's production of Macbeth knew the obstacles ahead of them, rose up to the challenge, and put on an overall strong production of Shakespeare's deadliest tale.
In the blood fest that is Macbeth, the language of the main pair- Lord and Lady Macbeth- is crucial for a successful production as most of the action in the Scottish play happens offstage and consequentially discussed by the King and his wife. Luckily for Brookfield, the vocal articulation of David Regelmann and Vicki Sosbe as the Lord and Lady, respectively, created a clear narrative and led a strong vocal cast. Regelmann's and Sosbe's chemistry on stage only strengthened the intensity inherent in Shakespeare's deadliest tragedy. But, as with every community production, there is a great range in experience familiarity with Shakespeare, and in such a demanding genre, it is easy to see the difference. When sharing a stage with Regelmann and Thomas Samuels' Banquo, many of the background characters had a hard time standing out. Standing out becomes even harder when taking on the task of condensing the five-act play into a 90-minute one act performance. One role that, unfortunately, took a hit was King Duncan. Played by Peter Lerman, the King of Scotland is meant to be a strong, regal, and yet kind man so that the actions of Macbeth could be felt more intensely, but the condensed script and desire to make him more fatherly lead to a disconnect where regicide felt more like patricide. While still a powerful moment, it came at the cost of downplaying the significance of the effect it had on all of Scotland: the audience felt that Scotland lost a good man rather than a good man and a strong leader.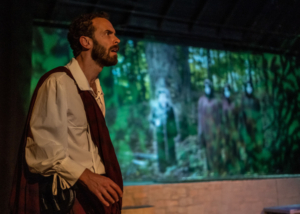 Beyond the acting, director Jane Farnol and her design team had a beautifully minimalist design with one exception: Projections. Farnol's idea to use projections was inspired and the idea brought to life by the creative team created a beautiful contrast on the stage. An empty stage and period costumes established the "natural" world in a medieval style, but the projections established the "supernatural" world by having the witches and apparitions only appear on screen to create a dichotomy between medieval and modern, natural and supernatural. Not to mention, combining live theater with recorded theatre adds another challenge for Regelmann and Samuels having to map out the dialogue with tech operator Lylah Bottelsen so that their conversations felt natural and in-the-moment. All of these strengths made for a powerful performance that was impressive to actually make up for a technical flaw in the lighting design. With a simple lighting design, it wasn't the quality of the design that fell short, but the placement of lights: Coverage was spotty with a number of dark spots along popular staging routes, so characters were constantly standing in or passing through spots with their faces only partially lit; even in settings like the interior of a castle where the light should have been rather consistent. This led to many awkward transitions as important conversations were had with faces hardly being seen, but those moments were quick as the actors then moved to another location that was better lit, so it was more of a visual inconvenience for this trained eye than an actual detractor from the production itself.
Tackling Shakespeare at any level requires a cast that understands the linguistic demands of the text and a crew that makes the text feel relevant. Brookfield Theatre of the Arts' production of Macbeth wonderfully navigated the dense text and put on a genuine performance, which was clear that the audience enjoyed. You can see this production of Macbeth at the Brookfield Theatre of the Arts in Brookfield, CT from Sept 13th-28th @ 8pm on Fridays and Saturdays, and 2pm on Sundays.
Photo credits go to Stephen Cihanek, review was updated on 9/17/19 after clarifications regarding design credits and directorial input.