BWW Review: JESUS CHRIST SUPERSTAR at Connecticut Repertory Theatre
For over 40 years, Andrew Lloyd Webber's iconic rock opera JESUS CHRIST SUPERSTAR has been thrilling audiences and sparking conversation and debate between theatergoers and fans alike. Over those 40 years different productions have put their own spin on the tale of the last days in the life of Jesus of Nazareth, told from the perspective of Judas Iscariot via a powerful rock score. From the original concept album and productions, to the film starring Ted Neely and Carl Anderson, and most recently with the NBC live production, this captivating story has shown a universal quality that continues to excite audiences as much today as when it premiered. And in that light, the final production of the Connecticut Repertory Theatre (CRT)'s Nutmeg summer series, does what JESUS CHRIST SUPERSTAR does best - thrills audiences while stimulating dialogue and introspection, long after the last chords of the score are through.
JESUS CHRIST SUPERSTAR, for anyone unfamiliar with the piece, is one of Andrew Lloyd Webber and Tim Rice's earliest musicals (and arguably, one of the most famous). It is a completely sung through rock-fueled whirlwind of a story, beginning with Jesus (Alex Prakken) and his twelve disciples as they come to the end of his three years of preaching and teaching; eventually leading to his crucifixion and death. Through song and dance, the audience is introduced to this motley group ("Heaven on their Minds") through the eyes of one of their own, Judas Iscariot (Ryan Vona).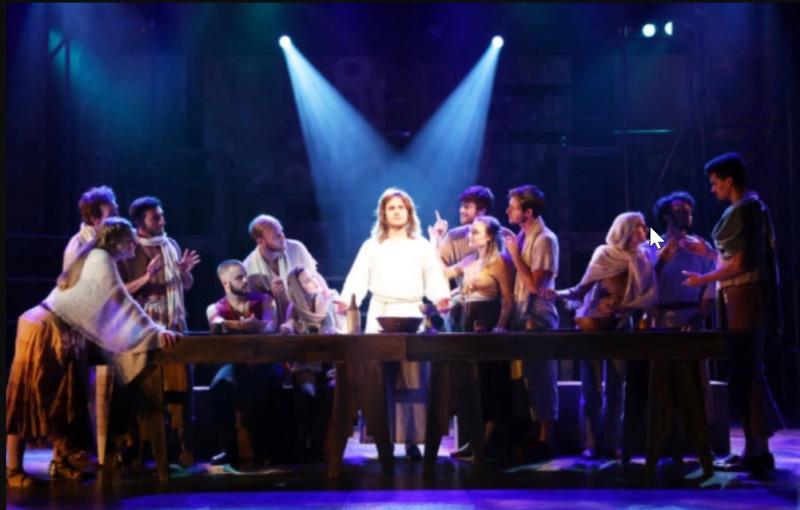 They are eager to continue their movement and to make their way to Jerusalem to bring Jesus' message to the people. Plotting against Jesus are the high priest, Caiaphas (Tyler Grigsby) and his band of scribes and Pharisees who are determined to stop Jesus in whatever way they can. And, as those familiar with the story know well, they succeed in convincing Judas to betray Jesus, leading to his "trial" before the governor of Jerusalem, Pontius Pilate (Jonathan Cobrda) and, ultimately, his crucifixion.
In terms of the story, as a rock opera, JESUS CHRIST SUPERSTAR relies upon its songs to further the plot. For those unfamiliar with the story, the pacing can move very quickly from one part to another, and can become a bit confusing, especially if not enough time is given for transition, which is partly the case in this production. But the songs, taken by themselves, often standalone quite well, telling their own part of the tale. For CRT's production, Artistic Director Terrence Mann's direction is fluid and full of energy, making use of his talented cast to their full extent. Some of the creative choices in SUPERSTAR are extremely powerful (probably one of the best stagings of Judas' Death I have ever seen) while others are not as clear (having the cast arrive in 1960's clothing to change onstage into their costumes for the show was slightly confusing), but taken as a whole Mr. Mann's direction is solid and delivers a thrilling experience.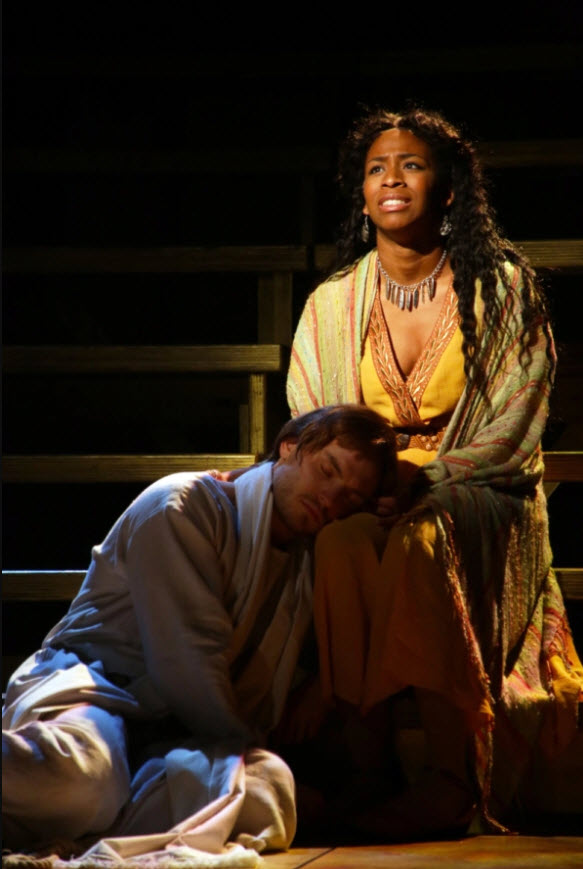 One key element of JESUS CHRIST SUPERSTAR is the focus on Jesus as not just Messiah but as a man, the political and social ramifications of his teachings and his following, and of Judas as a conflicted and tragic figure whose motivations go well beyond his typical depiction as betrayer. In CRT's production Mr. Prakken and Mr. Vona bring these roles out quite well. Prakken's Jesus is initially a bit bland and forgettable, someone who obviously has the group of disciples in his thrall, but not outwardly remarkable. That changes in the second act with his powerhouse petition to God in "Gethsemane" a number that has been the triumph (or the downfall) of many a past production of SUPERSTAR. I am pleased to say that Mr. Prakken delivers the number with an emotionally building and powerful wail that literally stopped the show. For a show with his character in the title, Jesus is often upstaged by his friend and disciple, Judas. In that role, Ryan Vona gives a bit more subdued performance than some of his predecessors, but that doesn't prevent him from showing off a powerful and thrilling voice in almost every number he has on stage. Other standout performances include Sasha Renae Brown as Mary Magdalene who performs a passionate "I Don't Know How to Love Him". Jonathan Corbdra's Pilate is just the right amount of slimy politician and frustrated man doing his best to avoid the worst outcome for Jesus. Finally, in a short, but quite funny scene, Griffin Binnicker appropriately chews the scenery as the flamboyant and hilarious King Herod.
The creative team behind CRT's JESUS CHRIST SUPERSTAR make some interesting and, in some cases, inspired choices for this production. Christopher d'Amboise's choreography is some of the most frenetic and physical that this reviewer has seen in a production of SUPERSTAR. It doesn't work all the time, but when it does it brings a new level of enthusiasm and energy to many of the classic numbers. Fan Zheng's costumes work well, in particular the headwear of Caiaphas and Annas and Pilate and Herod's regal gear. Tim Brown's simple set provides the backdrop for the story and is quite effective in creating a sense of flow for the action (the stairs, in particular, work well in this regard). Music Director/Conductor Bryan McAdams and his group of musicians tackle Lloyd Webber's rock score with a high level of skill. Doug Henry's lights punctuate the action well (in particular, back lighting some of the more dramatic moments) and Sound Designer Michael Vincent Skinner does a good job balancing the extreme demands a show like this brings with it. Worth noting is the sonic experience during the crucifixion scene. The sound, a mix of high pitched instruments, moaning of the cast, and Jesus' pleas from the cross, created a disturbing ache that lasted well beyond the end of the show.
Overall, CRT's JESUS CHRIST SUPERSTAR is daring and different, with both exciting and emotionally jarring moments that breathe fresh life into the 40-year old score and adds personal touches to what has become a familiar (and favorite) musical for many. Though it has a few moments where this reviewer briefly questioned the artistic choices, those passed quickly and were certainly overshadowed by the emotionally powerful performances being delivered on stage.
JESUS CHRIST SUPERSTAR by the Connecticut Repertory Theatre (CRT) runs at the Harriet S. Jorgensen Theatre on the campus of the University of Connecticut in Storrs, CT through July 22. Evening performances start at 7:30 p.m. on Tuesdays, Wednesdays and Thursdays, and at 8 p.m. on Fridays and Saturdays. Matinee performances start at 2 p.m. on Saturdays and Sundays. For ticket information or to purchase tickets by phone, call 860.486.2113. To purchase tickets online, visit www.crt.uconn.edu.
Top Photo Credit - Alex Prakken (Jesus) and Ryan Vona (Judas)
Mid Photo Credit - Alex Prakken (Jesus) and Ryan Vona (Judas) and the apostles
Mid-Photo #2 - Alex Prakken (Jesus) and Sasha Renee Brown (Mary Magdalene)
Bottom Photo Credit - Jonathan Cobrda (Pilate)
| | | |
| --- | --- | --- |
| | Donations | Arts Orgs |
Related Articles View More Connecticut

Stories

Shows
Joseph Harrison has been involved with the theatre in some form or fashion all his life. He holds a Journalism degree from the University of (read more...)