BWW Review: ANNIE at Broad Brook Opera House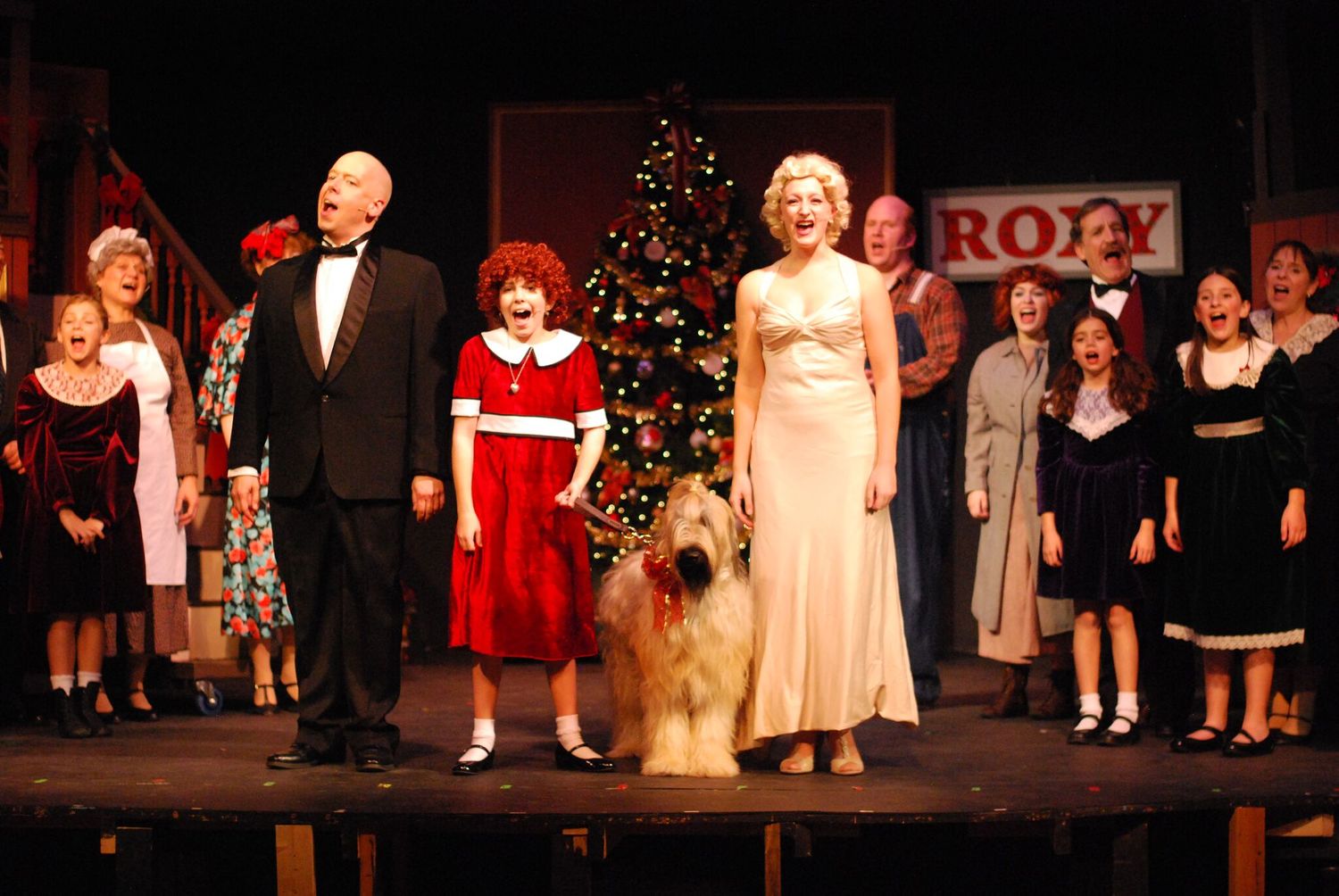 Plucky red-headed orphan, shaggy stray dog, a grouchy, but loveable billionaire and President Franklin Delano Roosevelt. Sound familiar? I am, of course, talking about the musical ANNIE, by Thomas Meehan, Charles Strouse, and Martin Charnin which is based on the comic strip "Little Orphan Annie". This classic musical, which has been successfully presented around the world for the past forty years (the show premiered on Broadway in 1977) comes to the Broad Brook Opera House stage in Broad Brook, CT in the latest production by the Opera House Players.
ANNIE, for those who may not be familiar (if that is possible) tells the story of Annie (Samantha Choquette), an orphan in New York City circa 1933 during the depths of the great depression. She lives in an orphanage run by the shifty, often drunk, Miss Hannigan (Anna Giza) with many other girls just like her, living the "Hard Knock Life." Through a series of fateful circumstances, Annie is chosen by Grace Farrell (Becky Sawicki) to come stay at the 5th Avenue mansion of Oliver Warbucks (Brian Rucci) for Christmas. Annie's positive outlook on life and her good-natured attitude win over the frosty, money-driven Mr. Warbucks leading him to decide to adopt Annie as his own daughter. However, her heart (and half of her heart shaped locket) remains with the parents who left her as a baby on the steps of the orphanage. A massive search ensues, involving the FBI (including J. Edgar Hoover himself) and a crackpot scheme by Miss Hannigan's brother Rooster (Shaun O'Keefe) and his girlfriend Lily (Aimee Meunier). In the end everyone gets a "New Deal for Christmas" and all is well.
ANNIE is a musical that relies on a number of factors, all of which are present in the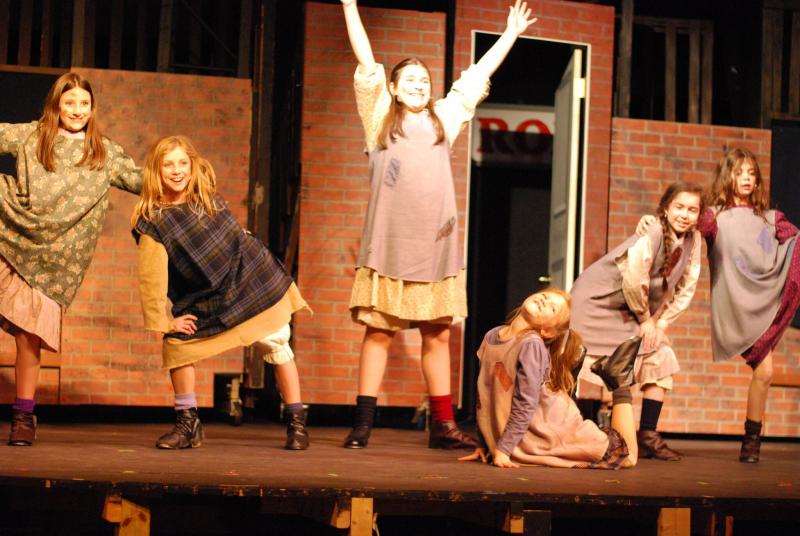 Opera House Players production. First, and most importantly, is Annie herself. She must be tough, but loveable, and have a powerhouse voice. Ms. Choquette has all of this in spades. She brings an energy and excitement to the role, and displays a powerful vocal belt that would be the envy of actresses twice her age. Her performance alone, makes this production worth seeing. But there are a number of other factors that lead to an admirable production by the Opera House Players. The orphans each deliver strong performances in their own way, with solid vocals and characterization. As Mr. Warbucks, Mr. Rucci provides a predictably distracted, yet loving billionaire and as his assistant Grace, Ms. Sawicki lends a lovely voice and demeanor to each of her scenes and songs. Ms. Giza's portrayal of Miss Hannigan is a bit more subdued than the character can be, leading to more pity for her than dislike, but she gives it her all, especially in the always hilarious "Little Girls". And, as her brother Rooster and his dim-witted girlfriend Lily, Mr. O'Keefe and Ms. Meunier are appropriately slimy, yet silly.
In terms of the creative side of the production, Robert Lunde's direction is good, especially considering the very large cast, numerous children, and of course, a dog (Sandy, played by Maeve), to contend with. Mr. Lunde also designed the set, which, like so many Opera House Players production utilizes carefully crafted and creatively placed scenic pieces to define the different locales of the show (orphanage, mansion, White House, etc.) in order to deliver in such a small space. Kudos to Mr. Lunde (and to the ensemble who do the heavy lifting changing the scenery) for making it work well. Finally, the Music Direction by Steven Cirillo is strong, and the small, but mighty orchestra he leads does extremely well with the music of the show.
Overall, ANNIE, as presented by the Opera House Players is what you expect from this classic piece. It is energetic, fun, sometimes funny and most of all, hopeful - something we all could use a little bit more of nowadays.
Opera House Players, Inc. is currently presenting ANNIE through December 2 (Fridays & Saturdays at 8pm, Sundays at 2pm) at the Broad Brook Opera House, 107 Main Street, Broad Brook, CT. Tickets are available by calling the box office at 860-292-6068 or online at www.operahouseplayers.org.
All photos: Opera House Players' production of ANNIE. Photo credit: Susan Choquette
Joseph Harrison has been involved with the theatre in some form or fashion all his life. He holds a Journalism degree from the University of (read more about this author...)