BWW Interviews: VANESSA WILLIAMS, Coming To Ridgefield Playhouse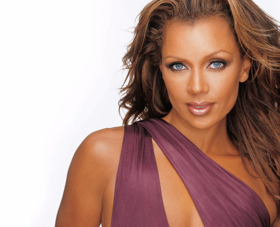 You've heard of triple threat talents, right? Performers who can act, sing and dance. When Vanessa Williams comes to the Ridgefield Playhouse on Saturday, November 4, audiences will experience entertainment on a much higher stratosphere.
The gods lavished Vanessa Williams with show-stopping beauty, grace, personality, drive, and resilience as well as mega talent - and the ability to make it all look effortless. Unless you grew up on another planet, you know Vanessa Williams first came into the national spotlight when she was crowned the first African-American Miss America. You don't hear or see much of most former beauty pageant winners once their reign is over, but Williams soon conquered other highly competitive territories.
She was a sensation as Chita Rivera's replacement in Kiss of the Spiderwoman. It was the most challenging role, recalls Williams, because it was the first time she had a leading role on Broadway. She was also following in the footsteps of the popular and critically acclaimed Chita Rivera. The role was demanding because of its singing and "extensive dancing and many different styles with the tango and cha-cha." Not to mention having to climb to the top of the jail cell on the stage. Greg Evans of Variety wrote "The pop singer makes an alluring Spider Woman, in some ways more than matching the role's originator, the great Chita Rivera."
David Richards of The New York Times gushed that since Williams joined the cast, Kiss of the Spider Woman was not just one of Broadway's most thrilling shows, but "it is also the sexiest." He attributed it to Williams' adding "a dimension to the production that has been missing until now; she is an irresistibly alluring temptress." He called her "sleek, proud and breathtakingly confident," adding,
"Whenever she's onstage, the temperature in the Broadhurst Theater shoots up about 20 degrees. The air-conditioning bills are going to be hell to pay." Good thing it's getting chilly outside.
Television viewers remember her as the delightful "Rosie Alvarez" in the television remake of Bye Bye Birdie and later discovered that she can master the role of a villainess as well as seducer and long-suffering girlfriend. For her role in Ugly Betty, for which she was nominated three times for best supporting actress at the Primetime Emmy Awards, supporting actress award at the 2007 and 2008 NAACP Image Awards, and Best TV Villain at the 2007 Teen Choice Awards. Williams is a gifted parachute performer. Drop her anywhere and she will make any role her own.
Williams has staying power in a field that worships youth. People - and artists - grow and sometimes change over the years. How does she see herself today as opposed to 20 years ago?
"I haven't changed. I think I'm certainly more settled in my abilities," she says. "I
was trying to prove that I was worthy to be where I am. [Today] I don't need to prove my talent. I basically am eager to please and prove. Now I am just more comfortable in my own skin." Wow! Who would have imagined that? You have to have moxie to compete in pageants and to take on a high-octane role Broadway after a legendary performer who already dazzled everyone.
She passed down her strength and determination to her four children, who are "all independent [and] are confident ... I always said, 'Dare to be different. Don't be a conformist. Dare to be you.'" She describes them as "fierce" in terms of "having the courage to go for what they want. So many people in this business say, 'Why don't you get a real job?'" Her children have "fire in their belly. I never told my kids to get a real job."
Williams divides her time between California and Westchester where she grew up as the daughter of two strong parents with whom she maintained a loving relationship. Both taught music in public schools. She and her mother, Helen, wrote the New York Times bestseller, You Have No Idea: A Famous Daughter, Her No-nonsense Mother, and How They Survived Pageants, Hollywood, Love, Loss (and Each Other). It's a candid and fascinating book about growing up with dreams and reality.
As a singer who has performed in music videos and sold millions of albums worldwide, Williams still has unconquered territory. "I would love to originate a role on Broadway," she says. "I'd love to start from scratch [in] an original show, play or musical." Her performance in Kiss of The Spiderwoman was hardly beginner's luck. She also appeared in Into the Woods (Tony nominee for Best Actress in a Leading Role in a Musical), Saint Louis Woman, Sondheim on Sondheim, Trip To Bountiful, and After Midnight. She will appear along with Kristen Chenoweth in the Encores! revue, Hey Look Me Over from February 7 through 11 at Lincoln Center.
"I'm known for my connection with the audience and the people I come across," she says. "Some of my biggest compliments are when people say, 'You made me cry again.'...[It's] passing a door that's sometimes closed and I force open and I swing [it] open [and] affect people's hearts. That's the most touching thing."
Vanessa Williams will appear on Saturday, November 4 at 8:00 p.m. at the Ridgefield Playhouse, 80 East Ridgefield Road, Ridgefield. (If you are using a GPS, use the address 76 East Ridge Road. Turn uphill onto Governor Street and take a left into the parking lot.) Call 203-438-5795 or visit www.ridgefieldplayhouse.org and www.vanessawilliams.com.
Photo credit: Rod Spicer