BWW Interview: Orange is The New Black's KELLY McANDREW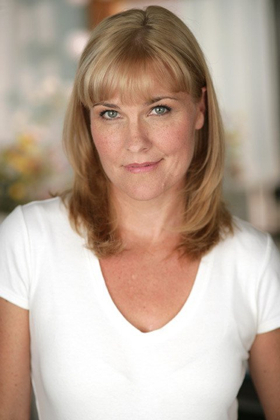 Meet Kelly McAndrew. You saw her in Orange is The New Black, House of Cards, Gossip Girl, Everybody's Fine, Superheroes, and lots of other television shows and movies. You saw her as Maggie on Broadway in Cat on a Hot Tin Roof and Off-Broadway in various plays. But wait until you see her as three grieving mothers in Matthew Greene's play Thousand Pines, which is having its world premiere at the Westport Country Playhouse.
Born in Los Angeles, McAndrew spent her childhood there and in San Diego. "My mother really fostered my love for theatre and the arts," she recalls. "She was constantly signing my sister and I up for acting and dancing workshops. And we had season tickets to amazing theaters. I always loved it. When I decided I wanted to do it professionally she was nervous...worried it would lead to a lot of heartbreak. But she was so supportive and was by far my biggest fan."
No doubt there's heartbreak for every aspiring performer, but McAndrew has the acting chops. "Growing up I got to see incredible performers directed by amazing directors at The Old Globe and The La Jolla Playhouse. Growing up and getting work there was like getting the brass ring." And caught it, she did.
Then along came the opportunity to play three characters in Thousand Pines, a play that premiered between the mass shooting at the Tree of Life synagogue in Pittsburgh and the shooting at Thousand Oaks. Sadly, the play hit home. "[During] my senior year in college my friend John David Lentz was shot and killed in a drive-by shooting," she says. "He was 24 years old. His girlfriend, Deonna, was with him and was shot once but survived. It was surreal and awful and began a particular activism in my life.
"Working on Thousand Pines has been pretty exceptional," she adds. "From my first read of the play, I loved it and I loved all of these beautiful and complicated mothers, each grieving in their own unique way. I think Matthew has written their arcs clearly and beautifully. I remember saying early in rehearsal that what these women share is a fierce love for their children but wildly different ways of grieving them. Paula is denying her son is gone, Sophie has chosen to litigate and I think, however illogical, thinks she can bring her stepson back and Rita wants nothing more than to surround herself with every memory of her son, no matter how painful, and mourn and grieve and sit with the effects of the devastation. Our director, Austin Pendleton, created a very warm and safe space for us to explore these people. We talked a lot about where everyone is in the process and how people cope."
The other characters in the play are also very different in how they grieve for the shooting victims. There is not just sorrow but anger at the onstage characters as well as for the shooter and his family. As much as the grief unites each family, it also tears them apart. "One of the things Sophie says many times in the play is, "It didn't have to happen.' I suppose it's a simple and obvious statement but for me it breaks my heart because it IS so simple and obvious and during the course of rehearsing and performing Thousand Pines (just under six weeks) there have been no less than four mass shootings. So many victims and so many survivors living with the grief of losing their families, friends...it hurts to think about it but we have to and I'm honored I get to tell the story of this play at this time."
McAndrew has a treasure trove of different and challenging characters she's played so far. "I think there's some challenge in every role I've been lucky enough to play," she says. "I will say doing George Brant's one woman show Grounded was the most uniquely challenging. I had never done a solo show before and his is about a fighter pilot turned drone pilot. Seventy minutes onstage alone is quite something, exhilarating but also terrifying. But I loved it."
Although she's worked on both television and in film, theatre has always excited her. "I'm fortunate to have many friends who, like Matthew, are brilliant playwrights so I'm excited to see what they will create, what new characters will be introduced into the zeitgeist. I've also always wanted to play one of Shakespeare's clowns like Lucio or Feste. They get to have so much fun!"
One area where she hasn't trod much in is musical theatre, although she loves them. "I'm a sucker for them." She admits, "I'm one of those people who, regardless of what show it is, just starts crying at the top of every musical I see. I'm overwhelmed with the skill of those performers and the vulnerability required to do what they do. Sadly, I don't have the pipes to play at their level. But that's fine. I am happy being a fan girl."
What's next for McAndrew? She doesn't know. She had a recurring last year in Daredevil. "My character survived so maybe I'll get to go back there. Here's hoping!"
So are we. But we would still prefer to see her onstage again soon.
Related Articles View More Connecticut

Stories

Shows