BWW Interview: History Repeats as Aspiring Chorus Girl Taylor Quick Finds Stardom in THOROUGHLY MODERN MILLIE
"Ah, sweet mystery!" Such can be said of the enigmatic, homey, and utterly irresistible early 2000's Tony Award winner Thoroughly Modern Millie. A complete throwback to a film that most of any generation hardly remembered, it came bursting out of the regional world and won Broadway's heart in that very tumultuous year following the events of 9/11.
It was a time where the world needed light and frothy as a tonic to the horrors of real life, a time where Mamma Mia! cemented itself as a classic and Millie brought its gorgeous thematic hybrid and star performances to the forefront of the culture.
And now, 15 years later, with the world treading water in a new form of uncertainty and tumult, we find that Millie is as beloved as ever. I'm not gonna launch into a full-blown political deconstruction because, quite honestly, I just like showtunes and I LOVE Thoroughly Modern Millie.
The show is currently being presented at the famed Connecticut Goodspeed Opera House. In viewing the credits, it struck me that the one person in the show who wasn't a familiar name happened to be the woman playing the title role. I recognized Samantha Sturm from her numerous Broadway turns and Dan DeLuca for his work in Newsies. But this one Taylor Quick was unknown to me.
And it seems that this production is inadvertently repeating a bit of history. We might recall that the musical was originally workshopped with Kristin Chenoweth in the lead, later to be replaced by Erin Dilly.
A fairly-unknown Sutton Foster left the Broadway company of Les Miz (where she had been a frequent Eponine) to take on an ensemble track in the out-of-town tryout of this financially-risky piece of material. In the end, she ascended to the role of Millie, won the Tony... and you know the rest.
Quick seems to be serendipitously following the same model, as you will learn in her fascinating story here!
And no, it's not some All About Eve shit... sometimes good things just happen to nice people.
-----
Let's go back a little bit. Where did you grow up and when did the theatre bug first bite you? Did you come from a theatre family? Was your family supportive of this path, and was there a specific moment you realized you wanted this to be your career?
I was born and grew up in Little Rock, Arkansas. I was bitten by the theatre bug at the early age of 3. My parents took me to see Peter Pan and they said I didn't flinch during the entire show, which of course is unusual for a 3-year-old. They knew I really must love what I was watching.
My mom was a dancer and my aunt was in several Broadway shows and in soap operas. I was lucky to have them as influences, both physically and spiritually. I grew up in a dance studio starting at age 2, so my parents always knew I wanted to perform and that it was in my blood.
I wanted to be a ballerina for a long time and spent summers with the Joffrey Ballet School and American Ballet Theatre. Not until I stepped foot into the Arkansas Repertory Theatre, did I know I really wanted to pursue musical theatre. My family has supported me every step of the way, and I know not everyone out there has that so I couldn't be more grateful.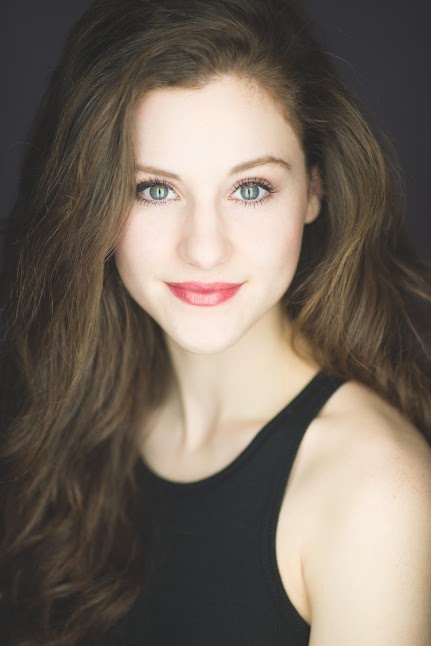 What are some of the standout roles from your childhood? Any particular mentors or inspirations you recall?
During my childhood, I did a lot of dancing and modeling. During college, I played Liesl von Trapp in The Sound of Music, which was my first supporting lead. Liesl really gave me the confidence boost that I needed. I played Flaemmchen in Grand Hotel and that role gave me the drive to move to New York City.
Besides my family, I was lucky to have some amazing mentors. Nicole Capri, the former education director at the Arkansas Rep, was the first person who told me I had the "it" factor for musical theatre. Her summer intensives there really molded me when I was young, because she treated us kids as adults.
One of my dance teachers at Shuffles and Ballet II, Allison Stodola Wilson has always been one of my idols. She is an amazing dancer and teacher. My angelic college voice teacher, Angela Turner Wilson, told me I could do anything I wanted to do if I set my heart on it.
Now here you are starring in a very difficult leading role at one of the country's most famed theatres. Tell me about your audition process, and where were you when you found out you booked it? Who was the first person you called/texted?
A little bit of a crazy story, actually. I just moved to New York City last September. In November (I was EMC at the time) I went to Goodspeed's Thoroughly Modern Millie open non-Equity dance audition for the ensemble. I ended up getting multiple callbacks. They even brought me into an invited call with all of these amazing dancers from Broadway, and I thought, "What am I doing here?"
I ended up making it to the final day of the ensemble auditions. We danced, sang and read some ensemble scenes, and were all out in the hallway and I thought we were finished. Every single person in that room was incredible. I remember thinking, "Wow, to be able to be a part of this show in any way at Goodspeed would be unbelievable. And if I don't get this job, at least I had a blast auditioning and learned something new about myself."
The casting director came out and handed me a scene for Millie, and I literally looked at him and I just blinked. I figured the leads would be Broadway vets, and I thought they were already cast.
I went in and, on the spot, read two scenes and sang for Millie. In December, I got the call. I immediately called my parents after. To tell me I booked it, my agent started playing the title song from the show and I cried. I still have to pinch myself from time to time.
How familiar were you with the show beforehand? Had you seen a production?
I grew up listening to the wonderful music by Jeanine Tesori. I've sang and performed some of the songs, and I have always loved Sutton Foster. I've seen a community theater perform the show and have watched the Tony performance over and over again.
What has been the most challenging part of the process, and do you have a single favorite moment for you character? I'd also love to hear about your scene work with your co-stars. Millie has so many fantastic moments. Has anyone in particular really helped you grow as a performer or further develop your performance?
The most challenging part I would say is the stamina. Millie, for me, is a marathon not a sprint. The first time we did a full run through of the show, I thought I was going to pass out after. I just had to rise to the challenge, which is why I equate the rehearsal process similarities to training for a marathon.
Oh goodness, favorite moment... that's difficult. I really do love the ledge scene with Jimmy. (Spoiler alert) Millie finally surrenders herself and there's this charming Fred and Ginger moment. The scene/song makes my heart happy every time.
I also should say I love performing Millie's 11' o 'clock number, "Gimme Gimme." I really try to leave my heart on the stage.
First and foremost, this cast is GOLD. I have learned so much from working with them and observing. I would say each and every one of my co-stars are all amazing, and such polished actors. I can't single out just one. Being able to feed off of them helped me mold Millie. Our fearless leader, Denis Jones, who directed and choreographed the show really helped me perfect Millie. I could go on and on about him in the best of ways.
Let's talk more about Goodspeed. I can't think of a more beautiful place in the country to be doing top-notch theatre. It's also pretty out of the way, which forces the performers to create their own community on some level. How have you found the experience so far, and what is your favorite element of the Goodspeed experience?
I had heard of Goodspeed's amazing reputation, but being here made me realize why everyone wants to work here. The place is like Disneyland. I have nothing but great things to say. Everyone here is so kind and they treat us so well. The housing is incredible. The town where Goodspeed is in, East Haddam, is tiny, but gorgeous. Being only a 2-hour drive from NYC we are able to drive back, if we have to, on days off. The opera house is directly on the Connecticut River. My favorite element of my experience would have to be looking out my dressing room window before the evening performances. I have the most beautiful view over the river, and at sunset it's breathtaking. Every time I see it I realize how lucky I am.
Favorite food options in the Goodspeed area? After a 2-show-day, what do you CRAVE?
There is a Thai food restaurant in an adorable town called Chester (nearby Goodspeed) that's my new love. After a 2-show day, I'm usually pretty exhausted, but I will wind down with some peanut butter. But then again, I crave peanut butter pretty much 24/7 :)
Millie is a beast of a role. How do you stay healthy, sharp and energized for that schedule?
For this role, I have to get 9-10 hours of sleep a night. I drink TONS of water. I steam my vocal cords several times a day. I take in a lot of vitamin C. Every morning, I have a cup of coffee to give me an energy boost. Before every show I make sure my body is stretched and my breath is under control.
If my body is stressed out in any way, I'm not as sharp. I can't go out and socialize a lot, or my battery goes down. If I'm not too tired, I will go to the gym. I try not to use my voice too much outside of the show. When I'm not performing, I'm resting, eating, or sleeping.
Millie is an incredibly challenging role and I believe she is one of the most demanding roles ever written. She almost never leaves the stage and sings/dances/acts all in an equal amount. It's a lot, but it's an absolute blast.
Tell me more about your relationship with the character. Did you put in any specific research? Do you find certain elements of her that resonate strongly with you?
I did! I looked up pictures of flappers in the 20s. I wanted to see the way they held themselves and what they wore. The fashion was very momental at this time. I also researched both Julie Andrews and Sutton Foster in the role, but I really wanted to make Millie my own.
Millie Dillmount's journey and my journey parallel very closely. Millie has just moved to the big city from Salina, Kansas. She is fresh, hopeful, and tenacious. I just moved from Little Rock, Arkansas, with an optimistic eye. Millie has these big dreams and her energy is palpable.
Everyone she comes in contact with can see it and feel it. When I first moved to the city, I put my nose to the grindstone every day, praying to get a shot. Our director, Denis Jones, looked at me in rehearsal one day, and said "You know, you are a real life Millie."
It's been about 15 years since the show popped up and served as a much-needed tonic in post-9/11 America. What is it about the show that you think has given it such longevity?
Since the original production opened on Broadway about 7 months after 9/11, I believe the show gave audiences a chance to escape the world for about 2 and a half hours during that tragic time. The show is still being produced because it delivers a lighthearted and charming, and not to mention very comical, snapshot of the carefree age during 1922.
The music is full and fluid. When an audience finds itself rooting for a character, that's when you know a show has had an influence. People want Millie to succeed. To not have a smile walking away after seeing Thoroughly Modern Millie, is impossible.
Once this is done, any side projects or future endeavors you can talk about?
I don't have any projects in concrete yet. I do have some potential jobs, but I plan to go back to NYC to keep learning, honing my craft, and pounding the pavement.
What is your One Dream role, male or female? The role where, if it was the last thing you did, you would die a happy lady?
This is always the most difficult question for me. I have many, but I would love to play Nellie in South Pacific. I'm crazy about Rodgers and Hammerstein's music. A little like Millie, she's the strong female protagonist, and has a charming sense of quirkiness to her. Plus, she's from Little Rock and I'm from Little Rock. Although, Millie is and was a dream for me, so I could die happy right now.
Finally, to any aspiring performers or artists of any race, age, or background, what are your best words of advice?
Always be kind to everyone, never take yourself too seriously, and rejoice always.
-----
See Thoroughly Modern Millie at Goodspeed through July 2! Tickets and info can be found at www.goodspeed.org.
*
Matt Blank is an arts journalist, educator, designer and lecturer. He most recently spent a decade on the editorial team for Playbill.com and as Editor-in-Chief of PlaybillArts.com, publishing over 7,000 articles and covering five Tony Award ceremonies. Follow him on Twitter @MattBlankPlease and Instagram @brdwymatt.