BWW Reviews: Weathervane's GYPSY a Dark Fable with an Excellent Cast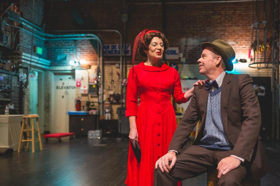 The secondary headline to the Weathervane Production's GYPSY reads "A Musical Fable." The two-act, two-hour performance about the rise of burlesque star Gypsy Rose Lee is more of a precautionary tale for stage mothers and child actresses everywhere.
Loosely based on the life of stripper Gypsy Rose Lee, GYPSY shows the dangers of when parents try to live out their dreams through their offspring. In this case, the relentless pursuit of Rose Hovack (played by the dynamic Danielle Mann) drives both of her children away from her. Directed by Kevin Connell, the musical opened Dec. 21 and will close on Dec 29 at the Weathervane Playhouse (100 Price Street in Newark).
With its music written by Jule Styne and lyrics by Stephen Sondheim, GYPSY will celebrate its 60th anniversary of its Broadway debut this coming May. Ironically Sondheim was the third choice for writing the lyrics and, even then, he had to be talked into the job. When star Ethel Merman insisted on Styne composing the music, Cole Porter and Irving Berlin declined to write the lyrics. According to author Craig Zadan, Sondheim didn't want to write only the lyrics but was talked into it by Oscar Hammerstein.
Out of that chaos came one of the great American musicals. GYPSY follows a troubled path of Louise (Hannah Taylor), a shy, unassuming sister of the extroverted June (Molly Model). At the start of the show, Rose pushes her young daughters, Baby June (Ella Gallagan) and young Louise (Juniper George) into the spotlight of the Vaudeville circuit. In "Let Me Entertain You," Connell uses strobe lighting to show the passage of time as younger actors are swapped out for older ones. While the performers have matured, Rose's vision for the act has not.
Eventually, Rose's enthusiasm for the act draws in Herbie (Todd Covert), a former agent who gets the girls a spot on the Orpheum circuit while wooing Rose. Seeing that the act is going nowhere, June secretly marries one of her backup dancers, Tulsa (Jordan Alexander), and the two run off to find their own stardom.
Abandoned by one daughter, Rose seems ready to give up and marry Herbie, but decides to make another run at show business, this time with Louise.
To make the show work, it needs to be driven by Rose and the casting of Mann is nearly perfect. She captures the essence of the elder Hovack, crushing the show's signature tune, "Everything's Coming Up Roses" as well as "Rose's Turn" but she also gently shares the spotlight with Covert in "Small World" and "You'll Never Get Away From Me."
However, Taylor, Model and Covert provide the show's heartbeat. Taylor transforms from Louise, a reserved, obedient child who serves as her mother's prop for her sister June in the first act to a brassy star on the burlesque circuit. It's fascinating to read Taylor's facial expressions of longing and inhibition as she reluctantly joins Tulsa's soulful choreography in "All I Need Is The Girl."
Taylor's performance grows in the second act with that gradual seduction of Louise from the reluctant performer to a brassy, burlesque ecdysiast in about five minute's time during her reprise of "Let Me Entertain You."
Model also alters her performance from a self-centered actress through most of the first act until she realizes what the constant struggle is doing to her sister in the two's whimsical duet "If Momma Was Married."
Covert shines as the love-struck Herbie, who is strung along by Rose. He believes as soon as he has landed the tour and finds fame for one of them, Rose will marry him. When Rose agrees to let Louise perform in the star spot in the burlesque show, Covert conveys both shock and abhorrence as he sulks away from Rose.
Not all musical fables, especially the ones written by Sondheim, have happy endings. In the end, Rose learns pushing children too hard to achieve what was essentially her dream to begin with, leaves her cold and alone, studying "scrapbooks full with me in the background."
The Weathervane Playhouse has only four performances remaining of its production of GYPSY, the final show in its 50th anniversary season. Weathervane presents the two-act, two-hour musical at 7:30 p.m. on Dec. 26-29 at 100 Price Street in Newark. For ticket information, please call 740-366-4616.
| | | |
| --- | --- | --- |
| | Donations | Arts Orgs |
Related Articles View More Columbus

Stories

Shows