BWW Reviews: Weathervane Continues A Summer of Dance with 42nd STREET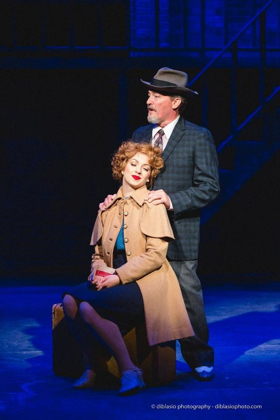 When Kevin Connell started to put together the Weathervane Playhouse's slate of shows for the summer, the managing artistic director for the Newark theatre wanted to put an emphasis on dance for the Playhouse's 50th anniversary season.
The result was two of the more dance heavy musicals the Playhouse has attempted in the past three years. After opening the season with A CHORUS LINE, the theatre presents the classic 42ND STREET July 5 through 14 at 100 Price Road in Newark.
The production is a throwback to the days of Busby Berkeley and the Ziegfeld Follies, where style was emphasized over substance. This show-within-a-show musical comedy meshes together a host of familiar song-and-dance numbers, such as "We're in the Money," "Shuffle off to Buffalo," "The Lullaby of Broadway," and of course the title track, "42nd Street."
The plot of a chorus girl who is thrust into the spotlight after the leading actress breaks her ankle won't raise many eyebrows. However, the choreography of director Christine O'Grady and Molly Model makes the two-act, two-and-a-half-hour production completely mesmerizing.
Megan Arseneau stars as Peggy Sawyer, a fresh-off-the-bus arrival from Allentown, Pa. who is determined to make a splash on Broadway. She is cast in PRETTY LADY as a chorus girl but immediately runs afoul of aging diva Dorothy Brock (Kait Marie Descutner) and when someone knocks Sawyer into Brock during a dance rehearsal, Brock falls, breaks an ankle and accuses Sawyer of trying to sabotage the show. Sawyer is fired on the spot.
Left without a star, director Julian Marsh (Todd Lemmon) contemplates closing the production but is convinced by his cast that Sawyer could handle the leading role. He tracks down Sawyer at the bus depot and convinces her to stay.
Arseneau is a rare talent who has a strong soprano voice and terrific tap dancing skills to complement a charismatic stage presence. Lemmon, a Weathervane veteran, brings a solid dignity to Marsh as a brash Broadway director who becomes Sawyer's love interest. Descutner is equally as strong as Brock, who confides to Sawyer that she wanted to hate her for taking her place but couldn't. "Now go out there and be so swell that you'll make me hate you!"
Thomas Cromer brings a sophisticated swagger to his portrayal of Billy Lawlor, who helps Sawyer secure an audition and brings her through the rigors of the production.
For every leading character in this production, there are a handful of actors who contend for the spotlight. The Playhouse cast includes a number of talented dancers and singers including Hallie Heffernan (Ann Reilly), Brian Lundy (Bert Barry), Kelsey McCollaum (Maggie Jones), Hannah Taylor (Phyllis Dale), Ashley Nicole Martin (Lorraine Flemming), Kaitlin Jempson (Gladys), Paloma D'Auria (Diane Lorimer), Courtney Silber (Ethel), Lincoln Belford (Andy Lee), David Emery (Oscar), Ryan Corridoni (Mac), William Joseph Bureau (Pat Denning), Jason Samples (Abner Dillon), Olivia Mattsey (Winnie) and ensemble members Samuel Gerber, Sophie Aknin, Nick Musumeci and Bryce Valle.
There are just five shows remaining for the Weathervane Playhouse's production. The show will be performed at 7:30 p.m. July 10-14 at the playhouse (100 Price Rd. in Newark). For information, contact 740-366-4616.