BWW Reviews: Short North Stage Brings YOUNG FRANKENSTEIN to Life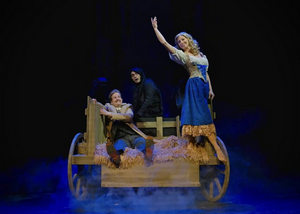 Consider this entry from the "If at first you don't succeed" department. A young television writer is recruited to write a book for the musical SHINBONE ALLEY. Haven't heard of it? That's not too surprising. It lasted a little over a month and closed on Broadway after 49 performances. Undaunted, he writes the first act for another musical, ALL-AMERICAN five years later. It also flops, closing on Broadway after 80 performances.
Mel Brooks took those experiences and then penned his sardonic look at Broadway, THE PRODUCERS. That movie was turned into a musical and won a record 12 Tony awards.
Brooks, an EGOT winner with an Emmy, Grammy, Oscar and Tony trophies on his mantel piece, tries to recapture the magic of his previous success with YOUNG FRANKENSTEIN. The musical its Short North Stage debut on March 5 and will run through April 5 at the Garden Theatre.
While Brooks's plot is pretty faithful to his 1974 comedy, the performances of this exceptional SNS cast, tight choreography, and elaborate staging jolt new life into this monster.
Frederick Frankenstein (played by a charismatic Travis Smith) is a university professor tries to distance himself from his family's legacy by insisting his last name is pronounced Frokensteen. After the death of his grandfather Victor Frankenstein (Luke Bovenizer), the professor is informed he's the lone surviving member of his family and inherits the family castle in Transylvania. When he arrives, he becomes entangled with Igor (Nick Lingnofski), the son of Victor's former assistant. Igor and a beautiful young assistant Inga (Brooke Walters) make the doctor forget about his frigid fiancée Elizabeth (Eli Brickey) and resume his grandfather's experiments bringing the dead back to life.
Like most of Brooks' work, YOUNG FRANKENSTEIN is filled with double entendre. For example, when the buxom beauty Inga first meets Frederick, she asks, "Did I get the job?" Frederick looks beneath his waistline and mutters, "Things are certainly pointing that direction."
The chemistry between Smith and Walters works well. Smith, who played John Wilkes Booth in SNS production ASSASSINS, gets to showcase his strong tenor voice on such as numbers like "A Man About Town" and the silly "Together Again." Walters, who also played Ulla in a regional production of THE PRODUCERS, displays her whimsical side in "Roll In the Hay" as well as "Listen to Your Heart."
Lingnofski, a SNS veteran, is perfectly cast as the madcap hunchback Igor. After Frankenstein insists on being called Frokensteen, Igor insists his name is pronounced "eye-gore." A confused Frankenstein says, "But they told me it was 'ee-gor'.." Igor counters with a fiendish grin, "Well, they were wrong then, weren't they?"
Brickey is one of those characters you wish was in the show more because she's captivating whenever she is in the spotlight. Her delivery of lines like "Those naughty thoughts are fine with me as long as they stay locked away in your imagination" in the song "Please Don't Touch Me There" and the corresponding Baptist Student Union-like dance sequence are one of the show's many highlights.
Nick Hardin performs as Frau Blucher with a perfect eyebrow arching flair while Bovenizer, Adam Williams (The Monster) and Jordan B. Stocksdale (Inspector Kemp) also provide amusing turns with their roles.
The ensemble cast of Avery Bank, Matthew Brightbill, Patrick Carmichael, Orion Carter, Rachel Courtney, Lauren Drexel, Jeff Fouch, Joe Gallagher, Lisa Glover, Madelyn Claire Lego, Amirah Joy Lomax, Rachel Lucille, Winonna Maddrey, Kyle Carey Miller, Elena Musser, Keegan Sells, Christeen Stridsberg, Clint Maddox Thompson, Michelle Weiser, and Anthony Zaccari execute director/choreographer Edward Carignan and Dionysia Williams' vision perfectly.
If Mel Brooks can continue to provide the material, can it be too long before Short North Stage presents SPACE BALLS: THE MUSICAL?
Remaining shows for the Short North Stage production of YOUNG FRANKENSTEIN include 8 p.m. performances on March 12-14, 19-21, and 26-28 and April 2-3-4. Additionally, there will be 3 p.m. matinees on March 14-15, 21-22, 28-29 and April 4-5. Visit ShortNorthStage.org or call 614-725-4042 for information.