2019-2020 Season Announced At Cincinnati Shakespeare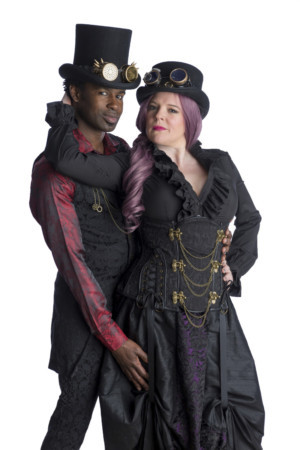 Cincinnati Shakespeare Company (CSC) announced the titles for its 2019-2020 Season at The Otto M. Budig Theater in an event on March 6. This season will feature Women, on stage and off, in The Season of the Woman. CSC's 2018-2019 Season is generously sponsored by The Otto M. Budig Family Foundation, The Carol Ann and Ralph V. Haile Jr. Foundation, The Shubert Foundation, Ohio Arts Council, and ArtsWave and all productions will feature Cincinnati Shakespeare Company's Resident Company of Actors.
From June of 1919 to August of 1920, these United States passed and ratified the 19th Amendment to the Constitution, granting women the right to vote. In commemoration of this centennial, Cincinnati Shakespeare Company will shine the spotlight on the Women of Cincinnati Shakespeare Company, both onstage and off, as they join organizations across the city to celebrate the 100th anniversary of Women's Suffrage with "The Season of the Woman."
Beginning in July, they will present the Regional Premiere production of Miss Holmes, which adapts the classic mystery series and reimagines the iconic Sherlock Holmes and Dr. Watson as two women solving crimes in Victorian England. They will examine the relationships of women in politics in Shakespeare's Hamlet, with the title character re-gendered as a woman. Audiences will watch two women win the day over infamous trickster Falstaff through their own uniquely feminine wits and wiles in Shakespeare's hilarious comedy, The Merry Wives of Windsor set directly in the era of suffrage. And audiences will bear witness to Shakespeare's searing depiction of both female power and violence against women in his bloodiest tragedy, Titus Andronicus.
Cincinnati Shakespeare is thrilled to welcome female playwrights and female authors to their stage as they present a fresh adaption of Jane Austen's Pride and Prejudice by Kate Hamill. They will tell the story of a family in turmoil centered on a powerhouse matriarch in the modern classic August: Osage County by Tracy Letts. And they will close the season with the Regional Premiere of the heartwarming story behind the friends who saved William Shakespeare's plays from disappearance in Book of Will by Lauren Gunderson, the most produced female playwright in America.
CSC will showcase its first commission from a living playwright in over a decade. In 2017, the top two most produced playwrights in America were William Shakespeare and Lauren Gunderson. Producing Artistic Director, Brian Isaac Phillips says, "We can't ask Will. So we asked Lauren. And she said yes! In 2020, CSC will feature a developmental reading of a brand new play by Lauren Gunderson: a contemporary, female-focused sequel to Shakespeare's Hamlet."
And finally during the season, because the passage of the 19th Amendment, while worthy of celebration, did not in fact guarantee voting rights for all, Cincinnati Shakespeare will be presenting All The Way by Robert Schenkkan. Set in the tumultuous 1960s, this modern classic tells story of LBJ's fight to enact the Civil Rights Act of 1964.
Cincinnati Shakespeare Company continues to offer audiences great value with affordable, flexible subscriptions that include flexible tickets that can be used in any combination for any performance. Subscription packages start at $284. All subscriptions are currently on sale now and may be purchased through the Cincinnati Shakespeare Company website www.cincyshakes.com or box office by calling 513-381-BARD (2273) ext. 1. Single tickets for all shows will go on sale Monday April 1, 2019 but the recommended way to get the best price and first access to seats is by becoming a subscriber! There are also discounts available for students, seniors, local residents, and community partners.
The 2019-2020 "Season of the Woman" at The Otto M. Budig Theater is as follows:
By Christopher M. Walsh
Based on characters by Sir Arthur Conan Doyle
July 19 - August 4, 2019
When a young newlywed suspects her husband, a high-ranking investigator at Scotland Yard, has murdered his previous two wives, she fears she has nowhere to turn. But the game is afoot when her case is taken by two fiercely intelligent and independent women who refuse to be contained by the conventions of their time: Miss Sherlock Holmes and her stalwart companion Doctor Dorothy Watson. This clever reimagining of Sir Arthur Conan Doyle's iconic characters pits its heroes not only against cunning criminal masterminds, but also against the rigid and restrictive rules of Victorian society and the roles in which it is bent on casting them.
August: Osage County
By Tracy Letts
Pride
This Pulitzer Prize and Tony Award winning family drama centers around Violet, the pill-addicted and scathingly manipulative matriarch of the Westin family. When her husband disappears, the rest of the clan is brought together for an unexpected reunion where old wounds are reopened and buried secrets brought to light. By turns vicious, funny, harrowing, and heartbreaking, August: Osage County is an American classic in the making.
Titus Andronicus
October 11 - November 2, 2019
This Halloween season, murder, mayhem, and mutilation abound, as Shakespeare's bloodiest play descends on the CSC stage. Roman general Titus Andronicus returns victorious from 10 years of war, his archnemesis Tamora Queen of the Goths in tow and in chains. But when Rome's rash and impetuous new Emperor decides not only to free her, but to marry her and make her his queen, she embarks upon a remorseless course of revenge. As she and Titus engage in an escalating cycle of violence and vengeance, the body count rises and Rome threatens to fall.
The Merry Wives of Windsor
November 15 - December 7, 2019
The bawdy, bombastic, and chronically cash-poor Sir John Falstaff has been raising hell in the quiet town of Windsor. When his massive bar tab outstrips his meager means, he needs to raise some cash-and quick. He hatches a plan to seduce two of Windsor's most wealthily married women, but when they catch wind of his salacious scheme, they turn the tables on their would-be wooer, joining forces to teach him a lesson he won't soon forget.
Every Christmas Story Ever Told (And Then Some!)*
By Michael Carleton, James FitzGerald, and John K. Alvarez
December 13 - 29, 2019
CSC's holiday smash hit Every Christmas Story Ever Told (And Then Some!) is back! What begins as another annual production of A Christmas Carol soon devolves into a slightly irreverent look at all of our favorite "beloved holiday classics," including It's a Wonderful Life, Frosty, Rudolph, Charlie Brown, and more! Three actors (with the help of Santa) send up everything from Dickens to Dr. Seuss in 90+ minutes of high-octane jollity and frivolity.
All the Way
January 24 - February 15, 2020
1964. In the wake of an assassination that shook a nation to its core, a larger-than-life figure is propelled into the national spotlight. Faced with civil unrest at home and an unpopular war abroad, accidental president Lyndon B. Johnson struggles at the eleventh hour to get the hotly contested Civil Rights Act across the finish line, and to keep an already divided country from tearing itself apart. Don't miss the professional regional premiere of this epic political thriller.
Pride and Prejudice
By Kate Hamill
adapted from the novel by Jane Austen
February 28 - March 28, 2020
"It is a truth universally acknowledged, that a single man in possession of a good fortune, must be in want of a wife." One of the single most beloved stories of all time returns to the CSC stage in a fresh new adaptation which critics are calling "delightfully different," "fizzy and festive," and "unlike any adaptation of Jane Austen one has seen before." Sweepingly romantic, with a good dose of the tongue-in-cheek, Pride and Prejudice follows the affaires de cœur of the witty and willful Elizabeth Bennet, as she finds that the path to true love can lead to the most unexpected of places.
Hamlet
April 10 - May 9, 2020
The mysterious death of a king is followed by his brother's unconventional ascension to the throne. The Queen's bed casts young Hamlet, usurped heir to the crown, in the role of reluctant avenger. Incest and intrigue, murder and madness, triumph and treachery all combine to paint one of the most complex and compelling portraits in all of English literature.
The Book of Will
May 22 - June 14, 2020
This funny, irreverent, and irresistibly charming tale shows us just how close we came to losing the legacy of the most influential writer in Western civilization. Three years after the death of William Shakespeare, John Heminges and Henry Condell, former colleagues and friends of the Bard, contend with egotistical actors, bootleg knockoffs, and a ticking clock to ensure that the First Folio gets published, and that the works of William Shakespeare don't end up on the trash heap of history.
*Season Specials
Related Articles View More Cincinnati

Stories

Shows
More Hot Stories For You