Windy City Playhouse To Open New Motor Row Location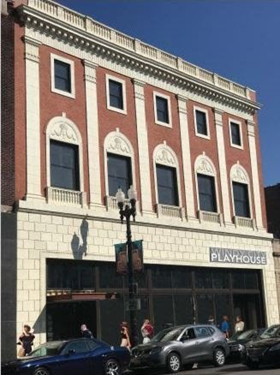 Windy City Playhouse today announced that the theater's smash hit "Southern Gothic," the recipient of six Jeff Award nominations, will be moving to a new satellite performance space in the South Loop's Motor Row for an open-ended run with shows beginning January 2, 2019, running simultaneously with the Playhouse's production of the comedic classic "Noises Off" at the theater's Irving Park location. The 2020 programming will bring the recent New York smash-hits "Boys in the Band" and "Every Brilliant Thing" to the Playhouse, each produced in the signature style which brings the audience up close to the action of the play.
Windy City Playhouse will welcome audiences to experience the critically-acclaimed immersive "Southern Gothic" in an entirely new space located at 2229 S. Michigan Avenue. The Playhouse will share the building with the LIPS Dinner Theater and will join the rapid development of the South Loop's Motor Row, which has recently welcomed a new CTA train stop, several new hotels, entertainment venues, shops and DePaul University's 10,387 seat arena. "Southern Gothic" allows audiences to step into a full-scale 1960's home and become an invisible guest as a party between eight close friends descends into disaster.
"While atypical for a nonprofit institution like Windy City Playhouse to have two non-adjacent locations, we think this concurrent programming model will allow us to reach the widest array of theater-goers in Chicago -- from our base of neighborhood patrons here in Irving Park to the corporate traveler downtown. In this way, we see the move as a fulfillment of our founding mission, centered on making great, intimately told stories widely accessible for diverse patrons," said Rubenstein. "We are eager to continue sharing the story of 'Southern Gothic' and its uniquely immersive presentation with more audiences in the new year. Meanwhile, we will continue to bring new productions into our primary venue on Irving Park Road, beginning with the comedy classic 'Noises Off,' for our existing patrons and subscribers to enjoy. Two locations also allows us to employ double the number of Chicago theater artists, something we deeply value in this creatively rich city."
"The South Loop is an ideal location for the Playhouse's second venue. We certainly hope to pull in audiences attending conferences at the nearby McCormick Place, but we're also excited to bring the Windy City Playhouse experience to audiences in other areas of the city and to be part of the neighborhood's development as an entertainment district," said Jacoby. "By having two distinct locations, one that primarily services our neighborhood and one that will cater to a downtown, South Side, tourist and business market, we will be afforded the opportunity to continue running 'Southern Gothic' rather than close it prematurely, when the market for this show remains strong."
The January 2019 cast of "Southern Gothic" includes Erin Barlow, Sarah Grant, Victor Holstein, Arielle Leverett, Amy Malcolm, Matt Maxwell, Michael McKeough and Benjamin Page. "Southern Gothic" is directed by David H. Bell and written by Leslie Liautaud. In addition to Liautaud and Bell, the creative team for "Southern Gothic" includes Carl Menninger (Dramaturg and Co-Creator), Amy Rubenstein (Co-Creator), Scott Davis (Scenic Design), Elsa Hiltner(Costume Design), Becca Jeffries (Lighting Design), Jeffrey Levin (Sound Design) Eleanor Kahn (Properties Design) and Logan Boyd Jones (Production Stage Manager). Tickets ($80 - $100) will be released on a rolling basis. To purchase, visit the Windy City Playhouse Box Officeonline or call the Box Office at (773) 891-8985.
January of 2019 will also feature the Windy City Playhouse premiere of Michael Frayn's"Noises Off," the side-splitting play-within-a-play set behind-the-scenes as a ragtag touring company rehearses and performs - or attempts to perform - a bawdy farce. OpeningWednesday, January 16, 2019, this comedic classic will be told through a unique multi-stage layout that puts audiences in the center of the action. The cast of "Noises Off" includes Patrick Agada as Tim Allgood, Erica Bitner as Poppy Norton-Taylor, Amy Carle as Dotty Otley, Will Casey as Selsdon Mowbray, Scott Duff as Frederick Fellowes, Ryan McBride as Garry Lejune,Amy Rubenstein as Belinda Blair, Mike Tepeli as Lloyd Dallas, Rochelle Thieren as Brooke Ashton. The creative team for "Noises Off" includes Scott Weinstein (Director) and Jeffery D. Kmiec (Scenic Designer), Jessica Keuhnua (Costume Design), Mike Durst (Lighting Design),Brandon Reed (Sound Design), Andrew Hatcher (Properties Design) and Helen Lattyak(Production Stage Manager).
"Presented in three acts, 'Noises Off' typically features a revolving stage that rotates to show audiences the front and back of a theater," said Rubenstein. "For our production, to mix things up and get our guests closer to the humor onstage (and off), we'll be asking the audience to move. For acts I and III they will be seated in assigned seats, but during act II, the audience will be brought backstage to observe all the antics and comedy that make this piece so special."
The performance schedule for "Noises Off" is as follows: Wednesdays and Thursdays at 7:30 p.m., Fridays and Saturdays at 7:30 p.m. and Sundays at 3 p.m. Tickets ($45 - $85) are now on sale through March 31.
Coming off a hit run on Broadway in celebration of the 50th anniversary of the original production, Matt Crowley's "Boys in the Band" tells the tale of a group of gay men who gather for a birthday party, leading to an evening of revelations and self-examination. Stephanie Wild of Broadway World called the show "A true theatrical game-changer," noting that "The Boys in the Band' helped spark a revolution by putting gay men's lives onstage - unapologetically and without judgment - in a world that was not yet willing to fully accept them." In Windy City Playhouse style, the production will be staged in such an intimate way that audiences will feel as though they are guests at the celebration. Casting for "Boys in the Band" will begin later this month, and will be presented as part of the Windy City Playhouse 2020 programming.
Having earned widespread notoriety and a recent special on HBO, "Every Brilliant Thing" explores what makes life worthwhile while broaching the subject of suicidal depression. The New York Post remarked that "'Every Brilliant Thing' may be the funniest show about depression you've ever seen," and Ben Brantley of the New York Times noted "I was incredibly moved." Uniquely presented, "Every Brilliant Thing" will be a part of the Windy City Playhouse 2019 programing, and the cast will be announced shortly.
For more information, visit WindyCityPlayhouse.com