TOO HOT TO HANDEL: THE JAZZ-GOSPEL MESSIAH Comes to The Auditorium Theatre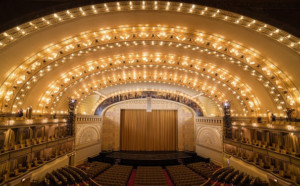 On January 13 and 14, 2018, the Auditorium Theatre presents the 13th annual performance of Too Hot to Handel: The Jazz-Gospel Messiah. Traditionally held on Martin Luther King, Jr. Day weekend, Too Hot celebrates Dr. King's message of "beloved community."
The show features acclaimed soloists Rodrick Dixon, Alfreda Burke, and Karen Marie Richardson; legendary Detroit pianist Alvin Waddles; a choir of over 100 members led by Bill Fraher, director of concert choirs at Old St. Patrick's Church; a chamber orchestra conducted by Suzanne Mallare Acton, the assistant music director at Michigan Opera Theatre in Detroit, MI; and a world-class jazz band featuring electric bass, electric guitar, string bass, and more. Too Hot, which was originally conceived by conductor Marin Alsop and arranged by Bob Christianson and Gary Anderson, puts a twist on George Frideric Handel's classic oratorio, infusing the music with jazz, gospel, rock, and blues.
"I saw Too Hot last season for the first time, and it was one of the most joyous, uplifting performances I have ever experienced," says Tania Castroverde Moskalenko, Auditorium Theatre CEO. "When everyone starts clapping and singing along to the 'Hallelujah!' chorus, it is truly a heart-warming moment."
For the second consecutive year, the Auditorium Theatre is streaming the Sunday production of Too Hot to multiple correctional facilities around Illinois, in addition to facilities in Wisconsin and Louisiana. Working with Elmhurst Christian Reformed Church, the program is expanding to three new facilities this year: the Cook County Juvenile Temporary Detention Center in Chicago, IL; Robert E. Ellsworth Correctional Center in Union Grove, WI (an all-women facility); and the Illinois Youth Center in Warrenville, IL. Danville Correctional Center in Danville, IL; Lawrence Correctional Center in Sumner, IL; the Lake County Adult Corrections Facility in Waukegan, IL; and the Louisiana State Penitentiary (Angola) in Angola, LA, are participating in the streaming program for the second time (please note that participating facilities are subject to change).
"As The Theatre for the People, one of our main tenets is to ensure that everyone has the opportunity to experience the healing power of the performing arts," says Castroverde Moskalenko. "We are so excited to make this show available to the men, women, and youth in these facilities and give them the chance to engage with the powerful messages of Too Hot and Dr. King's concept of 'beloved community.'"
Creative Engagement Activities - Media invited to cover these inspiring events
In addition to the weekend performances of Too Hot, the Auditorium Theatre offers an hour-long Student Matinee performance on Friday, January 12 at 11AM for students in grades K-12.
On January 9, Too Hot stars Rodrick Dixon and Alfreda Burke host a free lecture-demonstration at the Auditorium Theatre's Katten-Landau Studio (425 S Wabash, 4th Floor), presented in partnership with Northwestern University's Osher Lifelong Learning Institute. Dixon and Burke discuss Dr. King's concept of "beloved community" from an artistic and musical perspective. Registration is required. The event begins at 5:30PM.
On January 10, Too Hot star Karen Marie Richardson visits Neal Math & Science Academy in North Chicago at 10AM for a Master Class. Richardson will discuss her Too Hot experiences over the years, share her own artistic practices with the school's aspiring vocal performers, and answer questions from students.
Too Hot to Handel: The Jazz-Gospel Messiah
Friday, January 12 | 11AM - One hour student matinee performance
Saturday, January 13 | 7:30PM
Sunday, January 14 | 3PM
Tickets start at $29 and are available online at AuditoriumTheatre.org, by phone at 312.341.2300, or in person at the Auditorium Theatre Box Office (50 E Congress Parkway). Student Matinee tickets (for K-12 groups of 10+) are $10 and are available now at 312.341.2357. Too Hot to Handel: The Jazz-Gospel Messiah may be added to the Auditorium Theatre's Select Your Own subscription, discounted at 20-25%. Discounts available for groups of 10+.
More Hot Stories For You