Rasaka And Vitalist's MERCHANT ON VENICE Opens 3/22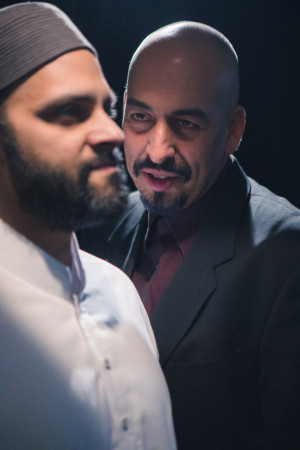 MERCHANT ON VENICE explores empathy and grace, as well as blame and internalized and externalized religious bigotry, while mixing it up with the clash/mash of South Asian culture in Los Angeles.
A tragi-comic, raucous, dark and irreverent work, Kurup's play is set on Venice Boulevard in present day Culver City, California - a section of the Los Angeles area where hatred and intolerance among Hindus and Muslims has grown to a boiling point. With rock-and-roll and Bollywood-influenced music, blank verse and present-day pop references -- replete with Indian, American, and Latino jargon that reflect the sound of the South Asian Diaspora, as well as the polyglot crackle of Los Angeles -- the play explores how the preponderance of power in one sector of a community can marginalize a minority and provoke reactionary and retributive responses. The MERCHANT ON VENICE ensemble cast includes Sunny Anam, Simran Bal,
Anand Bhatt
, Luisa Blanco, Suzan Faycurry,
David Fink
, Dennis Garcia, Kamal Hans,
Anish Jethmalani
, Murtaza Kapasi,
Alka Nayyar
,
Siddhartha Rajan
, Madrid St. Angelo, Priyank Thakkar, and
Ben Veatch
. The production team features Craig Choma (scenic design), Rachel Sypniewski (costume design), Erik Barry (lighting designer), Tracee Bear (assistant costume designer), Gregor Mortis (sound designer),
Alka Nayyar
(choreographer), Bailey Howard (stage manager), Emily Antoff (assistant director/assistant producer),
Kathleen Dickinson
(production manager), and
Kevin Scott
(technical director).
Ben Veatch
. Liz Carlin Metz (Director, Vitalist Theatre Co-Founder/Artistic Director/Director/Teaching Artist) For Vitalist Theatre: MULTITUDES (USA premiere with Rasaka Theatre), LIFE IS A DREAM (Jeff Nominated), THE NIGHT SEASON (Jeff Award for Best Supporting Actress), MOTHER COURAGE AND HER CHILDREN (3 After Dark Awards including Best Direction), A PASSAGE TO INDIA (Jeff Nominated; After Dark Award for All Around Technical Direction), ANUNG'S FIRST AMERICAN CHRISTMAS (World Premiere), THE THREE LIVES OF LUCIE CABROL, THE MILL ON THE FLOSS, KING LEAR, and ANNA KARENINA. She also served as an assistant director at the
Mark Taper Forum
(Los Angeles) and Directing Associate at California Shakespeare Festival where she directed AS YOU LIKE IT.
Other directing credits include THE SKRIKER, THE LOVE OF THE NIGHTINGALE, ROMEO AND JULIET, PYGMALION, MACBETH, WOMAN IN MIND, IN THE NEXT ROOM OR THE VIBRATOR PLAY, ON THE VERGE, A LIE OF THE MIND, TARTUFFE, Neil Gaiman'S NEVERWHERE, and her own adaptations of HENRY IV PARTS 1 & 2. She served as a voice director at Seattle Repertory Theatre, Tacoma Actor's Guild, Steppenwolf (Chicago and Off-Broadway), and Williamstown Theatre Festival (MA), where she also administered the Apprentice Program and directed Shakespeare and Moliere with the Act One Company. Liz has served on the Illinois Arts Council Theatre Panel, is a member of the boards for International Voices Project and Working Title Playwrights, and is published on the topic of the neuroscience of performance. She holds an MFA from Temple University and is The Smith V. Brand Distinguished Professor of Theatre at Knox College.
Shishir Kurup
(Playwright) is an actor/writer/director/composer born in Bombay, India and raised in Kenya and the U.S. His one-man shows ASSIMILATION and EXILE: RUMINATIONS ON A RELUCTANT MARTYR have been seen in countless cities and universities nationally and internationally including Los Angeles, New York, Chicago, Austin, London, and Manchester, England. His solo performance piece SHARIF DON'T LIKE IT examines the fallout from the USA Patriot Act and the disappearance of over two thousand South Asian and Arab Muslims and played in October '09 at the National Asian American Theatre Festival in NYC. Shishir is a long-time ensemble member of the nationally renowned Cornerstone Theater Company (Los Angeles). He is a California Arts Council Grant and Kennedy Center: Roger. L. Stevens Award recipient for MERCHANT ON VENICE. ABOUT RASAKA THEATRE COMPANY
Rasaka is Chicago's only South Asian theatre ensemble. Our goal is to increase diversity among artists and audience by engaging and illuminating the South Asian American experience. We are particularly dedicated to providing a platform for the artistic expression of South Asian artists. We aim to broaden, strengthen, and enrich the experience of the theatre audiences and enhance the local, regional, national, and international reputation of Chicago theatre. "Rasa" means the essence or inspiration of a work of art, and adding "ka" behind a word makes it "of" that, as in "of the essence of art."
www.rasakatheatre.com
ABOUT VITALIST THEATRE COMPANY
Founded in 1997 by Robin Metz (Executive Producer) and Liz Carlin Metz (Artistic Director), Vitalist Theatre, with its distinctive fusion of physical theatre and expressionist realism, has established itself as a respected and award-winning member of the Chicago off-loop theatre community, and routinely garners significant critical praise in the company of the best of Chicago theatre. Vitalist Theatre further celebrates visceral ideas through its commitment to visual expression and the written and spoken word as presented in its allied arts co-events, such as visual art installations and poetry readings by internationally renowned poets presented in conjunction with the plays.