Photo Flash: THE HISTORY BOYS At TimeLine Theatre
TimeLine Theatre Company presents the Chicago premiere of the Tony and Olivier award-winning play THE HISTORY BOYS by Alan Bennett. Directed by TimeLine Company member Nick Bowling, The
History Boys will open April 25 and run through June 21 (previews April 22 - 24) at TimeLine Theatre, 615 W. Wellington Ave. in Chicago. Press opening performances are Saturday, April 25 at 7 p.m. and Sunday, April 26 at 2 p.m. For tickets, visit timelinetheatre.com or call 773.281.TIME (8463).
The recipient of more than 30 major awards, including Tony and Olivier awards for Best New Play,
THE HISTORY BOYS follows a rambunctious group of clever young men as they pursue higher learning,
games, sexual identity and a place at university under the guidance of three wildly different teachers and a headmaster obsessed with results. Set during the 1980s in northern England, it is a hilarious and provocative play about the anarchy of adolescence and the purpose of education - specifically, how history should be taught. After its premiere, the Daily Telegraph reviewer raved that THE HISTORY BOYS is "a play that strikes me as one of the finest Bennett has ever written, packed with superb one-liners. A play of depth as well as dazzle, intensely moving as well as thought-provoking and funny."
THE HISTORY BOYS premiered in London at the National Theatre's Lyttelton Theatre in May 2004; the cast of 12 featured Richard Griffiths, Frances de la Tour, Dominic Cooper and Samuel Barnett. It played to sell-out audiences for an extended run before touring to Hong Kong, New Zealand and Sydney, Australia in 2006. With its original cast still intact, the play premiered on Broadway in April 2006 and received six Tony Awards. It also was adapted into a feature film, again featuring the original cast, which premiered in the United States in November 2006.
"THE HISTORY BOYS is one of the most celebrated new plays of this decade, and TimeLine is honored to be the first to bring it to Chicago," said Artistic Director PJ Powers. "Alan Bennett's provocative script tackles essential questions we regularly grapple with as we explore TimeLine's unique mission - 'how do we benefit by dissecting, studying and examining history?' Whether audiences have seen this production in London, on Broadway or on film, or are coming to it for the first time, THE HISTORY BOYS will have a fresh and powerful impact at TimeLine's intimate theater."
The Cast of TimeLine Theatre's production of THE HISTORY BOYS features Will Allan (Scripps), Donald
Brearley (Hector), Brad Bukauskas (Timms), Andrew Carter (Irwin), Behzad Dabu (Akthar), Rob
Fenton (Lockwood), Joel Gross (Dakin), Terry Hamilton (Headmaster), Govind Kumar (Crowther),
Michael Peters (Rudge), Ann Wakefield (Mrs. Lintott) and Alex Weisman (Posner).
Preview performances are Wednesday, April 22 through Friday, April 24 at 8 p.m. THE HISTORY BOYS
opens Saturday, April 25 at 7 p.m. and Sunday, April 26 at 2 p.m. then runs Wednesdays (6/3, 6/10, & 6/17 only) and Thursdays at 7:30 p.m., Fridays at 8 p.m., Saturdays at 4 p.m. and 8 p.m. and Sundays at 2 p.m. through June 21.
POST-SHOW DISCUSSIONS: Free post-show discussions led by a TimeLine Company Member and
featuring the production dramaturg and members of the cast on Thursdays, April 30, May 7 and 14;
Sundays, May 17 and 24; and Wednesday, June 3.
SUNDAY SCHOLARS SERIES: A free hour-long post-show panel discussion with experts on the themes and issues of the play on May 10.
DISCUSSION WITH TIMELINE COMPANY MEMBERS: Free post-show discussion with TimeLine Company members on Sunday, May 31.
Photo by Lara Goetsch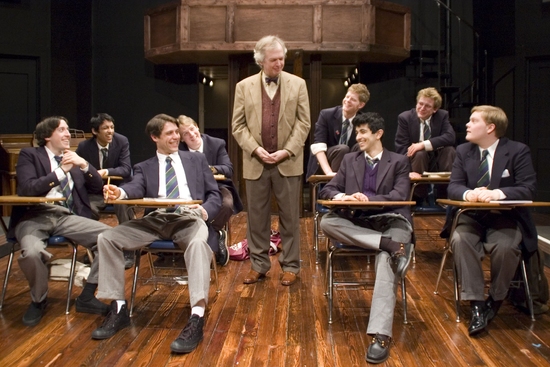 Donald Brearley, Govind Kumar, Brad Bukauskas, Behzad Dabu, Rob Fenton, Joel Gross, Will Allan, Alex Weisman, and Michael Peters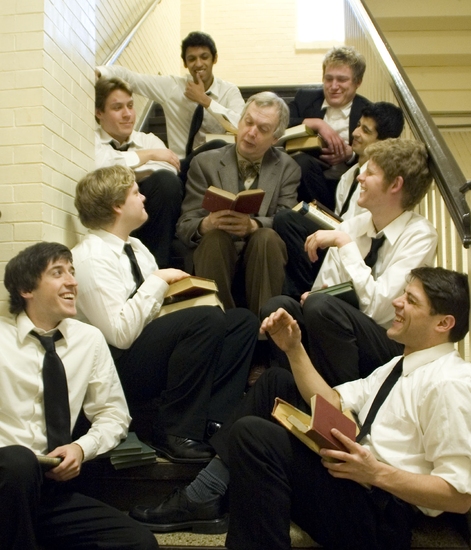 Donald Brearley, Govind Kumar, Brad Bukauskas, Behzad Dabu, Rob Fenton, Joel Gross, Will Allan, Alex Weisman, and Michael Peters

Joel Gross and Andrew Carter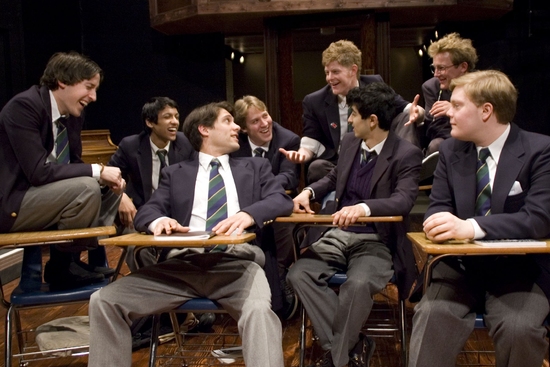 Govind Kumar, Brad Bukauskas, Behzad Dabu, Rob Fenton, Joel Gross, Will Allan, Alex Weisman, and Michael Peters

Joel Gross, Will Allan, and Alex Weisman
More Hot Stories For You