Photo Flash: Sneak Peek - Hell in a Handbag's RUDOLPH THE RED-HOSED REINDEER Parody to Return This November
Hell in a Handbag Productions will conclude its 15th Anniversary Season with its most popular show ever: the holiday hit RUDOLPH THE RED-HOSED REINDEER 2017 by David Cerda, directed by AJ Wright. Handbag's irreverent parody of the 1967 Rankin Bass children's television special will play November 25 - December 30, 2017 at Mary's Attic, 5400 N. Clark St. in Chicago's Andersonville neighborhood. The press opening is Friday, December 1 at 7:30 pm. BroadwayWorld has a sneak peek at the show below!
Chicago's favorite cross-dressing reindeer is back and he's 21 years old! RUDOLPH THE RED-HOSED REINDEER had its first reading in 1996 and has evolved into one of Chicago's most popular anti-holiday, holiday shows. Join Rudolph and all of his misfit friends as they struggle with fitting in and being 'normal' in an increasingly abnormal world. Playwright David Cerda always adjusts the show to fit the current social climate.
The production team for RUDOLPH THE RED-HOSED REINDEER includes: Roger Wykes (set design), Kate Setzer Kamphausen (costume design), Steve Love (choreography), Mealah Heidenreich (props design) and JD Caudill (music director).
Casting will be announced shortly. Tickets are on currently available at www.handbagproductions.org (through Brown Paper Tickets) or by calling (800) 838-3006.
Photo Credit: Rick Aguilar Studios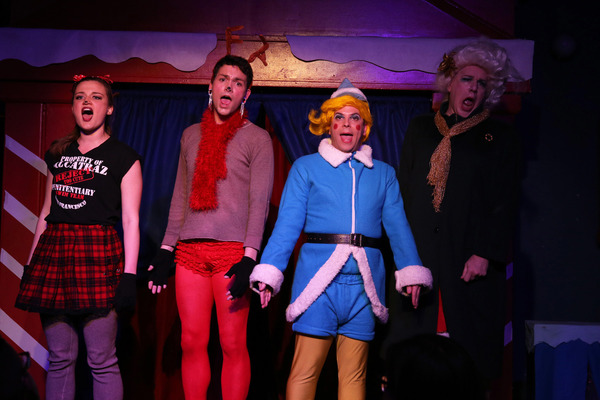 Bitter Clarice (Lizzie Scwarzrock), Rudolph (Grant Drager), Herbie (Chad) and Mrs. Claus (Ed Jones) sing 'Christmas Makes Me Bitter'

Rudolph (Grant Drager, center) learns a musical lesson the hard way with Caitlin Jackson, Kirk Jackson, Terry McCarthy and Shiv Mann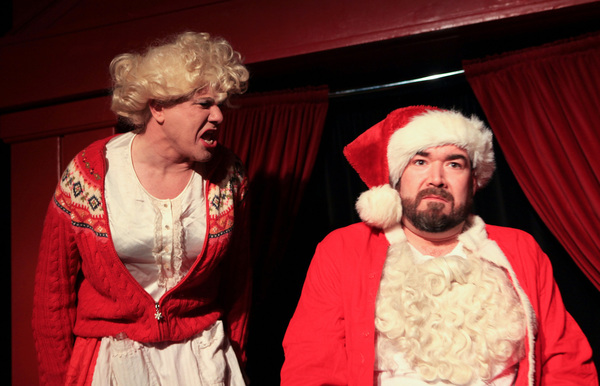 Mrs. Claus (Ed Jones) tries to talk to an unresponsive Santa (Michael Hampton)