Photo Flash: Sneak Peek - Barrel of Monkeys' CELEBRATION OF AUTHORS Set for Tonight
Barrel of Monkeys, in collaboration with The University of Chicago Department of Theatre and Performance Studies, invites you to join student-authors, their classmates, family and educators for the annual CELEBRATION OF AUTHORS, featuring performances of student-written stories created at each of its partner schools and after-school program during the 2015-2016 season. Scroll down for photos from the 2015 edition!
Performed by more than 30 Barrel of Monkeys actors and musicians, and directed by Artistic Director Joseph Schupbach, this FREE event takes place today, June 7, 2016 at 6:30 pm (6:30 pm pre-show reception and activities; 7 pm curtain) at the University of Chicago's Reva and David Logan Center for the Arts, 915 E. 60th St. in Chicago. For reservations, visit barrelofmonkeys.org/coa or call (773) 506-7140.
During 2015-16, Barrel of Monkeys worked with 14 school partners in 48 classrooms, plus an after-school program. The Chicago-based arts education theater ensemble, now in its 19th season, conducts creative writing workshops with 3rd through 5th grade students in underserved Chicago Public Schools. The ensemble of actor-educators then turns their stories and words into professionally performed theater, presented both in-school and for the general public through its revues. Barrel of Monkeys annually performs more than 300 student-written stories for the students in their schools and 175 stories on the stage for the general public through its year-round variety show, THAT'S WEIRD, GRANDMA at The Neo-Futurist Theater, 5153 N. Ashland Ave. in Chicago. For additional information on Barrel of Monkeys' educational programs and public performances, please visit www.barrelofmonkeys.org.
Public Schools served by Barrel of Monkeys during the 2015-16 season include: Willa Cather Elementary, Chalmers School of Excellence, Columbia Explorers Academy, Dewey School of Excellence, Dixon Elementary, Dvorak School of Excellence, Herzl School of Excellence, Hough Street School, Johnson School of Excellence, Kinzie Elementary, Lorca Elementary, Morton School of Excellence, Prieto Math and Science, Skinner North Elementary. Barrel of Monkeys is also an Arts Partner in Residence at the Loyola Park Field House through the Chicago Park District.
Photo Credit: Beth Bullock Photography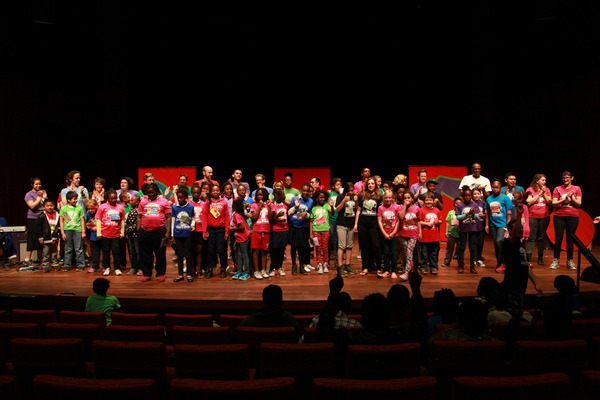 Student authors join Barrel of Monkeys company members on stage at the 2015 CELEBRATION OF AUTHORS

Andres Enriquez, Shá Norman and other Barrel of Monkeys company members perform 'The Alien in Space'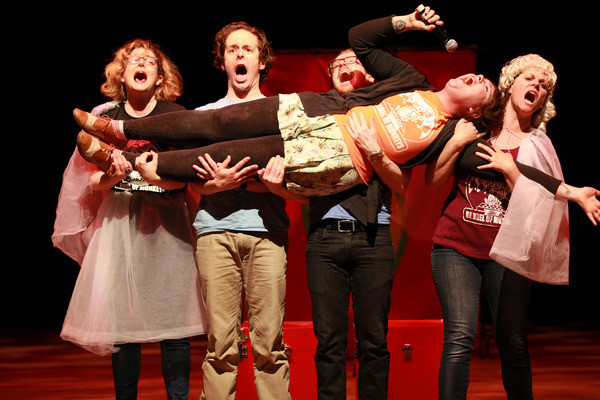 Barrel of Monkeys company members Gwen Tulin (front) and (back, left to right) Rachel Wilson, Caleb Probst, Rawson Vint and Kate Staiger perform 'Cry People'

Barrel of Monkeys company members Rawson Vint and Curtis Williams perform 'Hot Dog Problems'

Barrel of Monkeys company members Caleb Probst, Rachel Wilson, Rawson Vint and Kate Staiger perform 'Cry People'