Photo Flash: Porghlight Celebrates Opening Night of A GENTLEMAN'S GUIDE TO LOVE & MURDER
Porchlight Music Theatre's production of the 2014 Tony Award-winning Best Musical A Gentleman's Guide to Love & Murder has been extended through Saturday, March 16 at The Ruth Page Center for the Arts, 1016 N. Dearborn Street. A Gentleman's Guide to Love & Murder stars Matt Crowle and features music by Stephen Lutvak, lyrics by Robert L. Freedman and Steven Lutvak, and a Tony Award-winning book by Robert L. Freedman, is directed and choreographed by Stephen Schellhardt and music directed by Andra Velis Simon.
Opening Night is Tuesday, Jan. 29, 2019 at 7:30 p.m. The final week's extension schedule is Tuesday, March 12, Wednesday, March 13, and Thursday, March 14 at 7:30 p.m.; Friday, March 15 at 8 p.m. and a final performance Saturday, March 16 at 2 p.m. The performance schedule is Thursdays at 7:30 p.m., Fridays at 8 p.m., Saturdays at 4 p.m. and 8 p.m. and Sundays at 2 p.m. (January 27, March 3 and March 10) and 6 p.m. (February 3, February 10, February 24 and March 10) with weekday matinee performances Thursday, Feb. 21 and Feb. 28 at 1:30 p.m. Please note: There are no performances Saturday, Feb. 2 at 4 p.m.; Thursday, Jan, 31, Thursday, Feb. 21, Thursday, Feb. 28 and Thursday, March 7 at 7:30 p.m.; full schedule is included at the end of the release. Tickets are $39 - $66 and are available at PorchlightMusicTheatre.org or by calling the Porchlight Music Theatre box office, 773.777.9884.
Based on the 1907 novel "Israel Rank: The Autobiography of a Criminal" by Roy Horniman and the source for the 1949 British film "Kind Hearts and Coronets" starring Alec Guinness, The New York Times said A Gentleman's Guide is "Among the most inspired and entertaining new musicals." This tour de force musical comedy tells the uproarious story of Monty Navarro, an heir to a family fortune who sets out to jump the line of succession by eliminating the eight pesky relatives who stand in his way. All the while, Monty has to juggle his mistress (she's after more than just love), his fiancée (she's his cousin but who's keeping track?), and the constant threat of landing behind bars! Of course, it will all be worth it if he can slay his way to his inheritance...and be done in time for tea.
The cast of Porchlight Music Theatre's A Gentleman's Guide to Love & Murder includes: Matt Crowle, "The D'Ysquith Family;" Andrés Enriquez, "Monty Navarro;" Caron Buinis, "Miss Shingle;" Emily Goldberg, "Sibella Hallward;" Ann Delaney, "Phoebe D'Ysquith;" Sharriese Hamilton, "Eugenia;" Ryan Dooley, "Magistrate;" Billy Dwyer, "Copley;" Megan Elk, "Tour Guide;" Rachel Klippel, "Barley;" Phoebe Moore, female swing and Adam Ross Brody, male swing.
The A Gentleman's Guide to Love & Murder production team includes Stephen Schellhardt, director and choreographer; Andra Velis Simon, music director, Aubrey Adams, assistant director/choreographer; Robert Hornbostel, sound designer; Jeff Hendry, costume designer; Denise Karczewski, lighting designer; Anthony Churchill, projection designer; Angie Miller, scenic designers; Kevin Barthel, wig designer; Mealah Heidenreich, props designer; Noah Watkins, assistant to the director; Linda Madonia, musician contractor; Mary Zanger, stage manager; Cody Westgaard, production manager and Bek Lambrecht; technical director.
Photo Credit: by Austin Packard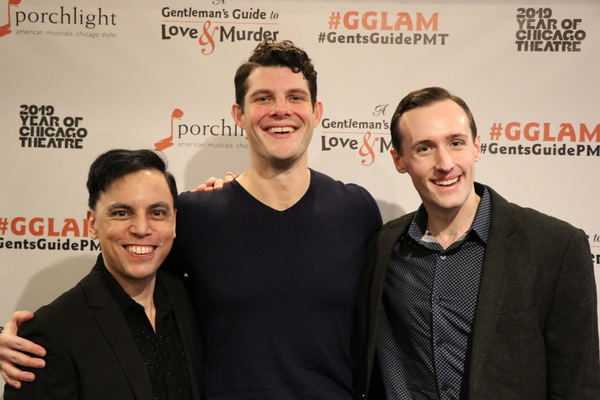 Michael Reyes, William Dwyer and Ryan Dooley

Phoebe Moore, Rachel Klippel, Emily Goldberg, Ann Delaney, Megan Elk, Caron Buinis and Sharriese Hamilton

Emily Goldberg, Andres Enriquez and Ann Delaney

Director/Choreographer Stephen Schellhardt, Assistant Director/Choreographer Aubrey Adams, Assistant to the Director Noah Watkins and Music Director Andra Velis Simon