Photo Flash: Nathan Lane et al. in Goodman Theatre's THE ICEMAN COMETH
Opening night for Robert Falls' major revival of THE ICEMAN COMETH, O'Neill's towering portrait of hope and disillusionment, is coming up May 3 at Chicago's Goodman Theatre. The production, currently in previews, is led by Tony Award-winning stage and screen star Nathan Lane as Theodore "Hickey" Hickman, the quintessential purveyor and slayer of pipe dreams. The 18-member cast is one of the largest ensembles to take the Goodman stage in recent years. Tony Award-winner Brian Dennehy portrays one-time syndicalist-anarchist Larry Slade, joined by mix of local and out-of-town actors as the motley assortment of former soldiers of fortune, entrepreneurs, political dissidents and social outcasts in Harry Hope's saloon.
See photos of Lane, Brian Dennehy and more in THE ICEMAN COMETH below!
"It's no secret that I regard Eugene O'Neill as our greatest American playwright, and none of his plays are as challenging as The Iceman Cometh," said Goodman Theatre Artistic Director Robert Falls. "Mammoth in structure and epic in ambition, Iceman is both an absorbing theatrical journey and an X-ray of the human condition-replete with all of its ambitions, joys and inexorable terrors. I am thrilled to take on this monumental play with a distinguished company that includes my longtime artistic partner Brian Dennehy, Nathan Lane, Stephen Ouimette, and such outstanding local stage veterans as John Judd, Marc Grapey, James Harms and Kate Arrington."
Falls previously directed The Iceman Cometh in a 1990 Goodman Theatre production which featured Dennehy in the role of Hickey-and marks their first O'Neill collaboration. An auspicious beginning to their seven subsequent O'Neill works, their critically-acclaimed production was heralded one of Time magazine's "ten best" of that theater season. Its revival production at The Abbey Theatre was hailed as the highpoint of the 33rd annual Dublin Theatre Festival. Over the next two decades at the Goodman, Falls and Dennehy together generated acclaimed productions of O'Neill's A Touch of the Poet (1996); Long Day's Journey into Night (2002 and on Broadway), Hughie (2004), Desire Under the Elms (2009, as part of the Falls-curatEd O'Neill festival "A Global Exploration: Eugene O'Neill in the 21st Century," and on Broadway) and the double-bill of Hughie/Krapp's Last Tape (2010).
Set in a flophouse in New York's Bowery, The Iceman Cometh is peopled with a microcosm of the world: a ragtag band of drunks and dreamers bound together both by dreams of the glories outside the saloon doors, and their excitement at the impending arrival of Theodore Hickman-"Hickey" to his friends-a gregarious salesman who is the biggest dreamer of them all. But when a newly-sober Hickey blows in with a renewed outlook on life, his zealous attempts to fix the lives of his old friends lead to a series of events that are at once devastatingly comic and heartbreaking-and a revelation that threatens to shatter the tenuous illusions that fuel their lives.
"When I was a kid," said Nathan Lane, "I was a voracious reader and joined The Fireside Theatre, a play-of-the-month club. I was sent a collection of Eugene O'Neill plays-and The Iceman Cometh was the one that I loved. There was something about O'Neill's description of Hickey that sounded like me. A lot of my desire to play this role at this time in my life has to do with Brian and Bob, as they've done a huge amount of O'Neill and I just have such respect for both of them. I also thought it was time to challenge myself as an actor, to jump in the deep end."
The Iceman Cometh runs April 21 - June 17; tickets ($61 - $133, subject to change) are on sale now; call 312.443.3800 or visit GoodmanTheatre.org.
Check out photos of Goodman Theatre's THE ICEMAN COMETH below!
Photo credit:
Liz Lauren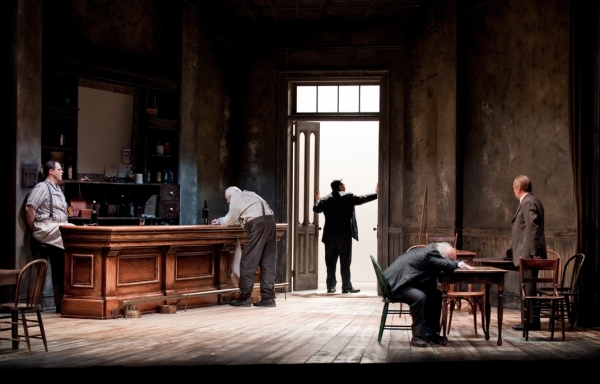 Salvatore Inzerillo, Brian Dennehy, Nathan Lane, Lee Wilkof and Stephen Ouimette

Nathan Lane

Brian Dennehy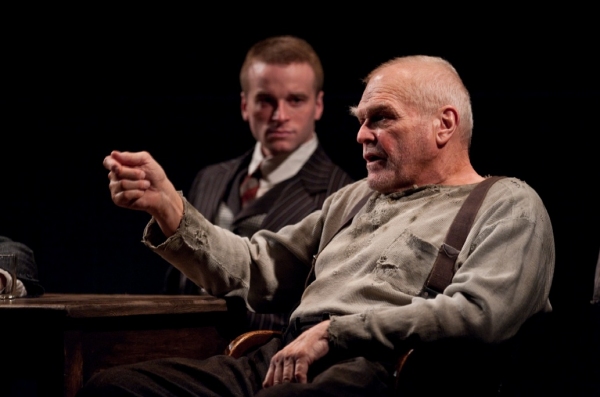 Brian Dennehy and Patrick Andrews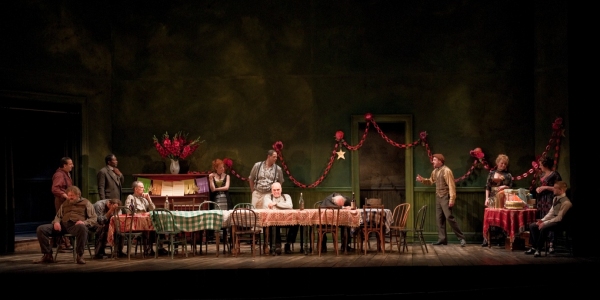 Company of THE ICEMAN COMETH

Marc Grapey, Kate Arrington, John Douglas Thompson, Salvatore Inzerillo, Tara Sissom, and Lee Stark

Lee Stark, Salvatore Inzerillo, and Tara Sissom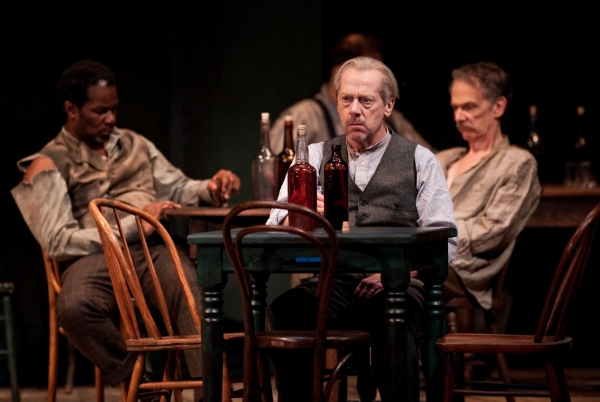 Stephen Ouimette

James Harms

John Judd, Larry Neumann, Jr., John Douglas Thompson, and John Reeger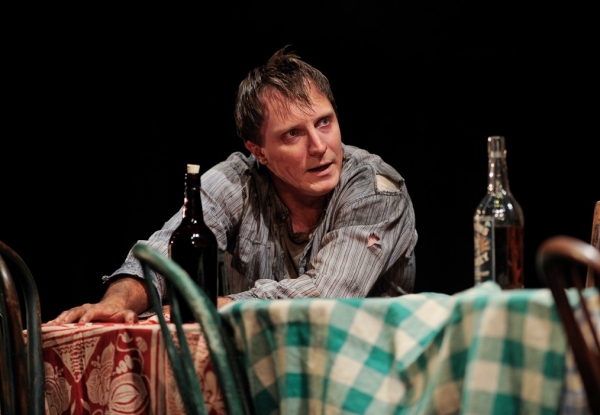 John Hoogenakker

Stephen Ouimette and Nathan Lane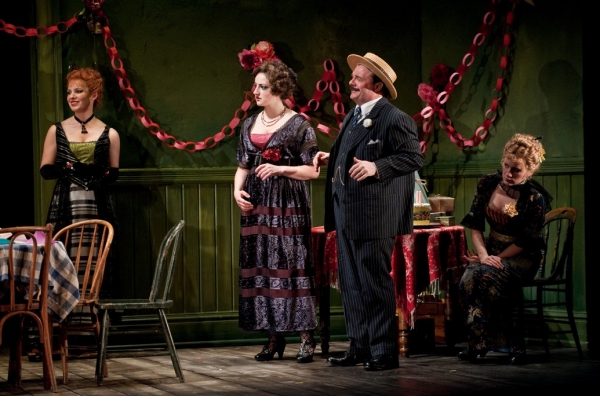 Kate Arrington, Tara Sissom, Nathan Lane and Margie Lee Stark