Photo Flash: Idle Muse Theatre Company Presents BEST FOR WINTER
Idle Muse Theatre Company proudly announces its first play of 2019, Best for Winter, being a short Shakespeare adapted from The Winter's Tale and other works, adapted and directed by Evan Jackson, March 21 - April 20, at The Edge Theater Off-Broadway, a new space at 1133 W. Catalpa Ave. Previews are Thursday, March 21 and Friday, March 22 at 8 p.m. Opening night is Saturday, March 23 at 8 p.m. The performance schedule is Thursdays - Saturdays at 8 p.m. and Sundays at 3 p.m. with an added performance Wednesday, March 27 at 8 p.m. Tickets are $10 for previews and $20 for regular performances and are on sale now at idlemuse.org or by calling 773.340.9438.
The ensemble of Idle Muse Theatre Company explores this classical fantasy with an impossible ending. Shakespeare's story of human beings living in a world broken by the unforgivable acts of a man in power is the basis for this new adaptation focused on feelings and actions and as recognizable in 2019 as they were in the Bard's time.
"The Idle Muse Ensemble felt it was deeply necessary that we tell a story about being alive right now, both for our audiences and for ourselves," said Artistic Director Evan Jackson. "By definition, a play is a set of circumstances and story that have no choice but to find an ending - and you could say this is a play with no roadmap to get there. At the same time, Idle Muse was formed in the belief that we can uncover truths about the human experience through the work of theatre. That if we do everything we can to approach the work in good faith and live truthfully under those imaginary circumstances, then we can use the vehicle of a play to approach impossible questions. So, we're not looking to find forgiveness at the end of this story. Maybe forgiveness isn't possible for some things. But maybe the act of finding the human part of what it is to be alive right now can be something like forgiveness. Maybe something more important - something like hope," continued Jackson.
The cast of Best for Winter, being a short Shakespeare adapted from The Winter's Tale and other works features: Brian Bengtson*, "Leontes;" Mara Kovacevic*, "Hermione;" Erik Schnitger, "Polixenes;" Laura Jones Macknin*, "Camilla;" Elizabeth MacDougald*, "Paulina;" Brian Healy, "Florizel;" Kristen Alesia, "Perdita;" Michael Dalberg*, "Autolycus;" Sara Robinson*, "Antigonis;" Paula Hlava, "Mamillias;" Eric Duhon, "Shepherd;" Joel Thompson*, "Clown;" Watson Swift, "Cleomenes;" Morgan Manasa, "Time;" and Lauren Grace Thompson, "U/S Perdita/Cleomenes."
The production team for Best for Winter, being a short Shakespeare adapted from The Winter's Tale and other works features: Evan Jackson*, director; Heather Zink, calling stage manager; Shellie DiSalvo*, production manager and rehearsal stage manager; Laura Wiley*, echnical director, lighting design and projection design; Milo Bue, scenic design; Joshua Allard, costume design; Tristan Brandon*, dramaturgy and prop design; L. J. Luthringer, sound and music design; William Sidney Parker*, consultant; Kati Lechner, vocal coach and Sarah Scanlon, intimacy design.
*connotes an Idle Muse Theatre Company Ensemble Member
Photo Credit: Steven Townshend


Mara Kovacevic* as Hermione and Paula Hlava as Mamillias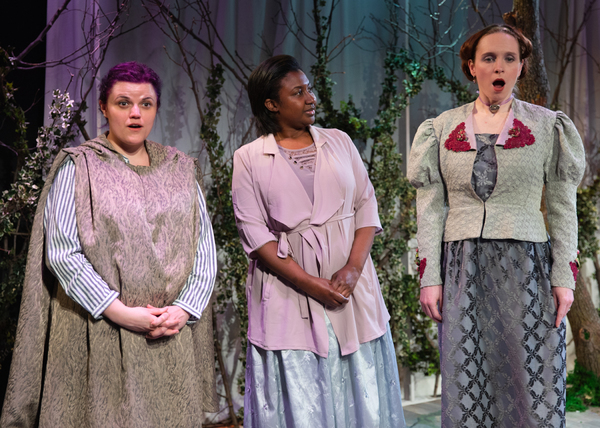 Morgan Manasa as Time, Toma Lynn Smith as Emilia and Elizabeth MacDougald* as Paulina

Elizabeth MacDougald* as Paulina and Brian Bengtson* as Leontes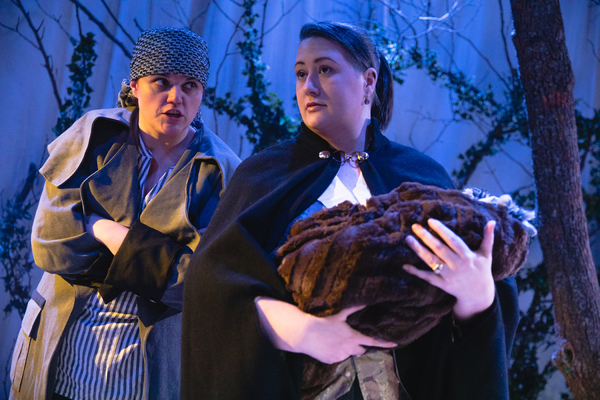 Morgan Manasa as Time and Sara Robinson* as Antigonis

Laura Jones Macknin* as Camilla

Watson Swift as Cleomenes

Eric Duhon as Shepherd and Joel Thompson* as Clown

Joel Thompson* as Clown and Michael Dalberg* as Autolycus

Kristen Alesia as Perdita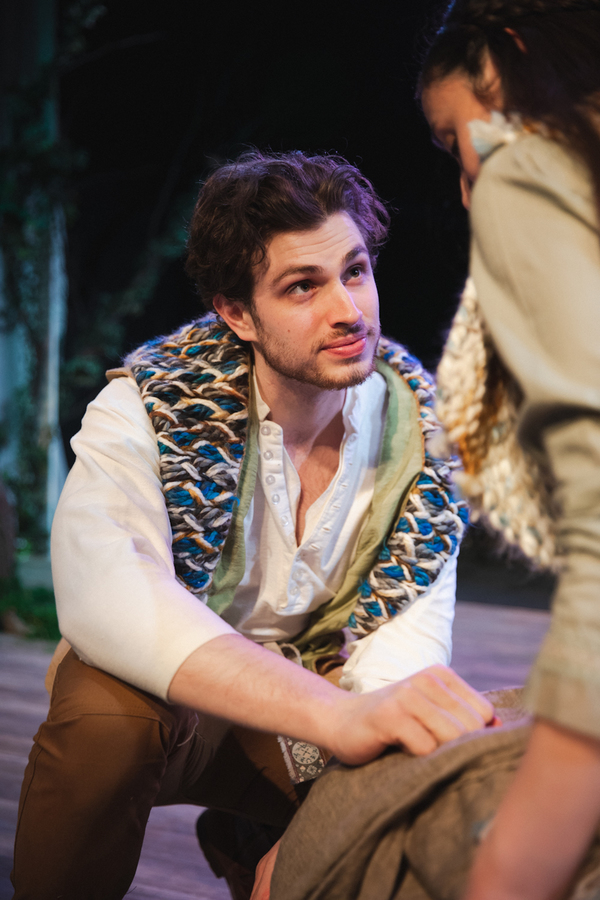 Brian Healy as Florizel
More Hot Stories For You